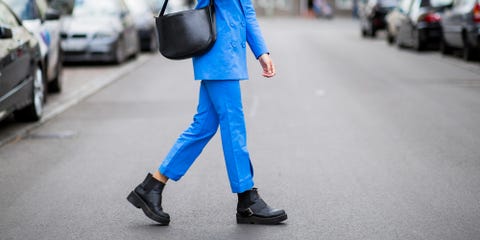 Ask a team of eight editors the difference between a chelsea boot and an ankle boot, and you'll get a different answer each time. (Chelseas are technically booties! They're supposed to have a loop on the back! Ankle boots always have a heel!) Despite the varied opinions, there is an overall consensus: Chelsea boots are comfy, versatile, and can be worn year-round, which makes them a must-have in every woman's closet. Shop the best under $250, below.
Frye, $219
Frye's leather is known for its incredible quality with its built-to-last durability made for work or play.
Marc Fisher, $71
Name a better going out shoe than this metallic Marc Fisher chelsea boot. I'll wait.
Fenty x Puma, $100
Only the inimitable Rihanna could turn a chelsea boot into a half platform sneaker.
Free People x Jeffrey Campbell, $198
Jeffrey Campbell designs an unconventional chelsea boot wrapped in patent leather that's perfect for dinner and drinks.
3.1 Phillip Lim, $192
A classic chelsea/ankle silhouette that will stay at the front of your closet with its half leather, half suede mix.
Urban Outfitters, $60
Your favorite booties just got a velvet upgrade.
Hunter, $145
Say goodbye to traditional rainboots and swap them with these glossy waterproof chelseas. You'll want to wear them even when it's not monsooning outside.
Free People, $248
You don't have to be in the desert to rock these on a summer day with jeans or a dress. (Though they are a great excuse to plan a trip out west.)
Urban Outfitters, $89
Fuel your nostalgia with these square-toed, '90s-inspired chunky chelsea boots.
11
Tell Me About It, Stud
Shutz, $119
It's all in the details with this neutral pair of chelseas lined with metallic studs.