The 15 Best Chelsea Boots for Women in 2023
Bring it on, cold weather.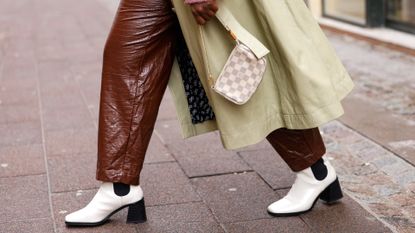 (Image credit: Getty/Streetstyleshooters)
Did you know that the first Chelsea boot (one of my all-time favorite types of boots) was made for Queen Victoria? The story goes like this: Queen Victoria had requested a pair of boots without laces so that she could wear while riding, explaining that laces tended to get caught in her stirrups (which, I don't ride, but sounds annoying?). As a result, London-based shoemaker J. Sparkes-Hall designed the now-classic boots, which were called "paddock" until the '50s and '60s when their name morphed into "Chelsea boots," thanks to the style's association with King's Road, a street in London's borough of Chelsea. These days, Chelsea boots have gone beyond their British roots and become a universal favorite.
"Chelsea boots are a fall staple," agrees celebrity stylist and costume designer Alexandra Imgruth, who explains that these accessories are, on a basic level,
"flat ankle boots easily spotted by their elastic side panel." Indeed, this style is made from a single piece of leather, split into two parts called the vamp and the quarters. These parts meet near the ankle, where they're joined by a strip of vulcanized rubber or elastic that extends just below the ankle but stops before reaching the sole.
Ahead, check out some of the very best Chelsea boots for women in 2023, from classic to modern, that are sure to make you fall in love with this classic fall boot all over again.
Best Chelsea Boots
Meet the Expert