Editors handpick every product that we feature. We may earn commission from the links on this page.
28 Chelsea Boots You'll Fall In Love With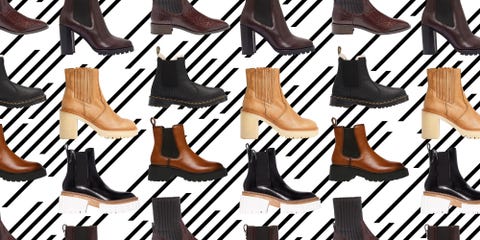 Chelsea boots are rooted in the Victorian era, which is when the first boot was made by J. Sparkes-Hall for Queen Victoria. The story goes: Queen Victoria had requested a pair of boots without laces that she could wear while riding (laces got caught in her stirrups, which, I don't ride, but sounds awfully annoying). The original boots were called "paddock" until the '50s and '60s when the name "Chelsea boots" came into the picture, thanks to its popularity in the United Kingdom and its association with the King's Road (a street in the borough of Chelsea in London).
These days, Chelsea boots are beloved by everyone, not just people in the UK, and have become an essential footwear style everyone should own. The typical traits of the boot include a strip of black elastic that extends to just below the ankle, but not all the way down to the sole; the two parts of the boot are made from a single piece of leather (the vamp and the quarters). The vamp and the quarters meet near the ankle, where they are joined by a strip of vulcanized rubber or elastic. Enough history and semantics, though, I know you came here to shop fall/winter 2020's best Chelsea boot selections. Ahead are 28 classic Chelsea boot styles as well as trendy iterations that will make you fall in love with this shoe all over again.
This content is created and maintained by a third party, and imported onto this page to help users provide their email addresses. You may be able to find more information about this and similar content at piano.io