20 Celebrities with Super Hot Bodyguards
Adele's bodyguard literally has a fan page dedicated to his hotness.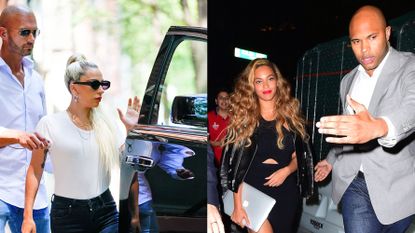 (Image credit: Getty Images and Splash News)
Sure, the idea of someone following you around (and, you know, protecting you) at all times sounds like a drag, but considering the supreme level of hotness that celebrity bodyguards have reached, we wouldn't totally object. Don't agree? Just take a moment to think about how ridiculously in shape one must be to protect precious cargo like Jennifer Lopez or Beyoncé. Ahead, 20 celebrities who are escorted by the most attractive bodyguards of all time.
1/17
Jennifer Lopez
In 2016, J. Lo was ushered away from a heard of fans by this handsome-as-hell bodyguard. And tbh, Lopez and the mystery man kinda-sorta look like they'd be a hot couple (sorry, A-Rod).
2/17
The Beckhams
Meet one of the Beckham family's sexiest bodyguards. Other than protecting Victoria, David, and co., he also does really cute things like ice skate with Harper.
3/17
Bella Hadid
During the 2017 Cannes Film Festival, Bella Hadid leaned on her dashing bodyguard as she made a quick shoe adjustment.
4/17
Adele
One look at this photo and it becomes clear why Adele's bodyguard has become a bit of a celebrity himself. Peter Van der Veen has worked with the singer since 2010 and has since amassed an understandably large fan base for his undeniable good looks (he's even got a fan account). As one Twitter user put it: "#PeterTheBodyguard is eye candy all day...he can guard my body anytime!"
5/17
Rihanna
There's little known about one of the bodyguards that's been with Rihanna since 2015, but one thing's for sure: He's hot as hell. Here, in 2015, he's pictured guiding the singer through New York City while looking like an absolute snack (a snack with slightly looser pants than we'd like, but fine, we'll take it).
6/17
Kristen Stewart
In late 2017, Kristen Stewart and her handsome bodyguard stepped out in Manhattan looking like one hell of a duo. Are we the only ones hoping they coordinated their outfits?!
7/17
8/17
Jennifer Lawrence
It just feels right that Jennifer Lawrence has a hot bodyguard. Here she is in 2015 with her dapperly dressed guard following closely behind.
9/17
Katy Perry
During the European leg of her "Witness" tour, Katy Perry was spotted in Paris with this super hot bodyguard in tow. However, we'd suggest Perry make this guard walk in font of her (imagine the view, Katy!).
10/17
Kim Kardashian
The Kardashian-Jenner clan have too many bodyguards on staff to count, but the tattooed hottie that accompanied Kim on a New York City jaunt in 2018 is a personal favorite.
11/17
Lady Gaga
Does Lady Gaga's hot-ass guard look familiar? Well, he should, considering he also happens to be Adele's bodyguard (yes, the one-and-only Peter Van der Veen). In 2018, Van der Veen helped the singer into her car in New York City.
12/17
13/17
Amy Adams
At the 2016 premiere of Batman v Superman: Dawn of Justice, Amy Adams walked the red carpet with the cutest, baby-faced bodyguard who gave off total secret service vibes with that earpiece.
14/17
Kendall Jenner
As one member of the Marie Claire team so wonderfully put it, Kendall Jenner's bearded guard "looks like the fourth Hemsworth brother who's been doing five semesters in Alaska."
15/17
Kylie Jenner
After the internet convinced itself that Kylie Jenner's hot bodyguard (a.k.a. Tim Chung) was her daughter Stormi's real father, Chung took matters into his own hands to clear the air. "Please, Stop spreading false stories and attacking people's families," he told TMZ.
16/17
Blake Lively and Ryan Reynolds
For once, Blake Lively and Ryan Reynolds weren't the hottest people in the room—in 2018, the couple were escorted as they left the Guggenheim by a noticeably attractive guard.
17/17
Cara Delevingne
In 2017, a chiseled guard walked Cara Delevingne (who looked equipped to kick anyone's ass herself) into the CHANEL Haute Couture show.
Celebrity news, beauty, fashion advice, and fascinating features, delivered straight to your inbox!