Princess Charlene of Monaco​ Has the Sexiest Wardrobe of Any Royal
She loves to show off her shoulders.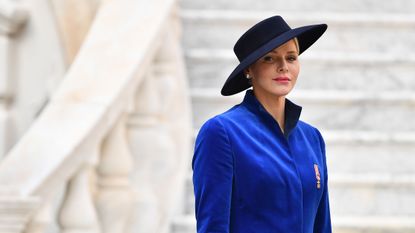 (Image credit: Pascal Le Segretain)
Before Charlene Wittstock became Princess Charlene of Monaco, she was an Olympic swimmer for South Africa. (She competed in the 2000 Sydney Olympics, finishing fifth in the 4 x 100 meter relay.) That same year, Charlene met Prince Albert II of Monaco at a swim meet in his home country...and the rest is history. The couple made their public debut in 2006, announced their engagement in 2010, and were married in 2011—the same year Prince William and Kate Middleton (opens in new tab) also said their "I dos." While Charlene's life has changed over the years (she's now a mother to twins, in addition to being, you know, a princess), her style has remained consistently elegant and sexy. She favors shoulder-baring dresses, body-hugging gowns, and maintains an edgy-princess vibe with her blonde pixie cut. And not once in the nine years since she's been a princess has Charlene worn a bad outfit. Now, that's impressive. Ahead, see all her incredible looks thus far.
1/47
September 24, 2020
Princess Charlene of Monaco and Prince Albert II of Monaco attended the Monte-Carlo Gala for Planetary Health. The prince wore a black and white tux while Charlene wore a glittering floor-length long-sleeve dress by Jenny Packham (the designer is also favored by Kate Middleton) and Repossi jewels.
2/47
June 2, 2020
The couple wore face masks during a public appearance to attend the inauguration ceremony of the new Casino place in Moncao. Charlene wore a crisp white blazer over a floral printed beige dress while the Prince rocked a navy suit.
3/47
January 27, 2020
For mass during the Sainte Devote Ceremony, Princess Charlene of Monaco wore a blue blazer and a purple tulle skirt with black tights.
4/47
December 18, 2019
While celebrating the holidays in Monaco, Princess Charlene stepped out in a blue cardigan coat with geometric design and black booties.
5/47
November 19, 2019
The couple dressed to the nines while attending a mass at Monaco Cathedral during the celebrations marking Monaco's National Day in Monaco. We love Princess Charlene's crisp white tailored pants (and jacket!).
6/47
November 15, 2019
A lesson in layering from Princess Charlene. The royal bundled up while attending the parcels distribution at the Red Cross headquarters in Monte-Carlo, Monaco.
7/47
September 6, 2019
For the traditional Monaco Picnic, Princess Charlene wore a multi-colored pattern look while holding little Prince Jacques hands. The outfit looked a little more loose and relaxed unlike her more formal gowns. (Royals like to be comfy too!).
8/47
July 26, 2019
The royal stood out at the 71th Monaco Red Cross Ball Gala in an emerald Marchesa cape dress with cutouts. Her embellished clutch contained matching green stones to tie the whole look together. This is one of our favorite colors on her.
9/47
June 16, 2019
For the 59th Monte Carlo TV Festival, Princess Charlene wore a Louis Vuitton gown and Dior pumps. The dress looked like it was made of fringe-like threads, giving it some movement and eye-catching details.
10/47
June 15, 2019
All royals like to have a day off from wearing suit sets and dresses. Princess Charlene dressed down in a white tee, leather jacket, jeans, and sneakers for the 24 Hours of Le Mans race.
11/47
May 26, 2019
The royal wore an asymmetrical black top and flamingo-pink pants to the F1 Grand Prix of Monaco. It was one of the most interesting and daring style statements we've seen from her.
12/47
March 24, 2019
The royal shook hands with Peng Liyuan, wife of China's president Xi Jinping. The two matched in black pumps and buttoned-up smart ensembles.
13/47
February 22, 2019
The whole family walked the red carpet for an event in Monaco. Charlene looked very formal and great as always, but really the twins—Princess Gabriella and Prince Jacques—stole the spotlight in leather jackets and sunglasses. Too cute.
14/47
January 27, 2019
The royal knew a red lip would add some much-needed color to her all-black ensemble. This small makeup trick brightened up her dark outfit as she left the Monaco Cathedral.
15/47
November 19, 2018
Princess Charlene and Prince Albert II of Monaco attended a Gala during Monaco National Day. For the event, the couple wore their most regal looks. Charlene went with a conservative long-sleeve two-tone dress, though if you look closely, there is a little slit for a peek at the legs.
16/47
October 16, 2018
Name another royal that can rock a pair of suspensors better than Princess Charlene. (The correct answer is: no one.) She wore this menswear-inspired look to the Princess Grace Awards Gala in NYC, fitting right in with the cool gals of the Big Apple.
17/47
September 30, 2018
We don't see many royals attending fashion week shows (we wish they did!), but Princess Charlene pops in to one every now and then. She wore this black, partially sheer, Akris dress to the show in Paris.
18/47
September 26, 2018
The royal couple posed with Katy Perry and Orlando Bloom at a Monte-Carlo Gala. Charlene wore a navy cape gown with a sparkly sheer shoulder, which matched the glitz and glam of Katy's dress sleeves. The sheer paneling on Charlene's dress gave the illusion of a sexy cold-shoulder moment.
19/47
July 27, 2018
Prince Albert II of Monaco and Princess Charlene of Monaco attended the 70th Monaco Red Cross Ball Gala in Monte-Carlo. While Albert wore a spiffy white dinner jacket, Charlene chose a stunning Atelier Versace gown with scale-like details made of Swarovski crystals. She accessorized with Repossi jewels.
20/47
May 27, 2018
Princess Charlene stood out in a printed Akris dress from the label's Spring '18 collection. The gown featured slit panels that blew in the wind, revealing her blue pumps underneath. The color of her shoes matched the print on her dress perfectly—a signature fashion girl trick.
21/47
January 27, 2018
Princess Charlene wore a plaid jacket over a black ensemble as she left the Monaco Cathedral during Sainte Devote Celebrations. Her scrunched gloves peeking out of cropped sleeves added a touch of old-school elegance. (Saint Devote is the patron saint of the Grimaldi family, reigning in Monaco, and is celebrated each year as a national holiday.)
22/47
December 20, 2017​
While attending the Christmas Gifts Distribution in Monaco, Princess Charlene got into the holiday spirit with a red cape jacket, while her husband showed off his festive side with a Santa hat and Christmas-themed tie.
23/47
October 25, 2017
Princess Charlene wore an off-the-shoulder column dress by Ralph Lauren to the 2017 Princess Grace Awards Gala at The Beverly Hilton Hotel in California. The plum-colored ensemble was coincidentally (?) named "Charlene."
24/47
September 22, 2017
Princess Charlene attended the Versace spring/summer '18 show during Milan Fashion Week in a sexy metallic minidress with cutouts. She completed the look by draping a leather jacket over her shoulders and slipping on strappy silver heels.
25/47
July 21, 2017
Princess Charlene awarded medals at the IAAF Diamond League athletics meeting in Monaco while wearing a dazzling one-shoulder green dress and a large beaded collar necklace. She paired the look with a pair of white pumps.
26/47
May 28, 2017
Princess Charlene arrived to the Monaco Formula 1 Grand Prix in a fitted asymmetrical dress with a square print (the modern polka dot, dare we say?). The royal kept things simple with nude heels and a red lip.
27/47
April 23, 2017
Princess Charlene made a trip to the Turffontein Racecours in Johannesburg, South Africa, while visiting her family. She channeled artsy Parisian vibes in a striped dress and beret-style hat.
28/47
September 9, 2016
The royal traded in dresses for jeans and a Red Cross shirt during the launch of World First Aid Day 2016 at the United Nations Office in Geneva. She trekked across the grass in a pair of sensible flats.
29/47
July 23, 2016
Monaco's royal couple attended the 68th annual Red Cross Gala in Monaco. For the occasion, Princess Charlene wore a watercolor-inspired strapless Armani dress while Prince Albert II looked dapper in a cream and black suit. The princess accessorized her dreamy gown with diamond jewelry.
30/47
October 24, 2016
For the 2016 Princess Grace Awards Gala, Princess Charlene showed up in a long-sleeve Christian Dior dress with a leaf motif. She looked angelic in the beautifully draped gown! To finish the look: her trademark red lip.
31/47
May 29, 2016
Princess Charlene attended the F1 Grand Prix of Monaco wearing an all-white (almost) ensemble. When she turned to the side, fans got a glimpse of the pink stripe down her trousers. Adding color where one least expects it is the royal's speciality.
32/47
July 25, 2015
Princess Charlene and Prince Albert II arrived for the 67th Monaco Red Cross Gala in Monaco. The royal made a statement in a red, one-shoulder jumpsuit by Valentino. The bold look was accented with gold accessories. Prince Albert stuck to his usual cream and black suit.
33/47
July 11, 2015
Princess Charlene wore a pale pink halter dress and nude Christian Dior pumps while holding hands with Prince Albert II en route to a celebration of his 10 years on the throne.
34/47
May 10, 2015
Princess Charlene wore all white to the baptism of her twins at The Monaco Cathedral. The outfit was similar to Kate Middleton's cream-colored Alexander Wang ensembles, which she wore to all three of her children's christenings (opens in new tab).
35/47
September 21, 2014
Princess Charlene swapped dresses for a smart blazer and trouser combo while attending the 8th annual Clinton Global Citizen Awards in New York City.
36/47
February 25, 2014
The royal attended the Giorgio Armani fashion show during Milan Fashion Week. Unlike many attendees who make it a point to go a little overboard with their outfits, the royal kept it simple in a beige blazer, white top, and black pants.
37/47
October 30, 2013
For the Princess Grace Awards Gala, Princess Charlene wore an emerald gown by Ralph Lauren. The high-neck taffeta gown came from the designer's fall '13 collection and was reminiscent of Old Hollywood (appropriate, since her late mother-in-law is Grace Kelly).
38/47
September 30, 2012
Princess Charlene loves the fashion house Akris. She was spotted at another one of their spring/summer show during Paris Fashion Week in a suede brown dress and black pumps.
39/47
August 3, 2012
Princess Carlene danced the night away at the 64th Red Cross Ball Gala in a Dior dress. The piece featured a gold sequined bodice and a white skirt with beautiful drape details. Prince Albert II matched (and twirled) his wife in a cream-colored suit.
40/47
July 10, 2012
For a visit to the museum of German car manufacturer Mercedes-Benz in Stuttgart, Germany, Princess Charlene wore a casual beige shirt dress. She added a belt for definition at the waist and wore a pair of matching brown sandals.
41/47
July 9, 2012
The royals posed in front of the Brandenburg Gate in Germany. Princess Charlene stood out in a tiffany-blue top and pants set. She accessorized with a Louis Vuitton scarf of the same color.
42/47
January 27, 2012
Princess Charlene and Prince Albert II attended the Ceremony of the Sainte-Devote in Monaco. The princess wore a clean, tailored beige coat that fastened at the neck and nude heels.
43/47
December 17, 2011
Princess Charlene walked the red carpet in a strapless burgundy-colored dress with matching wrap for the Ein Herz fuer Kinder Charity gala in Berlin, Germany.
44/47
November 19, 2011
Prince Albert II and Princess Charlene arrived for the Monaco National Day gala concert at the Grimaldi forum as part of Monaco National Day Celebrations. The royal wore a custom velvet Akris ensemble (the label seems to be a go-to).
45/47
September 4, 2011
Prince Albert II and Princess Charlene attended the Yorkshire Variety Club Golden Ball at Harewood House in Leeds, England. The royal wore an embroidered Christian Dior cream dress and strappy heels.
46/47
July 21, 2011
Princess Charlene stunned in a floral Roberto Cavalli dress while posing in front of the Musee Oceanographique in Monaco with Prince Albert II.
47/47
July 2, 2011
On her wedding day, Charlene Wittstock officially became Princess Charlene of Monaco. While Prince Albert II wore a summer uniform of Monaco's palace guards, his bride stunned in an off-the-shoulder Armani gown (opens in new tab) consisting of 40,000 Swarovski crystals. The most exquisite part of the dress, however, was the 16-foot train, which took 100 hours to make. Some of the wedding guests who saw Princess Charlene in all her glory: Karl Lagerfeld, Naomi Campbell, and Giorgio Armani.
Marina Liao is the former fashion news editor at MarieClaire.com, where she covered celebrity style (from Meghan Markle to Katie Holmes), fashion trends, and shopping advice, plus conducted original interviews with industry insiders. She's also had many opportunities to write content in other areas such as beauty, food, tech, and even home. Her previous fashion stints include POPSUGAR and Cosmopolitan.