Editors handpick every product that we feature. We may earn commission from the links on this page.
The Spring 2019 Fashion Trends That Will Define Wardrobes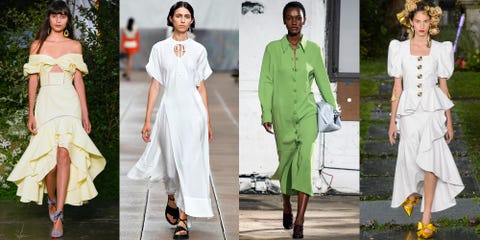 Time works differently in the fashion world. While most of us were digging out our cozy wool sweaters and brushing the dust off our suede ankle boots, designers already thought ahead to summer/spring 2019. Back in September 2018, they presented their designs at New York Fashion Week, giving eager guests a glimpse of what to expect for the next season.
Well, now, spring is here and it's time to give your wardrobe a little refresh. (You deserve it after making it through those frigid winter months.) So what should you invest in? The collections below show that yellow is a dominant color. Puffy sleeves is another trend designers have agreed on, bringing the '80s style into 2019. But even when we see repeated themes, every designer puts his or her own spin on them. Take the tie-dye trend, for example: Mike Eckhaus and Zoe Latta of Eckhaus Latta presented a black-and-white tie dye suit, while John Elliott chose to debut a pair of tie dye pants.
Instead of calling out every single trend we saw on the catwalks, we've painstakingly narrowed it down to the top nine spring trends you should know and picked out our favorite pieces from each to shop. You'll want to get your hands on the trends, ahead, before everyone else starts.

This content is created and maintained by a third party, and imported onto this page to help users provide their email addresses. You may be able to find more information about this and similar content at piano.io