The Crop Bikini Will Be Everywhere This Summer
A refresh on the classic string two-piece.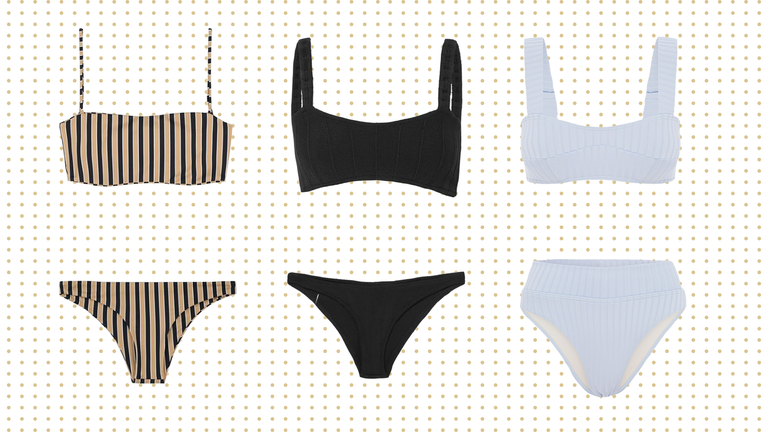 (Image credit: Courtesy)
1/16
Marysia The Lace Up Crop Bikini
Best for Instagram
Alright alright alright, now this is an Insta-worthy swimsuit. There are so many trends happening in this two-piece suit, from the lace-up fastening and scallop edges to the high-waisted bottoms. Picture yourself in this bikini on a beach with a bahama mama in hand—pure bliss.
2/16
Peony The Ribbed Crop Bikini
Best for Changing Figures
This ribbed knit fabric is perfect for someone who loves a little elevation and extra stretch to their basic bikinis. The thick strap and mid-seam lines on the swim pieces are design elements suited for supporting a bigger bust.
3/16
Jade Swim The Chic Crop Bikini
Best for a Romantic Getaway
Just like black, a navy bikini is a must-have staple in your swim wardrobe. This one from Jade Swim checks off all my love boxes: color, smooth fabrication, and a sexy silhouette. The touches of gold hardware also make the suit feel anything but the ordinary.
4/16
Mara Hoffman The Snakeskin Crop Bikini
Best for a Bachelorette Party
Animal print is the new neutral. If you fear the neon leopard spots, opt for a more demure print like this coffee-brown snakeskin pattern. It takes you a few seconds to even recognize this is an animal print. But once you do, it's not scary to wear at all.
5/16
Frankies Bikinis The Buttoned Up Crop Bikini
Best for a Casual Pool Day
The ideal bikini for a minimalist who doesn't want a string bikini or something too covered up. This two-piece is the middle ground with thin straps, but a covered bust, and a set of matching bottoms that has more fabric than cheekier styles. Buttons add the finishing touches on this ribbed cropped set.
6/16
Solid & Striped The Denim Crop Bikini
Best for Fashionistas
Denim has no boundaries in my wardrobe. I love everything from my jean jackets to my high-rise Agolde bottoms, so when I saw Solid & Striped's denim-effect stretch jersey swimsuit, I had to have it. It's the piece that labels you a trendy fashionista at the pool.
7/16
Onia The Floral Crop Bikini
Best for Print Lovers
I'm usually not a floral gal, but this Onia set has convinced me otherwise. The pattern is delicate and feels ladylike compared to more oversized blooms. It has a sexy tube top style and straps that lay perfectly flat to prevent digging into the shoulders. Plus, if you love fashion influencer Danielle Bernstein of WeWoreWhat, this is from her collab with Onia.
8/16
Fella The Little Black Crop Bikini
If your black bikini from last season needs a fresh update this summer, here's your answer. The square neckline makes this bikini look elegant, as does the material, which is is made from textured Italian stretch fabric. Layer on a bunch of gold necklaces to give your swimsuit that extra style factor.
9/16
Same Swim The Ruffle Crop Bikini
Best for Honeymoons
This is the ultimate feminine look for vacation season. Nothing is sweeter than the touch of ruffles with pale blue tones. Pair with a white eyelet dress or with a cream-colored sarong. You're now ready for your beach getaway.
10/16
Oseree The Metallic Crop Bikini
Best for Commanding Attention
This swimsuit comes in every color, but for a taste of all three hues, scoop this set up. Not only will the colors remind you of Christmas (in the middle of July), but you'll also sparkle and shimmer in the sunlight from the metallic fabric. Don't worry, you look fabulous.
11/16
J.Crew The Preppy Crop Bikini
Best for Beach Volleyball
Athletic babes will gravitate towards J.Crew's scoop bikini top, which has a sports-style bra. Combined with nautical stripes, this stylish two-piece will always be a summer staple. Don't pack to pack this with a pair of brown sandals when you're headed to the Hamptons or the Cape.
12/16
Tori Praver The Basic Crop Bikini
Best for Active Vacations
This Tori Praver set is for the one who's not only canonballing into the pool, but also wants that cute beach bikinigram. She's swimming, she's surfing, she's kayaking, she's doing it all. This simple bikini will keep her looking stylish while being functional for her active lifestyle.
13/16
Kisuii The Babydoll Crop Bikini
Best for Doing Everything In
The florals on this bikini are a tad bigger and brighter than those on the Onia set for ladies who want to make a statement. The straps and elastic bottom band holds everything in, should you decide to play some beach volleyball, while the hipster bikini bottoms provide just the right coverage.
14/16
Matteau The Retro Crop Bikini
Best for Slim Figures
Excuse me while I sneak one more floral crop bikini in here. Matteau is known for its minimalist cut and construction, which you can see in this piece. Skinny shoulder straps and a slender under-the-bust band keeps the two-piece looking sleek and polished.
15/16
Reina Olga The Millennial Pink Crop Bikini
Best for Adding Statement Jewelry
This season, designers are elevating their bikinis with texture. Take this millennial pink swim set that got reworked with a ribbed fabric. It instantly looks more interesting.
16/16
Skin by Same Swim The Striped Crop Bikni
Best for a European Vacation
This swimsuit is neither your classic navy-and-white nautical print nor flashy neon stripes. It's that somewhere in the middle style that makes me love it. Skip wearing a shirt (show off the top), throw on linen pants, and grab a good book for that lazy day at the pool.

•••

For more stories like this, including celebrity news, beauty and fashion advice, savvy political commentary, and fascinating features, sign up for the Marie Claire newsletter.