All the Times Someone Who Isn't Queen Elizabeth Has Worn Her Jewels
So much incredible bling on display.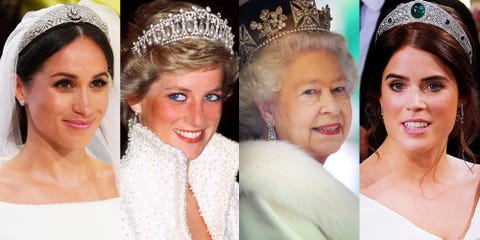 In case you haven't noticed, Queen Elizabeth II has some bling. From pieces that were passed down to her from previous kings and queens, to gifts from world leaders, to refurbished jewelry, Lizzie has amassed one of the most spectacular jewelry collections in the world. (Technically, some are owned by the Royal Collection, but she also owns some privately, too.) Luckily for her relatives—and us royal watchers—she sometimes lends these gorgeous pieces to other members of the British Royal Family. Behold: Some of the most gorgeous bling ever, right this way.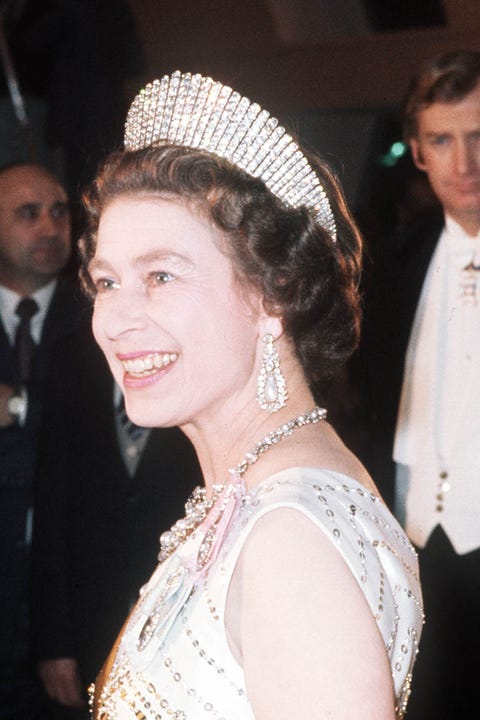 Ron Bell - PA Images
Getty Images
Queen Mary's Fringe Tiara
That the Queen lends out her jewelry is a time-honored tradition. Queen Elizabeth II wore this tiara, loaned to QE2 by the Queen Mother, on her wedding day in 1947 and at various royal events (including this one in 1976) over the course of her life.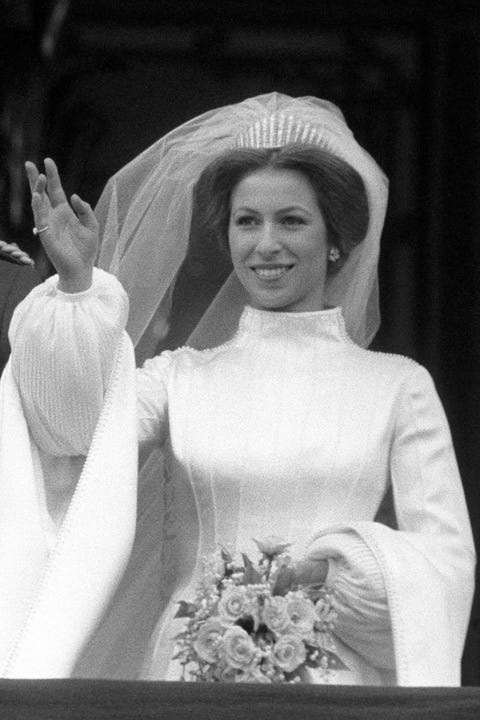 Queen Mary's Fringe Tiara
When the Queen's daughter, Princess Anne, got married, she got to wear the Fringe Tiara along with a gorgeous veil. What a sweet (and expensive) "something borrowed!"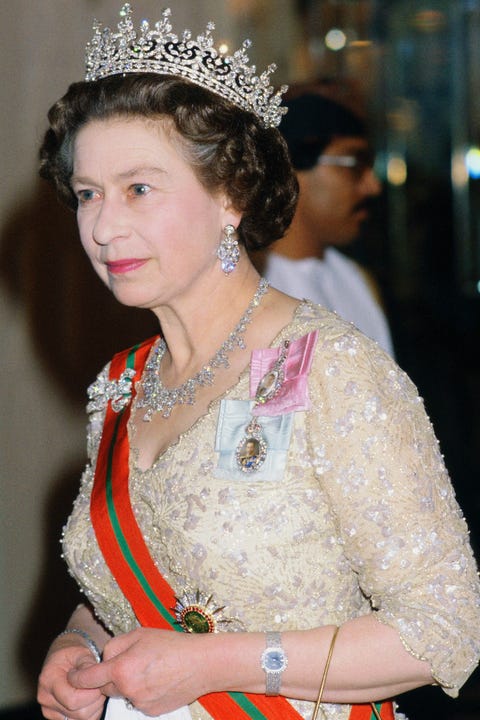 Diamond and Platinum Necklace
King Khalid of Saudi Arabia gave this necklace to Queen Elizabeth in 1979, and she's worn it frequently.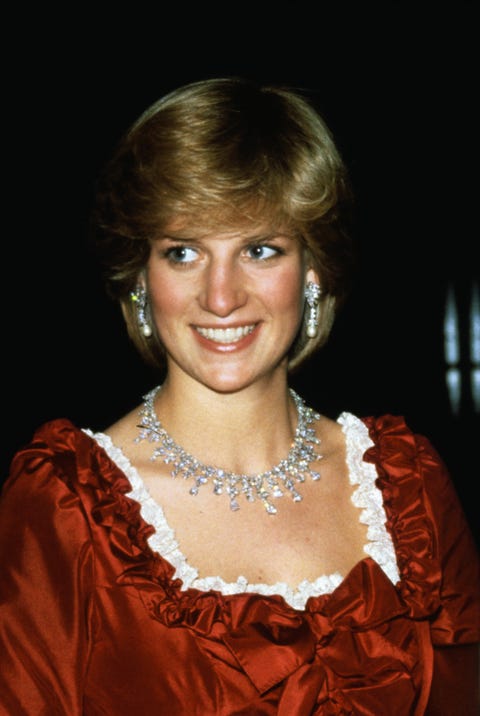 Diamond and Platinum Necklace
Here, Princess Diana (pregnant with William) attends an event at the Barbican Centre in 1982 wearing the loaned necklace. It was beautifully emphasized by the square neckline of Diana's dress.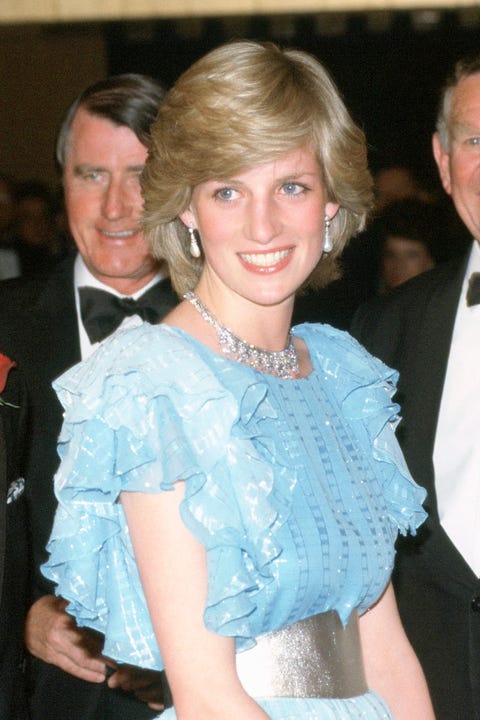 King Faisal of Saudi Arabia Necklace
King Faisal of Saudi Arabia gifted the necklace seen here to the Queen in 1967; Diana wore it in 1983 during a trip to Australia.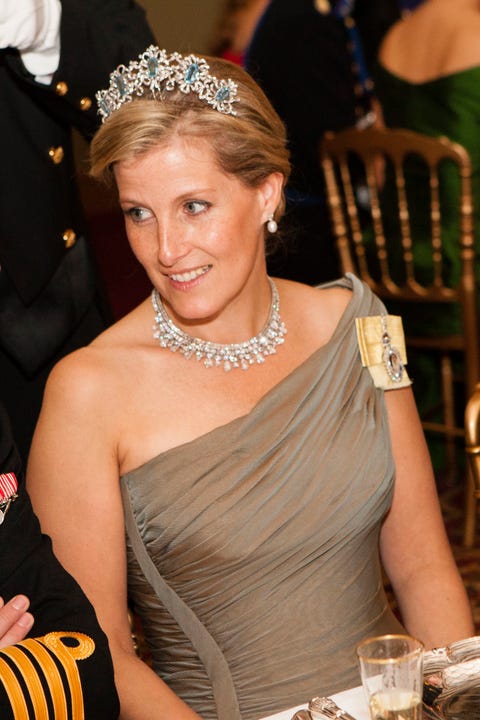 Stephane Cardinale - Corbis
Getty Images
King Faisal of Saudi Arabia Necklace
And Princess Sophie, Countess of Wessex, who is married to Prince Edward, Elizabeth's youngest son, wore it in 2012. We'll come back to that stunning Five Aquamarine Tiara in just a few slides.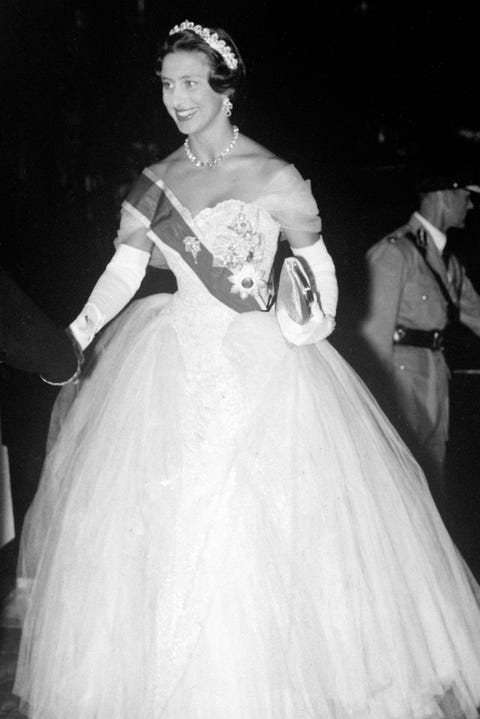 Cartier Halo Tiara
Princess Margaret got the chance to wear this delicate band while on tour in Zanzibar in 1956, but that's probably not where you know this now-iconic piece from...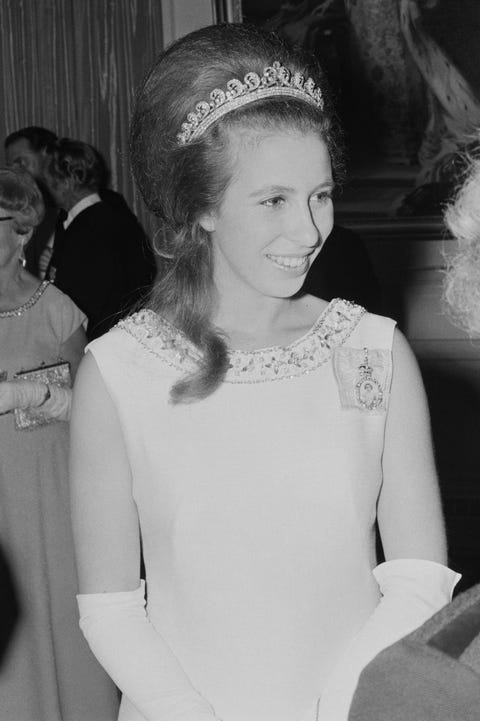 William Lovelace
Getty Images
Cartier Halo Tiara
Princess Anne also wore the piece to an event in 1970 in New Zealand. But you've seen it much more recently...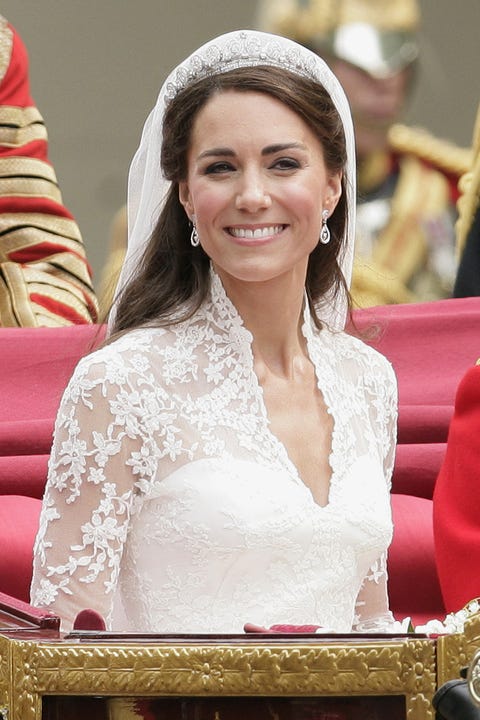 Max Mumby/Indigo
Getty Images
Cartier Halo Tiara
That's right: Kate Middleton wore the Halo Tiara on that spectacular day in 2011 when she became Prince William's wife. The dazzling tiara was originally made in 1936 and owned by the Queen Mother, but she gifted it to Elizabeth as an 18th birthday present.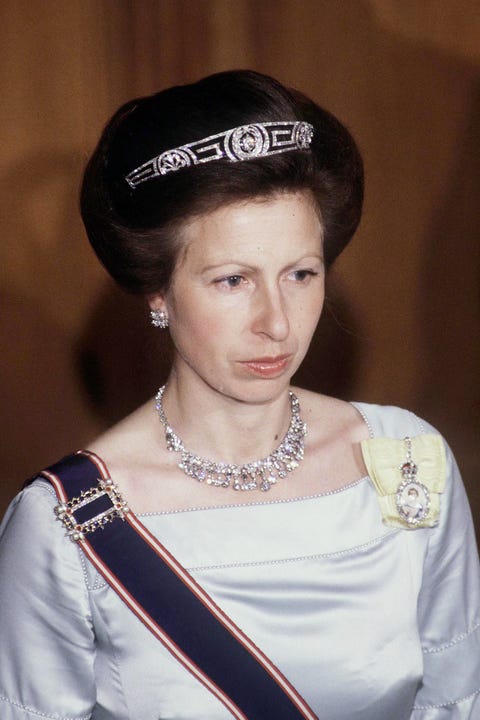 Meander Tiara
Although the Queen owns this interesting piece (it was given to her as a wedding gift by her mother-in-law Princess Andrew of Greece and Denmark), she's never worn it in public. But the piece is favored by Princess Anne, who wore it here, in 1988.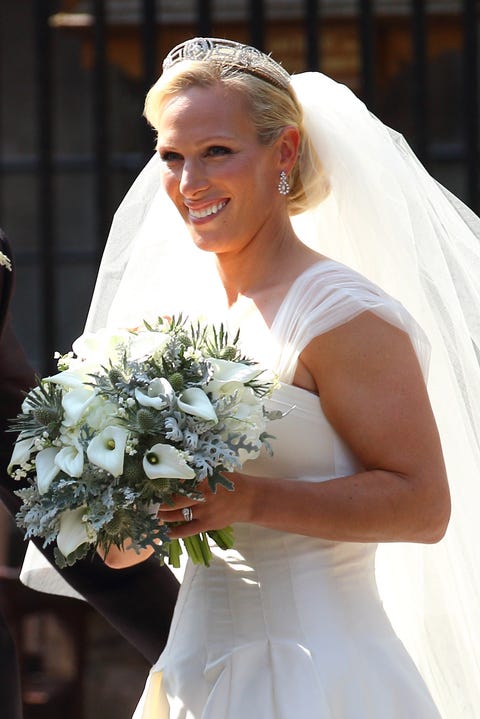 Mike Marsland
Getty Images
Meander Tiara
Anne's daughter, Zara Tindall, kept the family tradition going, wearing a tiara on her wedding day that her mother had worn previously.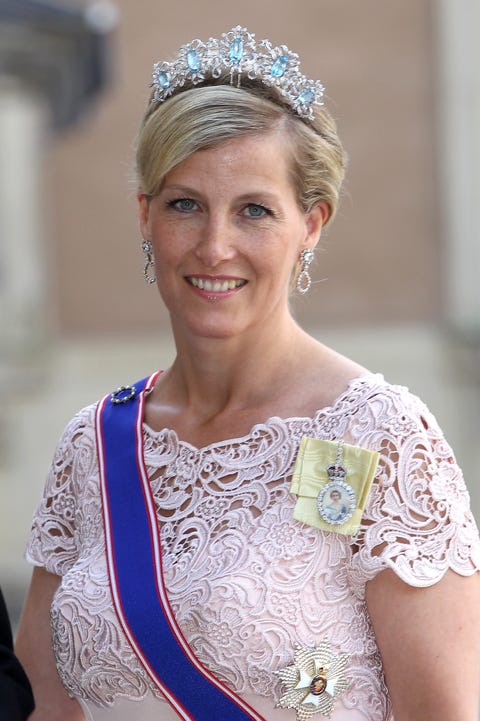 Danny Martindale
Getty Images
Five Aquamarine Tiara
Seen here at the 2013 wedding of Princess Madeleine of Sweden and Christopher O'Neill, the Countess of Wessex has worn this tiara so often, it's assumed that the Queen has permanently loaned it to her.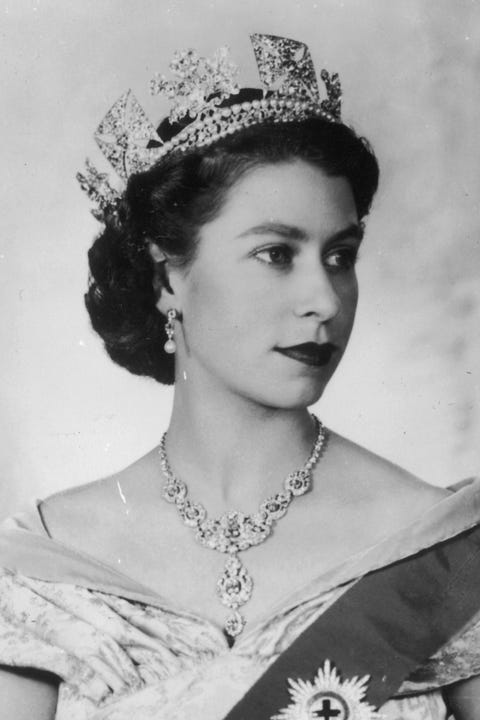 Hulton Archive
Getty Images
Nizam of Hyderabad Necklace
Per HELLO!, "The Nizam of Hyderabad, then one of the richest men in the world, gave the Queen the ultimate wedding gift: anything she wanted at Cartier." That included a floral tiara (not shown) and necklace to match. The pendant is detachable.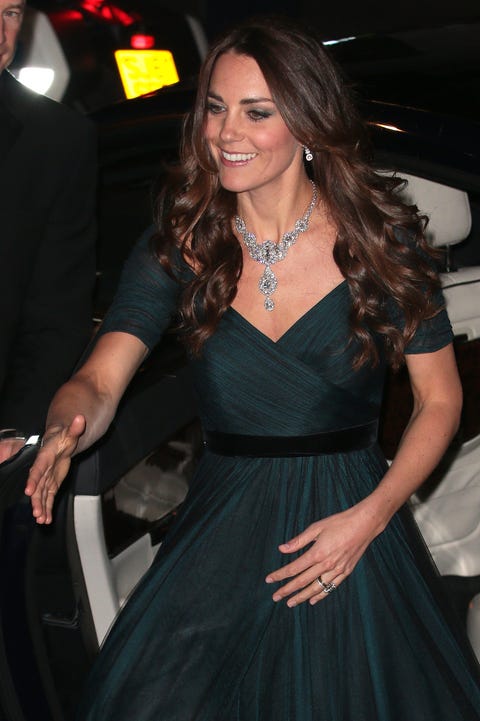 Mark Robert Milan
Getty Images
Nizam of Hyderabad Necklace
Lucky Kate got to wear the dazzling piece at a National Portrait Gallery event in 2014. (It's pretty major, not gonna lie.)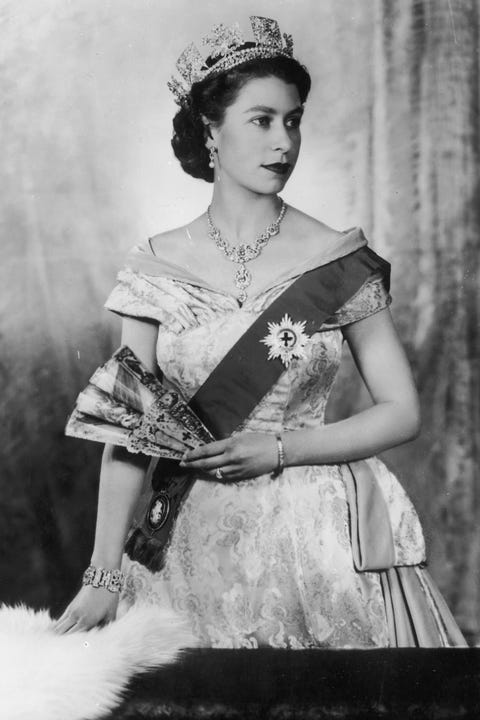 Hulton Archive
Getty Images
Geometric Bracelet
Zooming out a little bit, this is a lovely story—Prince Philip's mother had a tiara converted into Queen Elizabeth's wedding ring, and the rest turned into a pretty geometric bracelet. The Queen has worn both (here, on her right arm) often since.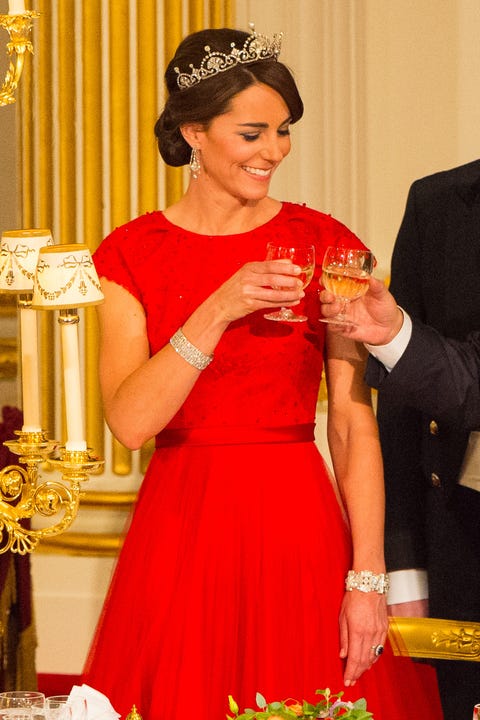 Geometric Bracelet/Lotus Flower Tiara
Queen E lent it to Kate for the Chinese State Banquet in 2015 (seen on her left arm). To this event, Kate also wore a borrowed Lotus Flower Tiara, which Princess Margaret loved, too. It is made out of a necklace that belonged to the Queen Mother.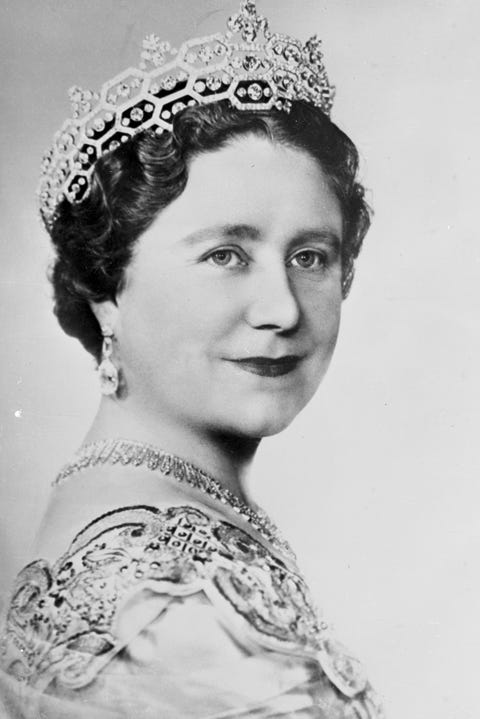 Greville Tiara
This magnificent piece of headgear, seen here on the Queen Mother in 1954, has been in the Royal Family for ages. A wealthy lady named Mrs. Greville gave all her jewelry to the Queen Mother when she died, and Queen Elizabeth inherited all the pieces after her mother passed away.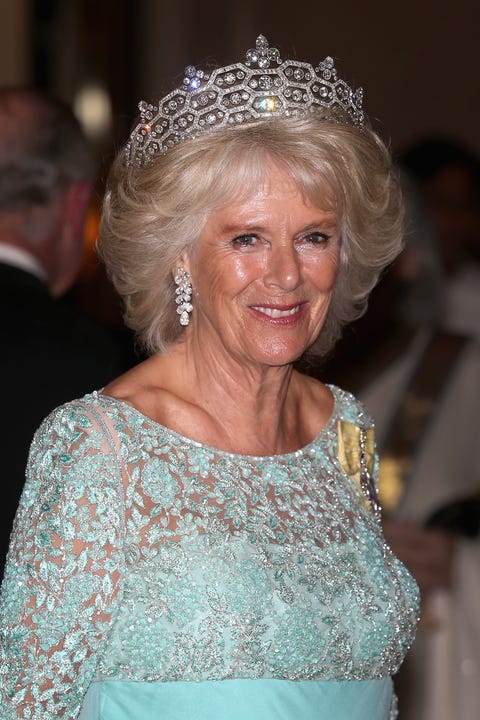 Chris Jackson
Getty Images
Greville Tiara
Now Camilla, Duchess of Cornwall, enjoys wearing the near-blinding tiara and has brought it out for several formal occasions, including this 2013 event in Sri Lanka.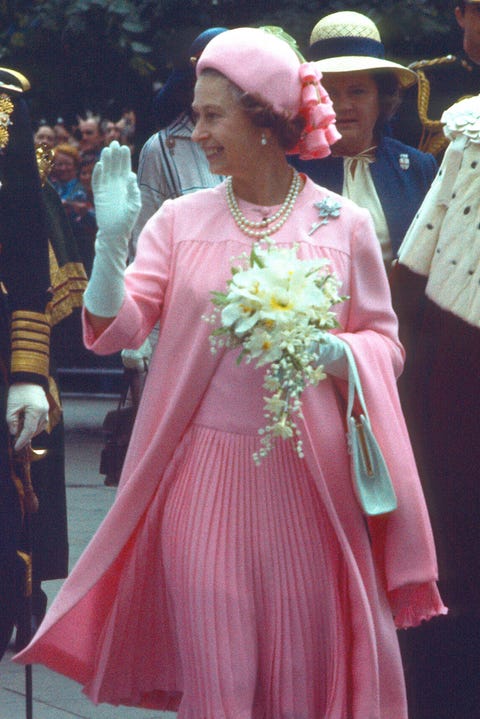 Anwar Hussein
Getty Images
Pearl Drop Earrings
These earrings are apparently very mysterious. Queen Elizabeth wore them for her Silver Jubilee in 1977 and then apparently never again. (How the experts can tell the difference between this and her other pearl earrings, I'll never know.)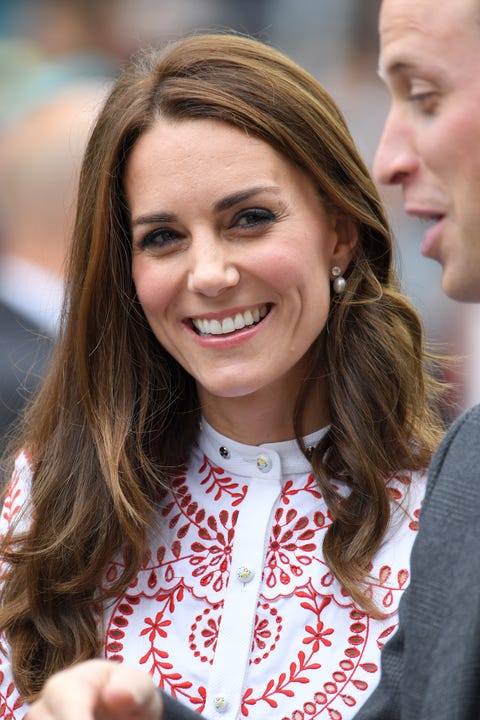 Pearl Drop Earrings
But then! They reappeared when Kate went on tour to Canada, seen here, and then again for another tour to the Netherlands, in 2016.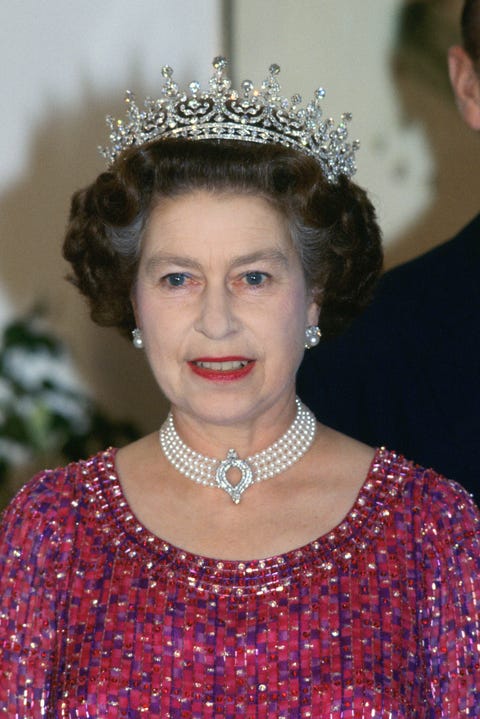 Pearl Choker
The Queen owns a lot of pearl necklaces, but this three-strand choker with diamond embellishment is a standout—seen here in 1983.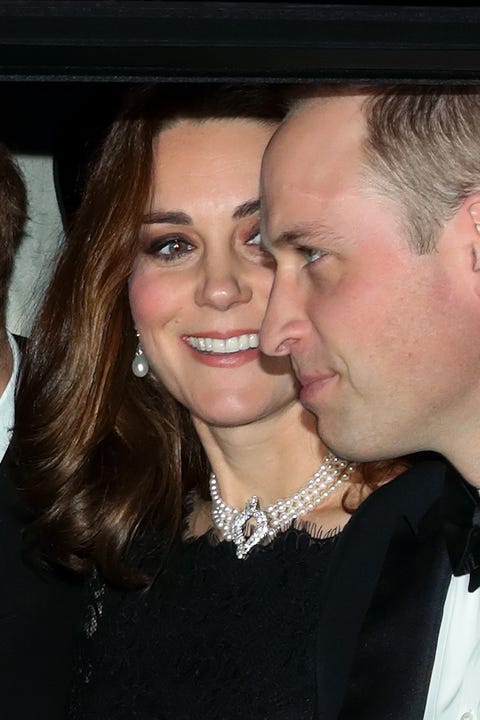 Max Mumby/Indigo
Getty Images
Pearl Choker
Nearly 25 years later at the Queen's own wedding anniversary celebration in 2017, Kate got to wear the piece herself.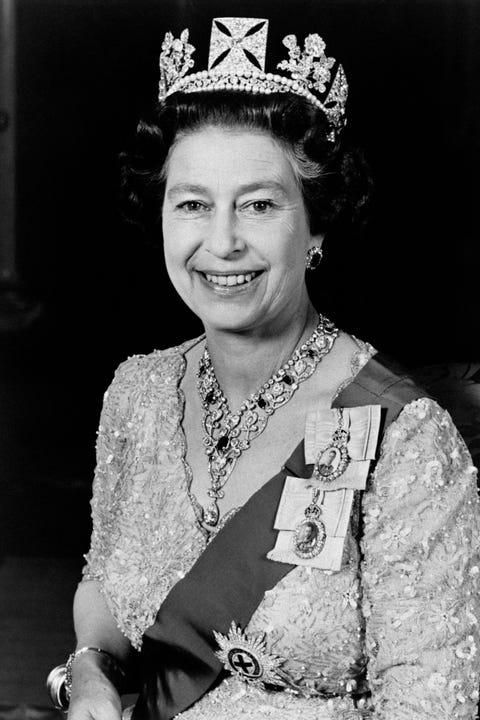 Ruby and Diamond Floral Bandeau Necklace
This necklace is part of the Greville jewelry collection, and the Queen favored it in her early years as monarch. The necklace is apparently quite heavy, so she had it shortened, and then eventually stopped wearing it.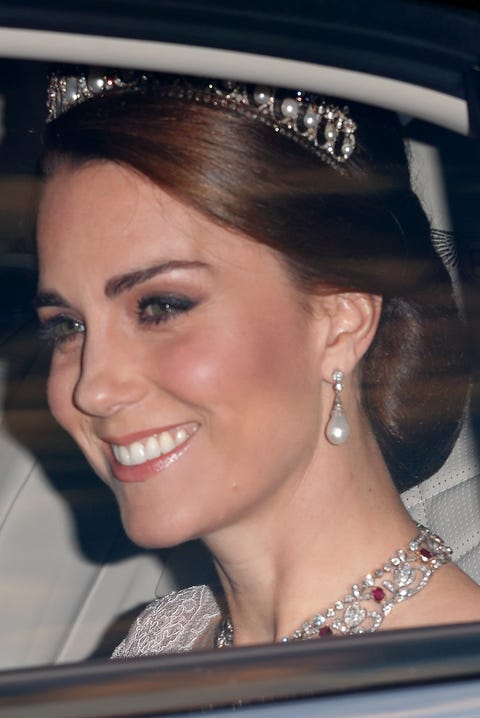 Max Mumby/Indigo
Getty Images
Ruby and Diamond Floral Bandeau Necklace
Here, you can just spot Kate wearing the ruby necklace for a reception for the King and Queen of Spain in 2017. (We'll get to the Lover's Knot Tiara she's also sporting in a few slides.) Kate's styling of the necklace may have inspired the Queen...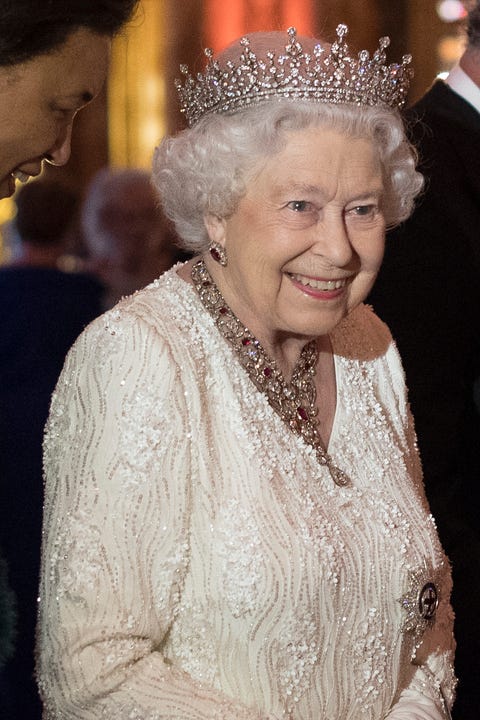 Ruby and Diamond Floral Bandeau Necklace
...because she started wearing the piece again in 2018. Here, she's seen wearing it with a pair of ruby earrings at the Commonwealth Heads of Government meeting.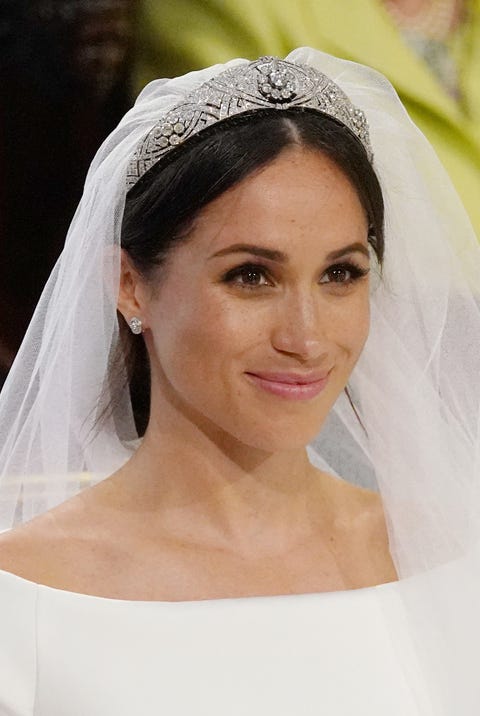 JONATHAN BRADY
Getty Images
Queen Mary Bandeau
True to its name, Queen Mary originally owned this bandeau and bequeathed it to Elizabeth on her death. Meghan Markle wore it when she got married to Prince Harry in 2018. There were some controversial whisperings that Meghan was "banned" from accessing the pieces in the Queen's Royal Collection, but the Palace refuted that. (There is a hierarchy of who has access to them, though, with Kate as future queen higher than the Duchess of Sussex.)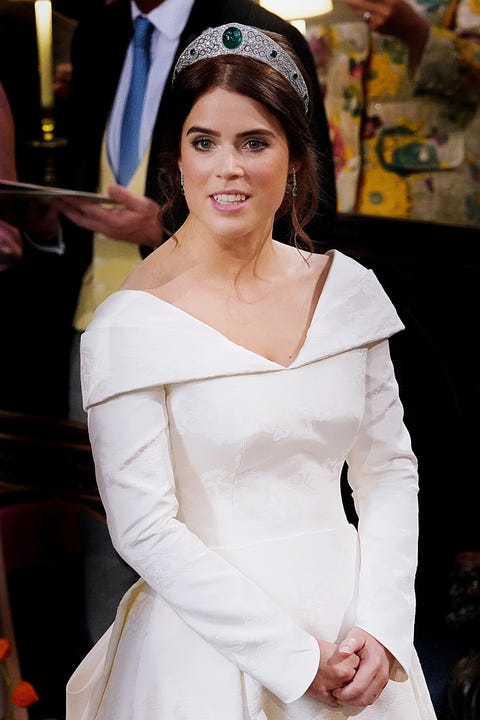 JONATHAN BRADY
Getty Images
Greville Emerald Tiara
Princess Eugenie was also loaned a fabulous piece for her wedding day—this pretty emerald tiara that complemented her simple, open-backed wedding dress. This piece is also from the Greville collection of jewels.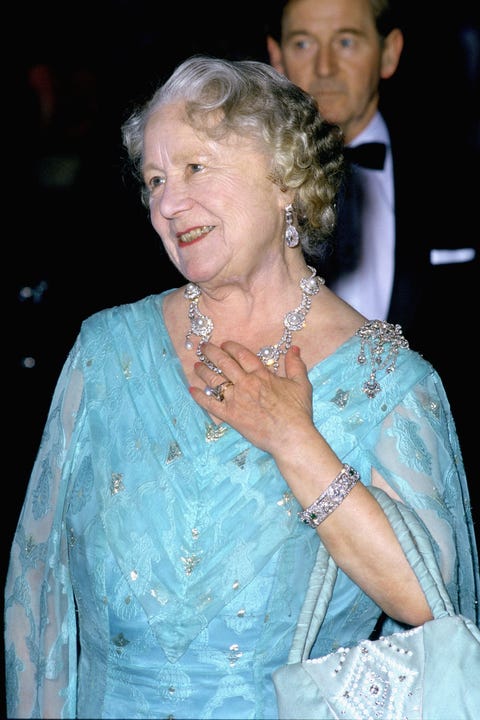 Pearl and Diamond Necklace
The Queen Mother loved this necklace, which was gifted to Princess Alexandra of Denmark upon her wedding to the Prince of Wales, later King Edward VII. She's seen here in 1985 on her 85th birthday.
JOHN STILLWELL
Getty Images
Pearl and Diamond Necklace
Kate paid tribute to the Queen Mum when she wore the necklace at a banquet for the King and Queen of The Netherlands in 2018. (She's also wearing the Lover's Knot Tiara, a favorite of hers.)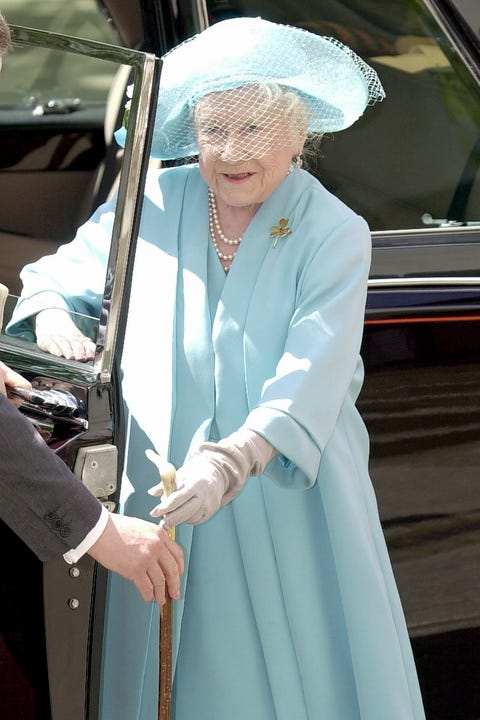 Irish Guards Brooch
The pin is perfectly festive—especially for the yearly Commemoration of the Irish Guards Regiment, as well as St. Patrick's Day. The Queen Mother wore it regularly until her death...
This content is created and maintained by a third party, and imported onto this page to help users provide their email addresses. You may be able to find more information about this and similar content at piano.io