Editors handpick every product that we feature. We may earn commission from the links on this page.
The Best Women's Pajamas to Wear All Day (And Night, I Guess)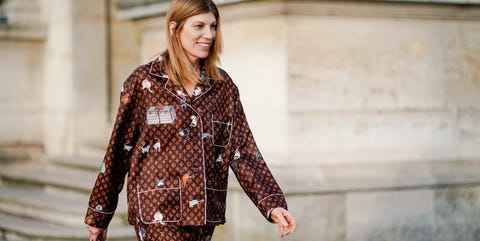 Your style should never be restricted just to the street. Yes, comfort is key when you're indoors, but your favorite trends translate to sleepwear, too, and there are pieces out there that are so soft, cozy, and stylish, you can (and should!) wear them all day long. If you know where to look, you'll find sleepwear that includes elements of embroidery, topstitching, and feather trims, among other cute details. It's time to create a wardrobe that you truly love from dusk 'til dawn, with gorgeous pieces that'll work for all times of day.
The classic cuts on these PJs are anything but boring, and include elements that set them apart from basic sleepwear sets. Materials used include washable silks and fine cottons that will handle any night sweats or temperatures you throw at them. If you're feeling bold, wear these pieces to work and reign in all of the complements: Pieces with this much comfort and sophistication deserve a chance to see the light of day.
This content is created and maintained by a third party, and imported onto this page to help users provide their email addresses. You may be able to find more information about this and similar content at piano.io