The 15 Best Women's Loungewear Sets to Wear Everywhere
What do you mean I can't wear sweats to work?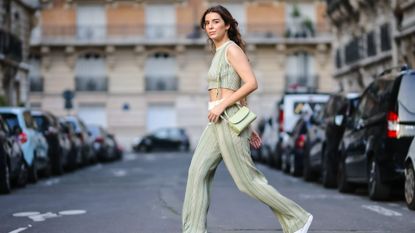 (Image credit: Future)
Marie Claire Newsletter
Celebrity news, beauty, fashion advice, and fascinating features, delivered straight to your inbox!
Thank you for signing up to Marie Claire. You will receive a verification email shortly.
There was a problem. Please refresh the page and try again.
I can't say that the pandemic added anything to my life, but it did lead to a greatly augmented loungewear section of my closet and an enhanced appreciation for matching sets of cozy clothes. While my old house clothes consisted mostly of hand-me-down sweatpants and those free t-shirts I got at college events, I now understand the importance of feeling both comfortable and put-together while sitting on my couch, and I can't ever see myself going back. Now, armed with my matching loungewear sets from my favorite loungewear brands, I don't have to explain my disheveled outfit to the takeout delivery driver or change before I run to the corner store for snacks—there's simply no need! I already look stylish! No one needs to know that I haven't changed in 24 hours!
So, without further ado, behold the best loungewear sets from across the internet, so that you can look and feel your best all the time.
What To Look For in a Loungewear Set
Holly Shapiro, Creative Director of apparel brand Splendid, says, "Shape is critical for looking put together and cozy. Bad-fitting lounge is the worst!" So, when shopping for your next set, ask yourself about your ideal fit: Do you want the set to be baggy, or do you prefer a form-fitting option? Will you be wearing it out, or opting to stay in?
"Secondly," she adds, "choosing the right fabrics for softness and recovery is so important." Always check the fabric makeup before you buy so you know whether the item will be stretchy, soft, fleecy, or whether it'll shrink in the wash.
Styling Your Loungewear
Looking to flaunt your loungewear when you're out and about, but not sure how to dress it up? Wearing a matching set is always a great, comfy-cute look, but for a quick upgrade, Shapiro recommends, "Throw a chambray shirt, denim jacket, or blazer over any lounge for an instant on-the-go look!"
Daniel Patrick, stylist and founder of his eponymous clothing brand also recommends "layering and mixing and matching colors and textures." To dress up a loungewear look, he also recommends using elevated footwear (like heels or a pair of designer sneakers) and outerwear (like a stylish winter coat) to "make a fit less loungy and dresses it up more."
Splendid Conley Supersoft Set
I own this set from Splendid, and it's one of my favorite outfits to wear when I'm lounging at home on the weekends. True to its name, it's incredibly soft, but it's also flattering enough to wear out when running a few quick errands or even when traveling. This is particularly the case with the joggers, whose elastic drawstring waistband slims the waist and hugs the hips. I'm also a huge fan of its olive green colorway, which is perfect for fall.
Quince Mongolian Cashmere Set
"At the top of my 2023 resolutions was indulging in more little luxuries," says Style Editor Emma Childs. "And just a few weeks into the new year, I'm meeting this goal in strides. I'm treating myself to bougie candles! I'm starting my mornings with decadent lattes! And, my favorite of all, I'm lounging around in this to-die-for cashmere set from Quince. The pants are straight and free-flowing (I'm staunchly anti-joggers: my ankles deserve to be unencumbered!), which adds to their effortless feel. And the zip-up hoodie feels luxe enough that I can wear it out of the house guilt-free."
Alo Yoga Muse Set
Celebrity-favorite Alo Yoga carries this soft, loose-fitting set in three colors: black, heather gray, and gravel heather. Its soft, loose-fitting fabric makes it ideal for days spent cuddled up at home, while its flattering cropped fit is perfect for wearing out and about.
Abercrombie Cozy Rib Set
Abercrombie may conjure visions of logo-heavy early aughts fashion, but they've since expanded their repertoire tenfold with designs that are perfect for both lounging at home and venturing out. This set is a perfect example. Made from a stretchy, comfortable blend of polyester, elastane, and viscose, these garments mold to the wearer's body for a form-hugging fit. Wear the combination for a chic at-home look, or mix and match these pieces with jeans, bodysuits, and more when you're ready to head out the door.
Daniel Patrick
"I think our loop terry sets are some of the most comfortable sweat sets in the game," says Patrick of his own brand. "I love the fit of them and the range of colors we offer, too." Indeed, the set comes in ten different colors, and you can select the ultra-soft shorts below (my personal preference) or opt for the matching sweatpants instead. Made from 100 percent soft, breathable terry, the sets are lightweight, too, so you don't have to worry about overheating.
MONROW
"I have an embarrassingly large quantity of loungewear—it's taking over my entire apartment," says Beauty Editor Samantha Holender. "But even with so many options to choose from, I always gravitate towards this Monrow set. It's quite literally the most comfortable thing I own, makes me look together enough to go run errands around the city, and consistently gets me compliments. I recently added the coffee shade to my collection and am obsessed with it."
Nike's Forward Set
We all know that fashion unfortunately plays a huge role in pollution and climate change, and it's hard to relax in your loungewear when you're worried about its carbon footprint. That's where Nike's Forward collection comes in: Every article of clothing within the line is made from at least 50 percent recycled polyester fibers. Plus, this latest edition of the Nike Forward collection reduces the carbon footprint of its production methods by amending its materials, energy use, and fabric density. Plus, this particular set is warm, soft, and comfortable, so you don't need to worry about sacrificing comfort for sustainability.
Gymshark Pause Set
Work hard, play hard, right? Gymshark is everyone's fan-favorite for high-performance workout clothing, having mastered gym day essentials like sports bras, leggings, tops, and more. But as every gym rat knows, rest days are just as important as workout days, which is why Gymshark has come out with a line of loungewear meant for giving your muscles some TLC. This oversized set comes in four colors and is soft, loose-fitting, and comfortable, so you can take just as much care of your body on days off as you do during your toughest workouts.
Ksubi 3x4 Set
You may be familiar with Ksubi's popular denim jeans and jackets, but did you know that the brand also makes equally as fashionable loungewear? You can shop their hoodies, shorts, joggers, and crewnecks in a variety of colors, in styles both graphic and plain. I'm partial to crewneck and joggers, personally, but you can also grab this pink set's matching hoodie and/or shorts. Each piece is made from 100 percent breathable cotton with ribbed paneling details.
Cuyana Cropped Tank & Joggers
BIPOC-owned, woman-owned brand Cuyana boasts the tagline "fewer, better," swearing by their pledge to sustainably produce high-quality products in small batches. I love their clothes for their luxurious feel, durability, and sophisticated style—attributes that apply to both their everyday wear and their loungewear. The brand carries a number of options so you can mix-and-match styles when shopping for your lounge set, but I'm partial to this ultra-soft crewneck (as usual) and the loose drawstring pants that match it. Plus, the pants' silk fabric and wide leg silhouette bring a dramatic, elegant flair to one's otherwise bland stay-at-home wardrobe.
Eberjey Gisele Stretch-Modal Pajama Set
"While I firmly believe that coordinating loungewear makes the quality of one's lounging decidedly better, I was also someone who secretly switched into a baggy t-shirt come bedtime," says Social Media Editor Lucia Tonelli. "Once I got a pair of Eberjeys, that all changed. The brand is the gold standard of cozy-chic clothing, but, IMO, their Gisele set reigns supreme. It's soft as butter, breezy as can be, shockingly stretchy (like, pull-your-entire-body-into-the-top stretchy), and keeps its quality through years of (near constant) wear. My goal is to one day own a pair in every color."
L'Couture All-Around Lounge Set
L'Couture is a brand centered around women's empowerment, run by an all-female team based in Dubai. They have a number of unique pieces that make loungewear look chic, including this rose-colored backless top and its matching pants. Wear it out for a sexy spin on sweats, or don it during a day inside. Regardless, its cut guarantees a comfortable airy feel, and its sure to make its wearer feel both sexy and cozy. Truly, the best of both worlds.
Jolie Noire Scribble Art Sweatsuit
Jolie Noire is one of my favorite brands. Founded by sisters Keyondra and Kim Lockett, this Black-owned fashion label's mission is to provide comfortable, premium quality clothing that drives home the essential message that Black is beautiful (a slogan from which they derived their name). Their designs are unique and inclusive, ranging from florals to plaid to minimalist, classic color schemes, but my favorite style is this sleek set, which features delicate line drawings on cream-colored fabric.
The Giving Movement
The Giving Movement is a United Arab Emirates-based brand with a focus on promoting sustainability, inclusivity, and ethical production within the fashion industry. Since the brand's inception, it has raised around one million dollars for charitable organizations like Dubai Cares, which supports children's rights, and Harmony House, which helps homeless people transition to permanent housing. Plus, their clothes are sustainably made with incomparably soft materials. This oversized set is a perfect example, made from recycled fleece with an oversized fit and trend-transcending design.
JZD Tierra Sweatsuit
LGBT- and Latina- owned clothing brand JZD took off after making their popular "Latina Power" tee shirt in 2014, and they've been expanding their inventory of inclusive, empowering designs ever since. Shop their graphic tees and sweatshirts to make a statement, or check out their simpler, more monochromatic looks, like this burnt orange option. It's made from a soft, breathable blend of cotton and polyester with an adjustable drawstring waistline. It also comes in a wide range of sizes, from extra small to 4XL.
Meet the Experts
Celebrity news, beauty, fashion advice, and fascinating features, delivered straight to your inbox!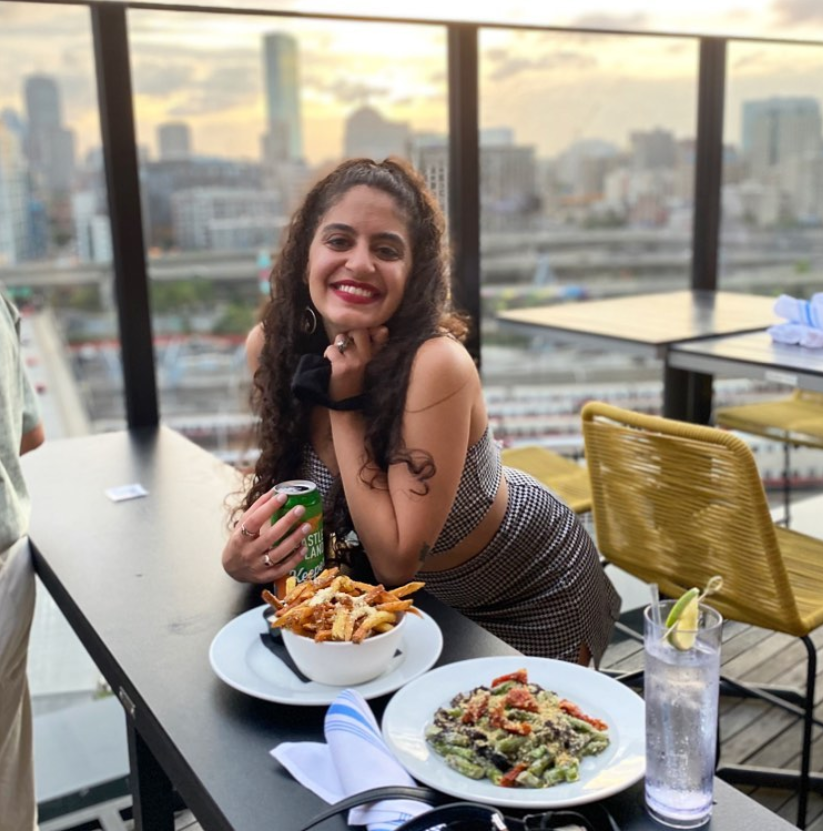 Gabrielle Ulubay is an E-Commerce Writer at Marie Claire and writes about all things beauty, sexual wellness, and fashion. She's also written about sex, gender, and politics for publications like The New York Times, Bustle, and HuffPost Personal since 2018. She has worked extensively in the e-commerce and sales spaces since 2020, including two years at Drizly, where she developed an expertise in finding the best, highest quality goods and experiences money can buy. As a film school graduate, she loves all things media and can be found making art when she's not busy writing.