10 Fashionable Ways to Style a Hoodie
Yes, it can be done.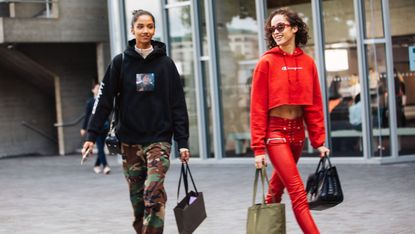 (Image credit: Getty Images, Melodie Jeng)
Since we've spent a lot of time in our sweats over the past few months, maybe you've found yourself with a stack of new hoodies (opens in new tab) following a loungewear shopping spree? (opens in new tab) Well, no need to tuck them away for a rainy day—hoodies have become a modern-day wardrobe staple, and I'm here to prove they aren't going anywhere (opens in new tab). This comfortable classic isn't exclusively for lounging around the house; it's surprisingly versatile and can be worn in a lot of different ways. Layer a hoodie under a statement coat in the winter to stay warm, use a hoodie to offset a pair of statement pants, style it with a smart blazer...the list goes on. Ahead, 10 hoodie looks that prove comfort can be chic.
Shelby Comroe is the Credits Editor and Fashion Assistant at Marie Claire covering all things fashion and giving credit where credit is due. Check her out @shelbycomroe on Instagram if buying designer handbags is your idea of a retirement plan!