The Best Loungewear for Women to Live In
You'll never wear "hard" pants again.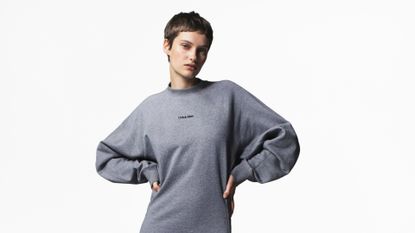 (Image credit: Calvin Klein)
It's not a particularly joyful period to reflect on, but let's rewind to two years ago. Peak pandemic, when reality was unrecognizable and the future was uncertain, we all needed a win. That win came in the form of loungewear. Consisting of coordinating sweatsuits and tie-dye hoodies that offered both physical and emotional comfort, the cozy clothing niche initially formed as a sartorial coping mechanism. But fast forward to now, where the best loungewear brands offer pajamas, sweatpants, loungewear sets, and luxe leggings you'll happily take for a spin outside the house, and it's become a full-blown, legitimate fashion category.
Ahead, we honor the comfort-forward category by compiling some of our favorite loungewear for women, including labels like Softwear, which makes ultra-soft loungewear in New York, and LESET, a line dedicated to offering effortless pieces for the modern woman. Scroll onward to discover your new favorite places to turn to for affordable cashmere sweaters and elastic waist bottoms that'll make you vow to never wear "hard" pants ever again.
Quince
Dedicated to offering high-quality wardrobe staples at affordable price points (take a look at its ethically-made cashmere offerings), Quince is where to turn if you're looking to restock your go-to essentials without demolishing your budget. The accessible luxury brand only partners with factories that meet its ethical guidelines and sustainable tenets, too.
Richer Poorer
California-based brand Richer Poorer creates pieces that are the perfect balance between the basics you know and love (and live in) and those special pieces that you only pull out when you want to feel extra cozy. The brand sells everything from intimates to dresses that are designed with a laidback sensibility.
Pangaia
PANGAIA describes itself as a "materials science company" that designs pieces that are meant to be lived in. The brand's line of sweatshirts, sweatpants and more are all created using bio-based and recycled materials and are dyed using organic, botanical dyes. The pieces are even made with antibacterial peppermint so that they stay fresher for longer.
Calvin Klein
Calvin Klein is a brand that hardly needs any introduction. Its aesthetic feels inherently tied to a laidback '90s supermodel attitude but done in a way that feels very 2023. Peruse its new loungewear offerings, like fuzzy sweatsuits and sweater dresses, and refresh your underwear drawer with its iconic briefs and bralettes while you're at it, too.
Sundry
Sundry combines a French sartorial sensibility with a laid-back Californian approach—Founder Matthieu Leblan was born in Aix en Provence before moving to southern California. The resulting line features a series of washed-out and sun-drenched hues and patterns.
Comme Si
Comme Si is designed for women who secretly love to lounge around the house in men's boxers. Its range of boxers and luxe-feeling socks will make you never want to put actual clothes on again.
Barefoot Dreams
Barefoot Dreams may have earned its celebrity approval thanks to its range of blankets and robes, but the brand has way more to offer by way of cozy loungewear. The CozyChic Lite® Ribbed Midi Dress, for instance, works for day or nighttime wear.
Michael Stars
Back in 1986, Michael Stars' co-founders Michael Cohen and Suzanne Lerner set out to create a line of tees and tanks that would last a lifetime. The brand has since expanded and now creates a complete range of bottoms, dresses, jumpsuits, and more. Even better, over 85 percent of Stars' products are made in Los Angeles.
Cotton Citizen
If you're sick of wearing your favorite black hoodie or your classic grey sweatpants on a daily basis, it's time to check out Los Angeles-based brand Cotton Citizen. The family-run label takes pride in its range of luxe, sustainable lounge- and knitwear, all of which are available in a range of saturated hues—plus a few neutrals, of course!