10 Accessories to Freshen Up Your Spring Wardrobe
Hello, spring—we're ready for you!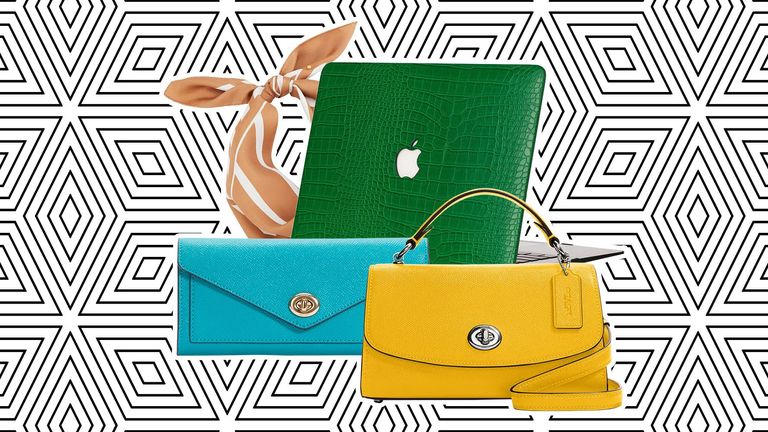 (Image credit: Coach Outlet, Cuyana, Chic Geeks)
It feels more exciting than ever to get dressed this spring and summer. And as you get set to refresh your closet this season, pay special attention to standout accessories you can use to update your existing wardrobe. After all, it can feel like, at least clothing-wise, last spring and summer didn't even happen: Old favorites and new purchases sat untouched in the closet as we figured out what the heck we were doing and how to dress for work and life that happened in the same space.
With this spring's wardrobe more than ready for some airtime, here are some of our favorite new accessories that will add a fresh feel, spot of color, or runway trend (opens in new tab).
1. A Bright Bag
When you go bold with hue, stay simple with shape: No one does that better than Coach, a heritage brand that's mastered both poppy colors and timeless lines.
Coach Outlet Tilly Satchel, $140
2. A Chic Mask
It's hard to get excited about a face mask these days, but an intriguing hybridization of a silk scarf on top of another fitted covering gives the look a fresh spin.
Cuyana Silk Striped Bandana Mask, $45
3. A Cheerful Wallet
When it comes to style, the best choices are the ones you make for yourself—not to impress anyone else. With that in mind, consider upgrading the little things that aren't always on display. A luxuriously grained wallet in a bright color is something you'll use every day.
Coach Outlet Envelope Wallet, $87.50
4. A Fun Phone Case
Don't let anyone tell you you shouldn't invest on a chic phone case—it's no doubt one of the accessories you'll use the most!
The Daily Edited Leather Phone Case, $70
5. A Quirky Hat
A baseball cap can cover a multitude of sins while also being a savvy way to double up on sun protection.
Kinfield Hat, $28
6. Playful Earrings
Zoom life is statement jewelry life. Up your video conference game with a standout pair of earrings.
Hart Earrings, $70
7. An MVP
Belt bags aren't going anywhere. When things open up and travel plans start populating your schedule, be ready with the ultimate go-anywhere MVP.
Coach Outlet Heritage Belt Bag, $140
8. A Tech Update
If you live off your laptop, make it reflect your personality with a fun spot of color.
Chic Geeks MacBook Case, $90
Color for Your Cheeks
While makeup isn't technically an accessory, a pop of color with extra glow surely ought to count as a way to freshen up last year's clothes.
Jamie Makeup Blighlighter, $34
Leah Melby Clinton is a writer, editor, and serious shopper who loves discovering new labels, detailing the best ways to build a wardrobe, and interviewing interesting people.