16 Long Pendant Necklaces You'll Wear Forever
The perfect finishing touch.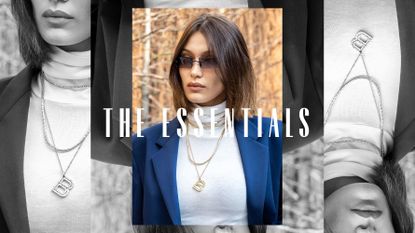 (Image credit: Getty/Design by Susanna Hayward)
Welcome to The Essentials, (opens in new tab) our weekly series highlighting a must-have classic, key to building a timeless, pulled-together closet.
I'm a "more is more" kind of gal when it comes to accessories (opens in new tab), and I don't mess around when it comes to stacking (opens in new tab). I feel naked without at least four layered necklaces, ranging from chokers (opens in new tab) and chains (opens in new tab) to long pendants. For me, a self-proclaimed necklace expert, the long pendant is crucial—it serves as the finishing touch for any perfect stack. The formula is easy: choker, chain, short pendant, and long pendant. Voilà!
Still, if you're someone who doesn't want to wear a ton of necklaces every day, that's okay, too! One sleek long pendant goes a long way and can instantly elevate any look. Whether you're looking to stack it up or keep it simple, a long pendant necklace will be one of the most versatile pieces in your jewelry box.
Shelby Comroe is the Credits Editor and Fashion Assistant at Marie Claire covering all things fashion and giving credit where credit is due. Check her out @shelbycomroe on Instagram if buying designer handbags is your idea of a retirement plan!