How to Style an Oversized Sweater
Big knit energy.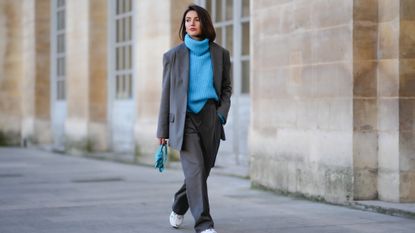 (Image credit: Edward Berthelot/Getty Images)
Marie Claire Newsletter
Celebrity news, beauty, fashion advice, and fascinating features, delivered straight to your inbox!
Thank you for signing up to Marie Claire. You will receive a verification email shortly.
There was a problem. Please refresh the page and try again.
A borrowed-from-the-boys slouchy sweater is as effortless as it is essential. The wardrobe must-have is as easily worn in peak chilly, "good God, it's cold" winter as it is through the fluctuating temperatures of spring. In other words, it's a multi-seasonal hero piece deserving of prime real estate in your closet (Come on, give your best oversized sweater a spot on the top shelf; it deserves it!). And given the wide variety of silhouettes, from perfect pullovers and chunky cable knits to oversized tunics, there are a million plus ways of wearing a roomy sweater. But here, we've narrowed it down to just nine outfits featuring the baggy-on-purpose knit. Keep scrolling to find out how to style an oversized sweater, according to stylist Heather Newberger and our favorite members of the street style crowd.
A French Tuck
"A French (or front) tuck tends to be my go when to comes to giving shape to my cozy, oversized garments," Newberger shares over email. "I like to say that dressing starts from the ground up, so choosing a great pair of pants and then tucking your sweater into them is a really classic and chic way to wear something baggy. It suggests you know a thing or two about how to dress for your figure, and it gives your oversized sweater some shape."
A Beloved Button-Down
Preppy and polished! Need a way to make your oversized obsession look a little more business casual? Layer a collared button-down shirt underneath your sweater and then slip into straight-leg jeans and a pair of pumps. It's the perfect combo for balancing polished and prim with casual and down to earth.
Baggy on Baggy
"I've also been dabbling in paring my oversized sweaters out with baggy jeans, leaning into the 'everything oversized' trend," states the stylist. "It was tough for me to make this switch because I love to create shapes by cinching in my waist, and this look bucks that sensibility—but I wouldn't say it's unflattering. Oversized sweaters almost exclusively lower their shoulder lines, so they look deliberately large (and not like you're just swimming in your dad's old cashmere). Therefore, keeping your whole outfit oversized still looks intentional—and intentionality is everything when it comes to putting a look together," she asserts.
Midi Madness
"I also love an oversized sweater with a calf-length skirt, specifically one that's on the more voluminous side," Newberger offers. "There's something really chic & effortless about this look that you can pair with Chelsea boots or sneakers, depending on your point of view."
Widen Your Horizons
"You want to balance your tops and bottoms in such a way that they're in conversation, not competition!" the stylist implies. "An oversized sweater with wide-legged pants? Score!"
Let's Talk Textures
Clashing textures is a great way to add some additional visual intrigue to any outfit. Whether you're combining your oversized sweater with velvet, leather, or knit of another kind, nothing is off-limits.
Belt It, Baby
"I have a lot of feelings on how women can always create shape with their outfits, often by highlighting their waists," explains the stylist and fashion writer. "Belts can often be key here when it comes to delineating the space between your bottoms and your sweater, but there's no 'one size fits all' rule."
Be Color Conscious
Monochromatic: Another great way to easily create a chic outfit. Regardless of the sweater, keeping the remaining pieces in the one color is essential for that minimal chic aesthetic.
Meet the Expert
Heather Newberger is a fashion stylist, author, and television commentator. Her mission is to help people find joy and self expression through clothing. An imaginative and discerning creative, Heather's inspired point of view uniquely reflects her commitment to championing all genders, shapes, and sizes. She is devoted to creating inclusivity within the fashion industry. Heather's first book "How to Date Your Wardrobe" is available for purchase wherever books are sold.
Celebrity news, beauty, fashion advice, and fascinating features, delivered straight to your inbox!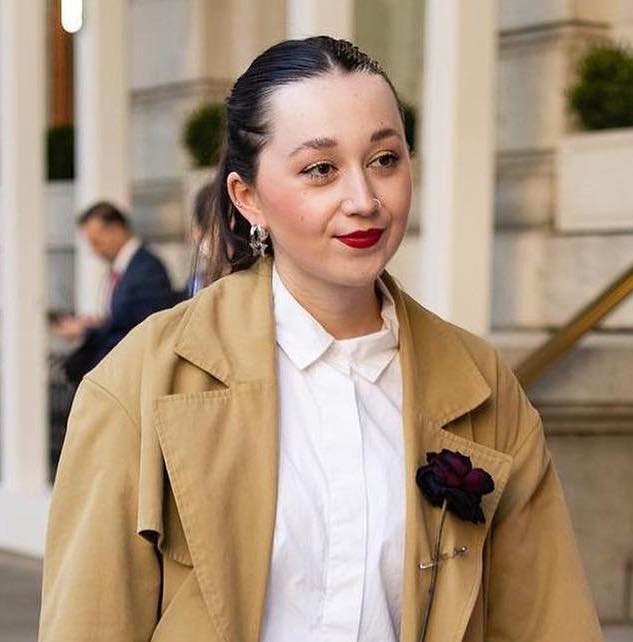 Emma Childs is the Style Editor at Marie Claire, where she researches up-and-coming trends, curates shopping guides, and gushes about the must-buy items she can't stop thinking about. She previously wrote for TZR, Editorialist, Elite Daily, and Mission Magazine and studied Fashion Studies and New Media at Fordham University. When she's not writing up fashion deep-dives or finding the season's best pieces, you'll find her fiddling around in Photoshop and perusing HBO Max for the next show to base her personality on (currently, it's "Succession").