Jennifer Lopez's 32 Best Fashion Moments
Including that Versace—and its 2019 replica.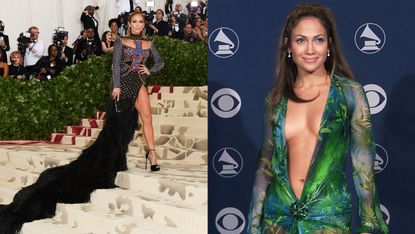 (Image credit: Getty Images)
Of the most well-known fashion icons of all time, Jennifer Lopez has got to be in the top ranks. She had a strong start when she came on the acting scene in 1997, and has since continued to outdo herself over and over throughout the course of her decades-long career. The key is her consistency: She often has cutouts, a deep deep v-neck, a thigh-high slit, or a combination of all three (she's a bombshell! She pulls it off!). She has some trendiness within her looks, but she tends to opt for classic silhouettes and high-end materials. Even when J.Lo is going absolutely out there—think huge hats, chunky belts, and the most glitter you've ever seen—she walks down the runway or across the stage with so much energy that you can't help but be wowed. Whether you're shaking your head and laughing or cocking your head to get a better look at the over-the-topness of it all, you still love it.
Ahead, 32 of the most iconic fashion moments that J. Lo has ever blessed us with.
At the Grammys, 2019
This off-the runway Ralph & Russo gown would be stunning enough on its own, and wouldn't even cause us to bat an eye—but then J. Lo has to go and select a matching wide-brim hat that sort of looks like a flying saucer. In an interview on the red carpet with CBS, she proclaimed to absolutely love it. And that, in a nutshell, is how she's able to pull off an objectively wild-looking outfit: by committing to it wholly, never looking back, and making it work for her aesthetic.
At the 'Hustlers' Premiere at the 2019 Toronto International Film Festival
This Maison Yeya gown has...a lot going on, and in the hands of a more inexperienced starlet, it would look silly and overwhelming. But J. Lo gives it that extra shine by keeping her hair simple (and in a mostly matching color) and giving it her trademark bombshell attitude. The fact that her bag is a stack of cash (I mean, it's thematic, since this is the Hustlers premiere) is the accessory that ties everything together.
At the Met Gala, 2021
If you're going to the "In America: A Lexicon of Fashion"-themed Met Gala, why not go as a sexy cowboy? This all-brown Ralph Lauren ensemble includes: a cowboy hat (obviously), a hammered silver coin necklace, another choker necklace that sort of looks like a belt, an actual belt slung low on the dress, and a faux fur-and-feathers shrug. And yet: She works it! This was one of J. Lo's later Gala looks, and in her bid to constantly outdo herself, she outdid the most.
At the Met Gala, 2015
For the "China: Through The Looking Glass" Met Gala, J. Lo donned a dress that looks like a fire-breathing dragon is entwined around her body, and honestly that sounds exactly right for the wearer and the event. It's hard to tell in this photo, but this semi-sheer Versace is incredibly see-through around the hips and waist along the side, which led to some pretty impressive side-body shots from the event.
At the Golden Globes, 2020
It's impossible to see this enormous bow gown and not think about J. Lo presenting herself as a gift to all of us (this was a January event, so the holiday-appropriate colors mean this could not have been an accident!). Frankly, I'm in support of the idea that J. Lo's presence is a gift to all of us: This Valentino Couture dress is over the top in a way that's worthy of her, and her braided updo hair and emerald jewelry are the correct adornments for this present.
At the Academy Awards, 2002
We don't always see a big hair moment from J. Lo, but this is the '00s teased hair that was incredibly, gloriously popular at the time. This wasn't her first Oscars appearance (that would be her pretty Badgley Mischka gown in 1997), but—since she's a fashion chameleon who likes to go big—this was a first indicator of her incredible and wild choices. The secret sauce of making a trend her own and making some unimpeachable fashion choices, a.k.a. this Versace gown, is in full effect.
At the People's Choice Awards 2017
If fashion is armor, this might be the equivalent of a breastplate. It's Reem Acra and incredibly glamorous (and also the right choice for her first People's Choice Awards win), but the bib aspect to the gown means it's not for the faint of heart. This is also a departure for J. Lo, who loves the more out-there, daring styles, so actually—if you think about it in that context—a diamond front semi-sheer dress is like first grade level math for her.
At the amfAR's Cinema Against AIDS 2010 Gala
This is admittedly a personal favorite of mine (it's pretty similar to Penelope Cruz's 2007 Oscars dress and perhaps not quite as architectural). But! The Roberto Cavalli gown is still gorgeous, fitted and flowy. It's also somewhat of a departure for J. Lo, who loves to bring the drama in every aspect of her outfits—but looks incredibly classic and feminine here. It makes sense, since this is a foundation gala, but still. I like the change-up! It suits her!
At the Met Gala, 2019
Now this is drama. This glimmery Versace gown may not have the longest train (which can be a feature of costume-y Met Gala looks, especially since that year's theme was "Celebrating Camp: Notes on Fashion"). But when you've got a glittery fringed headpiece that makes it look like your hair is made out of diamonds, who even cares? Don't forget the deep v-neck and leg slit on the bottom for maximum posing opportunities. Side note: I love how some of the pieces of glitter are huge.
As the Host of the 2015 American Music Awards
If you're going to host the AMAs, why not break out several outfits? Welp, J. Lo took that to heart, donning, in total, 12(!) outfits over the span of six hours. Several of them deserve attention but this yellow Michael Costello jumpsuit is a particular standout. She doesn't often opt for the color (the 2016 Golden Globes being one other notable example), but this styling is proof why she should try the tricky-to-pull-off hue more often. The soft updo, yellow belt, and red lip: It's all working.
At the Academy Awards, 2003
Often cited as one of the best Oscars gown of all times, this was also a smart sartorial move on J. Lo's part. She had already proved that she could turn heads with daring looks (see also: the 2000 green, naval-baring Versace she's probably most known for) but this Valentino channeled green in a more subdued, ever-so-glamorous way. Mint isn't necessarily a color you see at the Oscars, and this dress—which was inspired by a gown that Jackie Kennedy wore in 1967—showed that she could keep pace with some of the biggest fashion icons of all time.
At the Academy Awards, 1997
J. Lo's first trip to the Oscars was an extremely smart choice for the up-and-comer (she was attending with her partner at the time, Ojani Noa). Threading the needle between glamorous and revealing, this beaded Badgley Mischka feels appropriate for a formal event but a hint of the glittery gowns we'd be seeing from the singer-actor. To look this confident this early in one's career, and going toe-to-toe with some of the biggest names in acting at the time: That's the J. Lo experience.
At the Premiere of "The Tender Bar," 2021
Listen, this powder Elie Saab dress is great, don't get me wrong (she drew comparisons to a modern-day Cinderella, especially with the matching blue belt and silver jewelry and accessories), but the brilliance of J. Lo is that she makes her partners a part of her red carpet exposure. This was not long after Ben Affleck and J. Lo ("Bennifer") had made their renewed relationship official, so catching a glimpse of the couple was part of the excitement of this event.
At the 2020 Film Independent Spirit Awards
Taken from Valentino's pre-fall collection, this is probably the best kind of look for the Independent Spirit Awards, which allows for some fun and slightly less stuffy looks that are nevertheless upscale. J. Lo never passes up the opportunity to wear a full ballgown, but this, with a sparkly top (it almost looks sheer but isn't particularly revealing), a rich purple skirt, and a shiny silver belt meant that she was the most-talked-about look there. J. Lo: never missing a chance to add a cool belt! I support it!
At the Golden Globes, 1998
It's not totally clear who the designer of this gorgeous color-blocked gown is. But, for J. Lo's first appearance at the Golden Globes, it's a spectacular choice. It establishes her style immediately as edgy (but not too edgy), skin-baring (but not too skin-baring), fun and joyful (without being over the top), and paired with an absolutely matchless pose and expression. J. Lo was nominated for Selena, which was one of her breakout performances, so it made sense for the ingenue to wear something so eye-catching but still formal.
At a 'Notorious' Magazine Party, 1999
This wasn't the Versace dress (that would come a year later), but it was one of the first times J. Lo would wear the designer. J. Lo and Donatella Versace have had a long friendship, and she wears the designer often—in fact, Donatella is at this event and the two were photographed together. This is for a less formal event, but it's still an iconic look: She's a genius to pair the liquid silver look with minimal accessories so as to place maximum focus on the dress.
At the Halftime Show of Super Bowl LIV, 2020
It wouldn't be a J. Lo performance if there weren't a ton of costume changes—the performance in question being the Super Bowl, and the number of outfits being five, in this case. All of the night's looks came from Versace, naturally. Noting the best accessory ever—the fuzzy tulle flag representing Puerto Rico and the United States—this bodysuit is drenched in Swarovski crystals and is a very typically J. Lo-esque performance outfit. Fun fact: That's her daughter Emme performing with her!
At the 2018 American Music Awards
Part of the reason why this Georges Chakra Couture dress makes sense is because it's got all the things J. Lo loves: cutouts, a pretty color, contrasting accents, and a thigh slit she can make full use of while she poses. But the other reason it makes sense is because it's got a tulle cape, so that J. Lo can do...this! She's never just wearing the outfit. She's giving the outfit all she has, and for some magical reason it never looks silly. Pose away, Jen!
At the Met Gala, 2010
She doesn't just wear Versace! For the "American Woman: Fashioning a National Identity" Met Gala, J. Lo wore this iconic silver gown (one of her most popular Met Gala looks ever). She actually helped popularize Lebanese couturier Zuhair Murad with the look—she literally had her team track him down to make this dress. Murad said that this was one of his proudest red carpet moments, telling Vogue Arabia that it took 1,000 hours to make.
At the Met Gala, 2023
While I, or perhaps all mere mortals, might balk at wearing a gown that is literally just two pieces of fabric in the front, J. Lo is no mere mortal. Pink and black were the colors of the evening (the theme for the Met Gala in 2023 was "Karl Lagerfeld: A Line of Beauty"), and this handmade Ralph Lauren ensemble includes two black trains, one pink train, a ruffled halter top, velvet opera gloves and—to top off the look—a black gothic fishnet fascinator. Obv.
At the Academy Awards, 2010
Walking the red carpet with then-husband Marc Anthony, J. Lo's side bustle did all the talking for this extra-glam look (people noted that the sparkly pale pink gown could work as a wedding dress but seemed like a perfect choice for such a formal event). The dress is Armani Privé, and unlike her 2002 pink Versace paired with very big hair, this feels like the exact right pairing of color, fit, texture, and personality. It's also closer to what would become her trademark red carpet style in in the '10s and beyond.
At the Academy Awards, 2006
This might be divisive, but this is one of my favorite Oscar dresses J. Lo has ever worn. Who else could wear this forest green Jean Dessès gown, with ruching all over and a low-rise train that started right at the hips, and look this effortless? It's proof that green really is her color (even though she wears a lot of colors exceedingly well). Fun fact: The train billowed a bit when she walked, which was a fun surprise for this seemingly demure choice. A++.
At the Golden Globes, 2009
A few years in on her Golden Globe appearances, J. Lo drew comparisons to—what else—a Golden Globe statuette in her molten, liquid gold Marchesa gown. Beyond the signature J. Lo touches (low, draping neck, side cutouts, simple hair and jewelry), this was right around the time when J. Lo was really perfecting her couture style. There's a luxe-ness to this that makes it feel both uniquely her and undeniably polished.
At the 2015 Tony Awards
This strapless navy Valentino gets more gorgeous the closer you get to it. My favorite part is the explosion of sparkles at the hip trailing out to individual sequined stars throughout the body. She's also got a shorter, old-Hollywood-esque hairdo and deep red lip (a surprising choice!). I wouldn't call it revenge dressing, per se, but pundits noted at the time that, post-divorce from Marc Anthony, J. Lo was debuting a chic new look that knocked it out of the park.
At the Met Gala, 2018
This custom-made Balmain turned just about every head at the 2018 Met Gala (the theme won't surprise you: "Heavenly Bodies: Fashion and the Catholic Imagination." Yup! Nailed it!). Inspired by a 1988 Vogue cover, the dress took a month to make and was so intricate that there were jewels on the dress' feathers. When J. Lo decides she's going to go all out, complete with a long train, she does it in style.
At the Academy Awards, 2012
This custom-made Zuhair Murad dress was absolute Art Deco perfection—once she started wearing the designer, she returned to him for her most iconic dresses. The cutouts at the sleeves give that extra J. Lo edge, too. (If you remember this dress for other reasons, it's because when she was presenting, people thought they saw more of J. Lo than she intended, but the prevailing conclusion was that no, we did not.)
At the 'Second Act' World Premiere, 2018
I mean. Come on! This dress (which took up the whole limo on the way to the premiere) was too much in exactly the right way. The Giambattista Valli dress is bright pink and so much tulle it'll make your head spin; If the name and color sound familiar to you, it's because the designer made a pink tulle gown for Rihanna too. But this one certainly takes the cake in terms of volume and sheer audacity—I love that J. Lo looks utterly unbothered by the stir she's absolutely causing.
At the Met Gala, 2011
At the "Alexander McQueen: Savage Beauty" Met Gala (meant to honor the late designer), J. Lo wore this fire-red Gucci and going full tonal with matching clutch, lipstick, and nails. You've got some distinctive J. Lo cutouts beneath that pretty floral ruff, but the whole thing generally looks very traditionally glamorous. When J. Lo goes for a little more simple and chic, I think they're some of her best looks of all time.
At the 2019 Vanity Fair Oscar Party
Going with Zuhair Murad again, this fan-like gown for the Oscars afterparty was...stunning, simply put. The metallic shell pleats are so architectural, you see even more detail the longer you look. Walking the carpet with then-partner Alex Rodriguez, there were several photos of him staring in awe at the look. Same energy: I almost want her to rewear this, because it's one of her most stunning outfits of all time.
At the Academy Awards, 2019
For the actual 2019 Oscars ceremony, J. Lo broke out the big guns and wore this absolutely riveting silver, mosaic-like Tom Ford dress. She kept the rest of the look simple with matching accessories—which makes sense, because the dress itself is a piece of jewelry (and apparently was incredibly reflective—it must have been even more stunning in person). This was also the Oscars red carpet debut for J. Lo and then-boyfriend Rodriguez.
For Versace's Women's Spring Summer 2020 collection, 2019
For the twenty-year anniversary of the print, Donatella Versace was doing a special collection inspired by the original pattern that J. Lo so famously wore in 2000. J. Lo would later tell GQ, "She asked me to walk, and I said, 'Of course!' We've been friends for a long time now." The result was this shocking and absolutely stunning Milan Fashion Week catwalk, in which she looks just as glamorous in this replica as when she did in the original dress.
At the Grammy Awards, 2000
It would be impossible to top this original Versace gown—it raised the profile of Versace, and it instantly made J. Lo a fashion icon (leaving aside the very annoying comments at the time of whether it was too revealing). As told by J. Lo, the dress selection was very simple: She didn't have anything to wear for the Grammys, and this was one of two her stylist brought. Donatella Versace, her friend (and who actually donned the dress before the singer did), delivered the most well-known green dress in red carpet history.
Marie Claire email subscribers get intel on fashion and beauty trends, hot-off-the-press celebrity news, and more. Sign up here.