32 of the Biggest Style Icons of All Time
From Cardi B to Princess Di.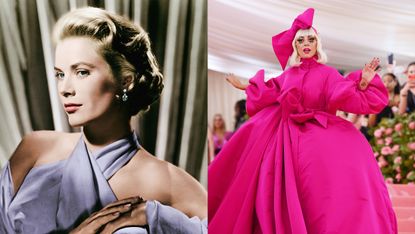 (Image credit: Getty Images)
In the pantheon of style, we have a wealth of icons who have used fashion to express themselves, break barriers, and give us all inspiration through their unique choices. Icons usually follow a few simple rules: They embody a style that's unique to their time, even when they're drawing from that decade's inspiration. They often turn heads and shock people in equal measure, since they're innovating and doing something new through their clothing (and they can be under-appreciated in their day). They have a uniform, a signature style—but they also evolve as they grow. Their careers can be long, fruitful, and a delight to witness in real time. And they rarely take notes from anyone except themselves and fellow style icons.
Here, we've got 32 of the biggest style icons of all time, who each fit into this broad definition, but who also put their own spin on what it means to be a fashion innovator for the ages.
Joan Jett
Rock and roll style would never be the same thanks to Joan Jett: As founder of The Runaways and frontrunner for Joan Jett and the Blackhearts, she was an immensely talented singer and public figure. But her style was iconic because she knew what worked for her (mainly: leather, chains, statement jackets, strategic use of color, with a touch of femininity and a ton of jewelry), and she made small, but important evolutions to her look throughout her long career.
Billy Porter
Who says men can't wear the most fabulous gown on the red carpet? Since becoming Lola on Broadway's Kinky Boots, Billy Porter has been a champion of genderless fashion, whose immediately iconic outfits only increased in intensity through his Golden Globe nomination for Pose. His selections are bold; When he wore a black Christian Siriano tuxedo dress to the Academy Awards in 2019, he made history.
Alexa Chung
Initially coming to prominence in the '90s and peaking in the '00s, Chung could argue that she was a preeminent influencer—one of the first of her kind. A model by trade but also a reliably funny on-screen presence, she has an eclectic style...such as pairing a colorful mini with knee-high boots, for example. She's continued to pioneer her own fashion, including through a line with Marks & Spencer and a Mulberry Alexa collaboration.
Jean Shrimpton
It might sound hard to believe, but when David Bailey shot Jean Shrimpton on the street, it was an innovative, never-been-done-before idea—and basically helped usher in street style. One of the first supermodels, the former face of Revlon and "the face of the '60s" had an enormous impact on fashion, airport style, the miniskirt (an absolutely scandalous item of clothing at the time), and great fringe-y haircuts with dark eyeshadow.
Andre Leon Talley
The first Black creative director at American Vogue, Talley had a huge cultural impact—and additionally, his personal style was revolutionary. His magnificent coats, capes, and bags (a personal style he developed early in life before he was even a fashion journalist) were museum-worthy pieces. Quite literally, since his collection (including couture, jewelry, handbags, jewelry, and art) was sold at Christie's in 2023.
Twiggy
A fashion icon of the '60s and an early supermodel, Twiggy was seen as the successor to fellow supermodel Jean Shrimpton. She brought a waifish, androgynous look to the mainstream (particularly with her short haircut), which was controversial at the time but still landed her in magazines including for American and British Vogue. She acted, sang, became a cultural icon, and even came out with a line of "Twiggy dresses."
Victoria Beckham
Posh Spice no more! Even though Victoria Beckham is honest and jovial about her roots as one-fifth of the most popular girl group in the world in the '90s (and about how her costumes included...a lot of latex), she's most interested in being taken seriously as a designer and fashion mainstay. It's absolutely worked; She's creative director of a fashion line bearing her name, which made its Paris Fashion Week debut in 2022.
Jennifer Lopez
J.Lo's been around for a long time, and in that decades-long fashion evolution, she's given us many an iconic red carpet look. (Just remember that green, navel-baring Versace that instantly made her the most talked-about person on Earth!). But on a deeper level, her rise to prominence despite being a curvier person—and having that be discussed at length too—helped usher in a semblance of diversity and body positivity to the fashion conversation.
Cardi B
Cardi B's style is always so over the top that you can't help but love it. She works with impressive fashion houses, including Givenchy and Gucci, and she'll wear the biggest, brightest, most risque outfits of anyone on the red carpet. She's always working to outdo herself, and she's even become an important presence at Paris Fashion Week. She's the pinnacle of dressing to make yourself happy, and she models body positivity and self-expression all at the same time.
Nicole Kidman
Since the '90s, Kidman has been turning out fashion looks. From her unexpected chartreuse Dior at the normally black-tie Oscars to her red glamour at the same event a decade later, she's the gold standard for red carpet dressing. The fact that she's always game for a cutout, color, or pattern (especially in recent years) makes her a dream for designers to dress. CNN called her "one of fashion's biggest risk takers" in 2022.
Blake Lively
With a very strong start as Serena on the fan favorite TV show Gossip Girl, Blake Lively parlayed her initial fashion chops into a legitimate, mature style. A Met Gala darling whose looks have only gotten more ornate over the years (culminating in a 2022 Versace that started out rose gold and unfurled to become light green, representing the Statue of Liberty's discoloration, which—wow), she's officially a couture queen.
Carolyn Bessette Kennedy
The late wife to John F. Kennedy Jr. came to prominence in the '90s as the street style icon. Her fashion wasn't as ornate as other stars of the decade (she got married in a silk gown and beaded sandals), but her use of elevated basics like blue denim, jackets and coats, white tees, and plain LBDs, while making interesting combinations from her pieces (she was one of the first to insist that, yes, brown and black and beige can be combined together) make her looks iconic even now.
Michelle Obama
Michelle Obama joked to Jay Leno that her campaign outfits were all J. Crew, but the First Lady stepped out in some of the most regal gowns the office had ever seen. From Marc Jacobs to Oscar de la Renta, she was wholeheartedly an icon for political fashion (which isn't always known for its forward-thinking looks), and she also highlighted fashion as a serious, important art form. For a historical two terms, she made fashion history.
Kate Moss
The top model of the '90s and '00s was undoubtedly Kate Moss—her image was everywhere, on hundreds of magazine covers and prestigious ad campaigns. She was one of the most well-paid supermodels in the world, and (for better and worse) she ushered in a "heroin chic" look that was prevalent in the fashion world for many years. She's considered one of the most important and long-lasting fashion muses.
Harry Styles
He's come a long way from being in a boy band! The former One Direction-er transitioned to haute couture fashion, and he's never been shy about gender neutral clothing (think: dresses, ruffles, earrings, faux fur, and yes, fluffy scarves). As his stylist told British Vogue in 2019 at the debut of his second album, "It's time to try something new and hopefully shock and inspire in a different way." Mission accomplished.
Brigitte Bardot
Once described as "the world's most beautiful woman," Brigitte Bardot was the icon of the '50s and '60s. She utilized her bombshell status to break with convention, including wearing miniskirts and messy eyeliner. She brought innovation to fashion (such as when she asked shoe brand Repetto to make her some outdoor shoes) and generally cared less about what people thought. Jean-Claude Jitrois, who dressed her later in her career, calls her style "chic-destroy."
Grace Kelly
Modern celebrities reference the late Grace Kelly in their billowy, elegant red carpet dresses. And it's true that some of her most iconic looks were beautifully tailored ballgowns. But her everyday style was just as impressive—both on screen, as in her stylish turn in Rear Window, and her actual real-life style. She could elevate jeans with a ballet flat and floral top, and she could deploy sunglasses to make a day dress more casual. She had a strong sense of her core aesthetic, but she could make any outfit in that aesthetic sing.
Beyoncé
If fashion is theater, Beyoncé is the stage director. She doesn't just hold her own against any other red carpet icon working today; She works often with Black creatives (including designers, photographers, and entrepreneurs) and foregrounds their work as a part of her process—all the more impressive because in breaking with tradition, she's creating new ones. Even her social media posts give careful editorial consideration and spotlight new and diverse voices.
Sarah Jessica Parker
If Sex and the City was the vision of New York every person wanted to live, then Carrie was the person everyone wanted to be. With a seemingly limitless shoe budget (seriously, how??) a chaotic-but-couture style, and that messy curly hair, she was the imperfect but incredibly cultured Manhattan girl. And Sarah Jessica Parker—who has a slightly more buttoned-up and mature style—has always leaned into the style roots of the character while still retaining her own personality on the red carpet.
Princess Diana
The late Princess Diana had quite the style evolution. She started out with a sweet, almost innocent style as a young woman, then matured into a working royal—part of her identity as "the people's princess" was her dressed-up style. Then, upon her separation and divorce, she debuted a mature, sometimes sexy style (see also her revenge dress) and something more evolved still: joyful dressing. The whole world watched her.
Diana Ross
As one of the forerunners of edgy-glam concert style (and never underestimate how her luxurious hair was an integral part of her look), Diana Ross evolved her fashion during her long career from the '50s through the '70s. She went from chic and buttoned-up, to bohemian and flowy, to sparkly and fitted, to simple and pared down, all while retaining her core aesthetics. If you care about '70s fashion especially, she's your inspo.
Grace Jones
In her heyday, no one else looked like Grace Jones—and she liked it that way. Tall, angular, with a cool geometric haircut, she accentuated her looks with oversized, layered, colorful, over-the-top outfits. She may have sometimes been treated like a cool novelty (see: her casting in A View to a Kill) but she always treated herself like the style innovator she clearly was. Looking back, she was all the more impressive for it.
Sophia Loren
Even though it's disputed that Sophia Loren attributed her figure to spaghetti and wine, it's true that Loren had a body type that was unlike some of her contemporaries—and that's one of the reasons she's known sometimes as the "Italian Marilyn Monroe." Body-con dresses, winged eyeliner, lots of really great jewelry: It was her trademark look, and ultimately couture designers got on board to help her achieve it.
Zendaya
Working with stylist Law Roach, Zendaya originally became a style icon in a smart way: She would wear dresses and outfits that someone had already worn on the red carpet, drawing natural comparisons in the "Who wore it better?" sections of magazines. Her reputation established, she's continued to push boundaries on the red carpet, but always does so in an elevated, couture-focused way. She's also a bit of a chameleon—you never know what she's going to turn up in next.
Audrey Hepburn
If your style is elegant and sophisticated (and focused on elevating minimal pieces), then Audrey Hepburn is your north star. Sure, she's most known for her gloves, black dress, and sunglasses in Breakfast at Tiffany's, but she's much more than that. She was a pioneer of dressing to match your body type, investing in long-term pieces, and having a classic look that was immune to trends. Her "mod" look included a uniform that she wore religiously but didn't take too seriously. She preempted a lot of the ways we view fashion in the modern age.
Jane Birkin
Behold, the inspiration for the Birkin bag! The British-French actor and singer was beloved in France for her English-accented French, relationship with then-icon Serge Gainsbourg, and her chic French style. Jane was basically (and is still) the ideal of French dressing: lots of stripes and denim, a rattan basket, cool shoes, an "undone" look that brings in some messiness but still looks polished, and layering. Anyone who loves French fashion has her on their Pinterest board.
Jackie Kennedy
The stylish First Lady influenced trends while she was in office and beyond—most notably, the pillbox hat and smart coat dress, but much more than that. She was an early popularizer of the oversized sunglasses, headscarf, statement outerwear, and shorter hairstyle for women (perfectly styled, with not a hair out of place). She looked just as at home on a boat and on a horse as she did at a major political gala. Timeless.
Lady Gaga
It's not just about the meat dress, but the fact that Lady Gaga...literally wore a meat dress in 2010, and we absolutely consider it par for the course for the singer/songwriter and actor, just goes to show what a true style icon she really is. Over the top style has always been integral to her self-expression. Even though, after her transition to acting, she (mostly) started showing up to red carpets in sleeker, more streamlined styles, she remains as cool and edgy as ever.
Cher
Few people can claim relevance for six decades(!), but Cher absolutely can. From the disco princess of the '60s and '70s to the skin-baring, sparkly Bob Mackie outfits of the '80s and '90s, to her renaissance in the '00s—plus a several-year run of platinum blonde hair—Cher has continued to be a part of the cultural conversation. The chameleon-like style evolution has given her the kind of longevity that most stars can only dream of.
Madonna
Madonna's style was almost as avant garde as her music back in the day, with the world aghast at her choices to pick provocative, androgynous, and sometimes downright shocking outfits (hello wedding gowns!). But her staying power really comes down to the fact that Madonna has been able to transform many times over the course of her decades-long career, and the fact that she chooses her fashion influences wisely—including Marilyn Monroe—and works with up-and-coming designers.
Rihanna
Named a style icon by the CFDA, Rihanna parlayed her status as a singer to a powerful fashion identity. Beyond her incredible fashion looks (including a ton of Met Gala glamour all the way back to 2007), she's done collaborations with brands like Puma and Manolo Blahnik. The first Black woman to head a luxury brand for LVMH, she still sells lingerie and beauty products, and can count herself as a mogul as well as an icon.
Marilyn Monroe
If you've ever worn something body-con, chances are you've been influenced by Marilyn Monroe. Her popularity as an actor dovetailed with the fitted, accentuated outfits she generally wore on the red carpet (not to mention the costumes she wore on the set of movies) and the deep v-necks, cut-outs, and sparkles that set her apart at the time. We still feel her influence in more ways than one—just to name one example, Kim Kardashian (controversially) wore her "Happy Birthday Mr. President" dress to the 2022 Met Gala.
Celebrity news, beauty, fashion advice, and fascinating features, delivered straight to your inbox!