I Wore Bants in France
Uh, let me explain.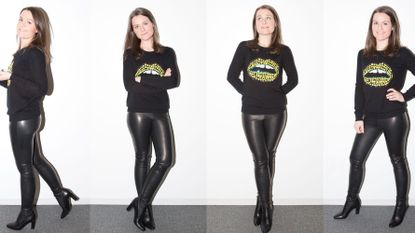 (Image credit: Kathryn Wirsing)
What girl doesn't love a leather legging? Or at least the look of a leather legging? Throw on a black boot and voila: You feel like [insert model-of-the-moment's name here] heading to [insert cool event here]. So if someone were to, say, unify the whole process—attaching the leggings and boots together somehow—that would be genius, non?
Ladies, I give you the boot pant. Or what I prefer to call the "bant." After Karlie Kloss publicly professed her love for the style ("All-in-one, baby"), and several big-name designers showed versions on this season's runways—Tamara Mellon, Edun, and Versace, to name a few—I knew I had to see for myself what this shit was all about.
So I did what any curious [read: good] fashion editor would do. I called in a pair (thanks, Tamara Mellon!) and tried them out on the streets of Paris Fashion Week. Are they genius? Well, yes and no. My candid notes, jotted down below. You decide.
Pros
I feel skinny! Or rather, streamlined.
I feel cool. You know, because…leather.
I didn't have to think about shoes today. Which is good, since that takes up enough of my damn time.
I was able to actually put them on. Sizing these puppies is a two-part affair: by shoe size, then either XS/S or M/L. Easier than you thought, right? Oh, and seams at the calf make them easier to tailor.
Cons
Mild claustrophobia. The struggle is real.
Human Sausage Syndrome. The best word to describe the removing of the bants would be "peeling."
Restricted movement. Bants Bants Revolution? Hardly. Just way too much sweat. (see: Human Sausage Syndrome).
Itches you can't scratch (the real kind). Yup. Good luck trying though.
Accidental workout. Putting them on isn't just an exercise in patience; it's actual exercise.
Questions/Concerns
Storage. Where do bants belong? Does one hang them in the closet like pants, or store them like shoes? I hang mine at first, but the weight of the boots feels like it's stretching them. I quickly decide that when I'm rich enough to build my dream closet, I will store my bants in plush, velvet-lined boxes.
Cleaning. Is this a job for my drycleaner or my cobbler? I'm thinking cobbler. (At least he assures me this is the case, although I'm fairly certain he has no idea what the hell I'm talking about.)
Airline travel. Needless to say, not recommended. After explaining to the puzzled TSA officer that I would be unable to remove my shoes at security, I got a range of reactions. Frustration (really officer, where's your sense of humor?). Anger (okay I'M SORRY, person behind me!). Amusement (shout out to Barb, whose job it was to give me a heavy pat down). Pure confusion (grandma in the next line over did not compute).
Dating life. Let's suppose for a moment you're on a date and things are going well. You end up back at your place, and things get steamy. (To be fair, they probably got that way for you five minutes after putting the bants on.) Imagine his face as you begin to remove said bants (a process that could take some time). His mind? Blown, likely along with his erection. But hey, pretty sure the bants caused it in the first place.
Undergarments. Need to be barely there, or else you'll have visible panty lines (a huge bants faux pas!). I recommend a Commando thong.
In sum: Depending on your taste—and tolerance—bants are either the most practical or impractical thing ever. Either you'll be caught in a bants romance, or rejoice in a no-bants party. (Oh yeah, that's another pro I forgot to mention: The puns are endless.) They're totally badass, if you want to feel like Catwoman every day.
But honestly, who doesn't?
You should also check out:
The 20 Least Intimidating Street Style Looks from Paris Fashion Week
12 Unexpected Color Combos That Actually Look Really Good
Celebrity news, beauty, fashion advice, and fascinating features, delivered straight to your inbox!