Meet 'Mad Men's New Androgynous Style Icon, Pima Ryan
Eat your heart out, Annie Hall.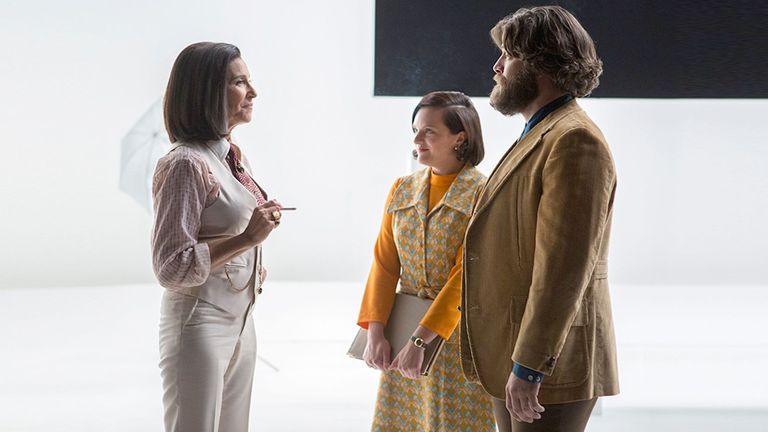 (Image credit: AMC)
Unbeknownst to us until last night's Mad Men, Annie Hall had a predecessor.
In the latest episode, we meet celebrity photographer Pima Ryan—played by the ever-mysterious Mimi Rogers—who in 1970, makes quite the statement with a Susan Sontag-esque streak in her hair and a borrowed-from-the-boys-wardrobe.
But while her clothes speak volumes, so does her feminist attitude and on-the-button musings. At a photo shoot for their account Cinzano, an Italian vermouth, art director Stan gives her some sass and she takes it in stride. When he walks away, she commends Peggy for putting up with all that she does and reminds her to stop and smell the roses i.e. bask in the success she has in a man's world. Our thoughts echoed in a tweet, below:
As the episode goes on, she continues to serve up sartorial androgyny in a new iteration of her signature look, brown pinstripes and a blue button up, and challenges Stan with lines like: "I can feel the tension you need for my opinion." Tell 'em sister. But it is in that exact moment we also become privy to Ryan's sexual prowess, which she uses to seduce Stan. She tries to pull a similar stunt on Peggy, who after a second of contemplation, opts out.
If last night's scenes were any indication, Ryan could very well be shaking things up in the final five episodes. Which is fine by us—we're all about her cutting-edge style, masterful tailoring, gender-bending M.O., and rollicking one-liners.
You should also check out:
'Mad Men' Costume Designer Janie Bryant on the Final Season, '70s Fashion, and Designing Her First-Ever Wedding Gown
25 Things You Never Knew About 'Mad Men'