This Roland Mouret Alumna Wants You to Wear Athleisure—to Work
With Being Apparel, struggling with Excel has never been comfier.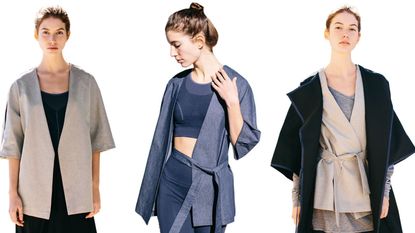 (Image credit: COURTESY, DESIGN BY DANA TEPPER)
A busy lifestyle usually squashes creative inspiration. Not so for Shonagh Speirs, the Preen and Roland Mouret alum who recently launched her own athleisure line, Being Apparel, in part as a reaction to her own hectic schedule. "I was very, very busy, as most women are these days," she says. "I was trying to go the gym, I was teaching [at Glasgow School of Art], going to business meetings and social occasions, and I had a young child at the time."
Speirs found herself wearing the same items over and over again, ones that looked good while being practical, like a black jersey dress layered over her favorite leggings. But while she was able to pair items to make her own everyday uniform, she couldn't find one brand that captured the look she was going for: comfy but elegant. "I was aware of sportswear brands shifting to athleisure wear, but at the same time they were staying very sporty," she says. "I wanted the same kind of comfort, but to be more elevated in terms of design."
Being Apparel, which launched in April, achieves this goal with three layers: seamless activewear (bra tops, high waisted leggings, and a unitard), drape-y separates (flowy T-shirt dresses, culottes, and an apron dress), and softly tailored outerwear (collarless coats and jackets). Wearing the pieces feels like being wrapped in an athleisure cloud, but at the same time they look polished, capable of taking you from work to the gym to dinner out.
Marie Claire caught up with Speirs about her design process, launching a brand on Kickstarter, and, most importantly, how to wear athleisure to work.
Marie Claire: I'd love to hear about your design process and how you went about creating the elevated basics you were looking for.
Shonagh Speirs: I worked with a team most of the time, draping the clothing over the mannequin. I would work to check exact proportions and position things so I could see exactly who they were going to look. Even with T-shirt dresses, yes, it can be cut flat, but I generally drape it on the mannequin to make sure I'm really happy with how it hangs.
MC: You did a Kickstarter campaign to fundraise. What was that experience like?
SS: Fairly early on in the Kickstarter process, we decided there was enough interest in our brand that we were going to go straight into commerce and launched the site within the first week of Kickstarter being up. There's a lot of work that goes into a Kickstarter campaign behind the scenes, from making films to building a social media following from scratch. For the most part, it was a really positive experience.
MC: What's been the most exciting part of creating your own brand?
SS: The first photo shoot I did was exciting because I got to really see my vision come to life. It's difficult to communicate what I was trying to achieve without having visuals, so as soon as I had them, it just felt amazing. Seeing the line preordered quickly was also great validation for what we're doing—that it wasn't just us, that we had a good idea, and other people thought that too and liked what we were doing.
MC: Have you learned anything new about yourself from starting Being Apparel?
SS: I'm more resilient than I thought I was. You have to take the good and the bad of your own business. Celebrate every little success, and try not to dwell on things you can't control or fix, which is sometimes easier said than done.
I'm also quite pleased that I'm doing the business side as well as the creative. Feeling more confident in the business aspect has been new for me. Another thing is working with people. I really enjoy working on a team, and I enjoyed working with everybody from my manufacturers to people on our social media.
MC: How can women integrate comfort into their outfits where it normal isn't, like getting dressed for work or going out?
SS: I don't necessarily think it's about having a huge wardrobe. It's about being very clever about how your clothing works together, making sure you have clothes that you can layer and mix and match. A grey T-shirt dress works great with a pair of heels and red lipstick, but it also looks great with sneakers and leggings.
Fabrics are also really important. You want to wear fabrics that feel amazing on your skin, that you'll go back to time and again. There's nothing worse than having a garment on that makes you feel uncomfortable.
MC: What advice do you have for someone who wants to start her own company?
SS: It's fairly all-consuming, especially a fashion business, if you want to do all the designing, cutting, and production yourself. You just have to work really hard. It's not an easy option by any means—I left the security of a good job at Glasgow School of Art to do this—and I've never worked this hard in my life. You need a good support network: someone to celebrate with, somebody to cry to if necessary. You need to look after yourself, make time to exercise, and enjoy your life as well, while sticking to the timetable as much as possible. The balance is really important. It will take time and patience, so remember that.
Follow Marie Claire on Facebook for the latest celeb news, beauty tips, fascinating reads, livestream video, and more.
Celebrity news, beauty, fashion advice, and fascinating features, delivered straight to your inbox!
I'm the features editorial assistant at Marie Claire. Before working at MC, I spent time in the production department at The New Republic and writing about politics for Bustle. When I'm not writing, you can find me museum-hopping, practicing mediocre yoga, and stalking pugs on Instagram.