The Craziest Things Models Do to Get Ready for Swim Week
😮😮😮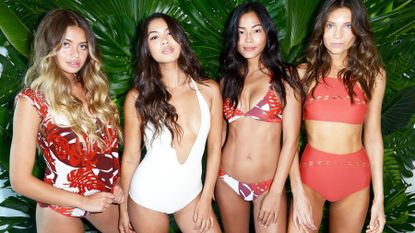 (Image credit: Getty Images)
Miami Swim Week—where *very* little clothes are worn, the chicest dinners are thrown, and the nights are taken over by the hottest models strutting down the runway. (Seriously, this is nothing like NYFW). As I headed off to the land where all the girls be like, "Hi, Will," courtesy of JetSmarter, I got in there to get the scoop on the absolute craziest things models do to get their bodies/minds/derrières (mostly) ready for a romp down the catwalk. Here, an unfiltered take.
Frankie's Bikinis
"They used acrylic paint [to create a top] since it's so hot and humid in Miami. When I was backstage about to walk, I had to stand with my hands over my head so the paint wouldn't melt onto my body and arms. I wore nipple covers under the paint and we cut them to the smallest size we possibly could in order to make it work with the paint design."—Kyra Santoro
iShine365 Show
"I had to get 3 different spray tans in one week (not including the backstage last minute touch ups). It's so hot, you're sweating, and they're lathering you in glow lotions and tanners right before the runway because it photographs best that way."—Kirsten Rinck
*Kirsten's quick advice for those traveling to Miami during swim week: double check the back seat of your Ubers and ensure a model hasn't left a lasting impression with the driver, and by that she means spray tan stains…
Hot As Hell
"We were given the sticky boob stuff you use for fake boobs, but for your underwear. It's the same type of jelly, but you stick it in your bikini bottoms. Honestly, almost everyone ripped theirs out after their first walk because it felt like it was hanging out of the bottoms."—Cait Barker
"I also had people rubbing baby oil mixed with self tanner mixed with body glow as the perfect concoction (calling it liquid highlighter) to mainly conceal every last little bruise, mosquito bite, birth mark, etc."
"I had to make sure little girls' bikini tops weren't falling off! The Hot-as-Hell show had little girls walk in it, so I had to make sure not only I didn't have a nip slip, but the little girls I walked with didn't have a nip slip! Also at one point we literally had Swarovski crystals glued to our lips."—Shannon Barker
Luli Fama
"I was walking for Luli Fama and they had the cutest lace up shoes with pom poms by MIA, but as I started to walk the long straps started to unravel so I was literally flopping down the runway. Next time I wore those crazy heels, I laced them up so tight there was no flopping that time around!"—Ashley Haas
Baes and Bikinis
"Because I was running from show to show, I forgot to put on my sticky underwear and my look was this sexy crochet swimsuit—so I walked out in a crocheted bikini bottom without *anything* underneath."—Ashley Haas
Issa de Mar Show
"I totally had a nipple full on out right before I went out on the cat walk, but luckily I caught it!"—Brittny Ward
Follow Marie Claire on Facebook for the latest celeb news, beauty tips, fascinating reads, livestream video, and more.
Celebrity news, beauty, fashion advice, and fascinating features, delivered straight to your inbox!