Man on Fire: Nina Garcia Interviews Balmain's Creative Director Olivier Rousteing
On inspiration, style icons, and what it's really like to be best friends with the Kardashians.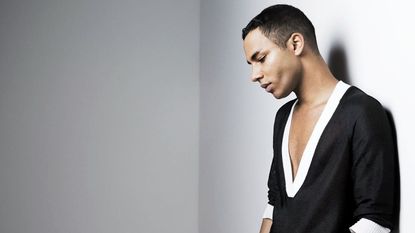 (Image credit: Getty Images)
At the helm of Balmain (since 2011) is 30-year-old Olivier Rousteing, who has not only pushed the brand forward but has also become the fashion darling for the Millennial set—Kardashians, Jenners, Bieber...you name it. Here, the French designer chats with Marie Claire's own Nina Garcia.
Nina Garcia: What is your go-to social spot in Paris?
Olivier Rousteing: Hôtel Costes. It's very old French luxury—you feel as if you're in the old times of Paris, when it was very glamorous. I'll order the crispy duck with rice, a nice glass of Chardonnay, and cheesecake for dessert. It's also really private, so I can be in the back with my friends and speak about whatever I want, without needing to be discreet.
NG: You were adopted from an orphanage when you were a year and a half old. What was it like growing up in Bordeaux?
OR: I don't see a difference between a biological family and an adoptive one. I think the difference is more in the eyes of others around you, who might judge because you're not the same skin color as your parents. Growing up a black kid in a white family in the late '80s and early '90s, there was a bit of a weird mentality. But my parents are amazing. All that matters is that you have people who love you and support you forever, no matter what, and that's something beyond blood.
NG: At 30, how does your youth affect your fashion worldview?
OR: Being part of what I call the "click" generation— where everything has to be fast and revolutionary and you just want more, and it's about likes and consuming—I want to bring new things to the table. A lot of designers say they're scared or overwhelmed because everything moves so quickly now. I think it would be scarier if it was too slow. I want to go fast.
NG: Who's on your playlist?
OR: Kanye West. He's inspirational. He expresses such a strong vision beyond music, beyond fashion—it's art. He isn't afraid to push boundaries and be provocative.
NG: What's it like being best friends with the Kardashians?
OR: It's really natural. We share the bad moments and the good. They support me in my front row, but what people don't see is how they support me when I'm afraid or have a family problem. People see us partying in Paris or L.A., but they don't see behind the scenes, when we have dinner and talk for hours and share secrets.
NG: Whose style do you most admire?
OR: Suzelle, my grandmother's. She ignited my love for fashion. She's a strong feminist, and she always believed in being sexy and glamorous and speaking your mind. I've always been inspired by her power and confidence. She would wear vintage Chanel with an incredible trench coat and red lipstick. And Rihanna. She could turn me straight! She's the best at being boyish and feminine at the same time. When she's next to you, you just feel like you're on another planet. You want to hug her, you want to kiss her, you just...feel complete.
NG: What's your design process?
OR: I sketch on weekends, almost always at night. No one is in my office, and it's a huge space. I put my music on loud—Kanye, Rihanna, Justin Bieber, Michael Jackson, Prince, David Bowie, anything. It's a really personal moment; it's like therapy.
NG: What's your style uniform?
OR: I'm usually in a tank top, jeans, and my vintage boots, and am rarely seen without my black jacket. It just makes me feel good, like a prince. Then I always have on bracelets, maybe something gold and luxurious from Cartier or a charm bracelet a friend gave me for good luck.
NG: What inspires you?
OR: Personalities. I like people who are powerful, confident, and fearless. Balmain is about an attitude. I think if Marilyn Monroe and Elizabeth Taylor were alive, they would definitely be part of the Balmain crew.
This article appears in the September issue of Marie Claire, on newsstands August 16.
Celebrity news, beauty, fashion advice, and fascinating features, delivered straight to your inbox!