Calling All Shoe Fetishists: Tamara Mellon Is Back in a Big Way
With the relaunch of her namesake label, the footwear queen is poised for a takeover.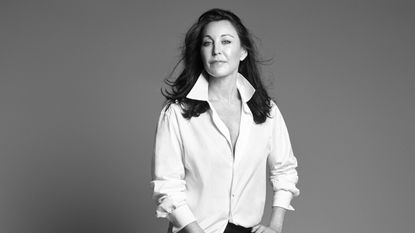 (Image credit: Courtesy of Subject)
Every industry is eventually going to be eaten by technology—first it was music, then film, now transportation, and next? Fashion," says designer Tamara Mellon. Between cofounding Jimmy Choo in 1996 and launching her own buy-now-wear-now line four years ago (before the likes of Burberry, Tommy Hilfiger, and Ralph Lauren did), she clearly has a knack for thinking a few steps ahead.
As shoppers' excitement and attention spans dwindle in today's instant-sharing culture, "women don't want to plan their wardrobes four months in advance—they want to buy something today, wear it tomorrow," she says. Nor does she think they want to pay a marked-up price.
Which is why, after a six-month hiatus, she's relaunched with a new business model that not only focuses solely on shoes ("It's what I know best"), but also sells to customers exclusively from her website. Dividing things into two groups—the seasonless Collection (including staples like her Frontline sandal) and the experimental Lab, in which limited-edition styles (like cherry-colored laser-cut boots) will drop monthly—Mellon took a pared-down approach. "We thought, If your shoe closet burned down, what would you need to buy?" says the London-born, L.A.-based designer.
Her own closet is color-coded, and she credits her father, who helped start Vidal Sassoon, with inspiring her love of fashion: "Vidal loved art and architecture and always had designers hanging around, which influenced me as a child."
Mellon herself is now a big art collector, which keeps her traveling to galleries and auctions around the world. Just as well, since she says her best ideas never come while sitting at her desk but, say, during a pajama-filled movie night at home with her husband or while watching her teenage daughter ride horses (they own three, and Mellon promises a riding boot is in the works).
Despite her high-heeled, high-flying lifestyle, Mellon still has one person to impress. "No mom is cool in the eyes of her daughter," she says with a laugh. We'd have to disagree.
This article appears in the February issue of Marie Claire, on newsstands now.