Married to the Job: How 3 Fashion Couples Make It Work
"It sounds romantic, constantly being within three feet of the love of your life. But in reality, there is no escape."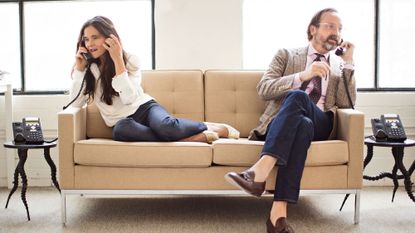 (Image credit: Courtesy of the Designers)
Billionaire investor Warren Buffett once told a friend that whom you marry and what career you pick are the two most important decisions you will ever make—but what happens when you combine them? After signing the dotted lines on their marriage licenses, these three couples added their John Hancocks to LLC forms. They get candid about the ups and downs of starting a business with your spouse.
Love at First Sale
By Nikia Jefferson
The first thing you notice about Brian and Autumn Merritt is their vibe. They're hip (they have multiple tattoos) with a traditional edge (they have two kids and recently appeared in a Honda Civic commercial). The brand that they run together, Sir & Madame, echoes that combination: It sells timeless pieces like button-downs and sweatshirts decorated with embroidered badges and bold graphics.
The Merritts founded their company in 2007. They were about to get married and, as happens when moving in with a significant other, Autumn was shocked by the contents of Brian's closet. He had way too many sneakers ("Sneaker culture was at its peak!" he explains). Plus, the two were looking for a career pivot. Autumn, now 34, had just been fired from her job as a buyer at a local Chicago boutique, and Brian, now 36, was bored with his job managing Chicago Apartment Finders. From their discontent (and overabundance of kicks), a business was born.
Aptly named Solemates, their company, Chicago's first sneaker consignment shop, attracted all the cool kids. In 2009, the Merritts expanded the shop's inventory to include their own designs and rebranded the store Sir & Madame. Recently, the couple moved their outpost from Wicker Park to Hyde Park.
[pullquote align='C'] "We baby-stepped our way to a healthy place." —Autumn Merritt[/pullquote]
They've known each other for more than 20 years—they first met in middle school—yet entrepreneurial life has been the real spark to reveal new depths in their relationship.
Autumn works Sir & Madame's floor, selling pieces Brian designs: "When I see people react to what we have in the shop, I'm like, 'Yeah, babe, you did a great job!'" she says. And Brian affectionately refers to his wife—who often sits in on his meetings with manufacturers—as his "pit bull" for keeping the trains running on time. "Seeing every day what this person has worked toward to ultimately better your situation or your business," says Autumn, "just increases your respect and love."
But it's not all fun and fashion. When they first launched, Autumn took on additional work to help pay the bills, while Brian manned the bulk of their store's internal- and external-facing operations. He was drowning. She scaled back her gigs to get more face time in the store, allowing Brian to focus on the company's back end.
There was also that time Brian charged a large shipment to their account without giving Autumn, who oversaw the budget, a heads-up—nearly putting the company in the red. The accounting discrepancy bled into their home life. "Our disagreements led more to silence than anything," Autumn says.
It's taken 10 years of experience to really learn how to leave work at the office, and now they approach most situations with less emotion and more practicality. "We baby-stepped our way to a healthy place," says Autumn. "It's something that's going to continuously evolve." Much like Sir & Madame.
By Lambeth Hochwald
Ann and Sid Mashburn openly admit that they drive each other crazy. They've been in business together for nearly a decade, running their eponymous his-and-hers brands from Atlanta. "It sounds romantic, constantly being within three feet of the love of your life," Ann says, "but in reality, there is no escape. It can be all-consuming."
[pullquote align='C']"With our women's brand, I'm first. With our men's brand, Sid is first." —Ann Mashburn[/pullquote]
Life wasn't always so chaotic. The couple, who met in New York in the early '80s when both were working in fashion, left big-city life for Dodgeville, Wisconsin, in 1999 when Sid took a job as senior vice president of design at Lands' End. He was let go seven years later and decided to pursue a dream he'd had since age 24: reinventing the menswear retail experience.
"I wasn't keen on it," remembers Ann. Several of their five daughters, sooner rather than later, would be racking up expensive college tuition bills. "I thought, What do I have to lose except all our money?" Ann jokes. "Practically speaking, I said, 'Let's make sure we have money in the bank for college. Let's try it. You're employable, and I love you.'"
The South called their name. Or, more accurately, a building in Atlanta: It reminded them of New York's Meatpacking District. When their concept store, Sid Mashburn, opened its doors in 2007, Ann worked behind the scenes as the chief financial officer (she has a degree from the University of Colorado's business school). Sid focused on the brand's designs. Three years later, after a bit of coaxing from her daughters, Ann opened Ann Mashburn next door, with a one-year lease in case it didn't work out.
It did. The Ann and Sid Mashburn company now has shops in five cities. About 80 percent of their inventory is designed by Sid or Ann, and their favorite brands make up the other 20 percent.
As a couple, the two lead differently but in unison. "Someone gave me this great analogy about the way they run the Vatican. There are all these men who are equals, but the Pope is first among equals," says Ann. "With our women's brand, I'm first. With our men's brand, Sid is first." Ann loves a velvet tuxedo or jacket, for example. It's classic, she'll tell Sid—who completely disagrees. Ann also enjoys a good chunky heel. Sid doesn't. "In the end, he's not a woman. He doesn't wear heels," Ann explains. "[But] he trusts me." Sometimes, though, their differing apparel tastes can cause problems. "On a good day, Sid and I are careful with each other—but you get hurt. It's like in marriage: You really want it your way a lot. It's like, 'Get over it. I want it to be my way.'"
Work trips and weekend getaways help ease the tension. Sid aims to keep business talk to a minimum ("If we don't do that, it's like a fried egg: The yolk starts running everywhere," he explains). And Ann credits his romantic inclinations—a stroll through the streets of Paris holding hands, for instance—with reminding her of all the good in their relationship. "Because we're older and wiser, we might be mad about some dumb issue at work, but we can look at each other and say, 'Let's go out to dinner,'" she says. They've created something that feels bigger than them. Four of their five daughters are now involved in the business—and they have more than 130 employees across the country. But Sid and Ann Mashburn, the people, always come first. "The business could be growing great," says Ann, "but if we're not great together, it's not worth anything."
By Alli Hoff Kosik
What better time to start a company than shortly after quitting your job, getting married, and trekking around the world? Blame love-induced optimism, because Laura Moffat and Kelly Sanders Moffat's light- bulb moment—"We're going to start a clothing line!"—happened on their honeymoon.
After their wedding, they spent nine months traveling through Southeast Asia, South America, Oceania, and Australia, and joked about their difficulty finding wedding outfits that captured their tomboyish style. Then joking turned serious. While taking Spanish lessons in Ecuador, they wrote the business plan for what would eventually become Kirrin Finch (the company is named after two fictional spitfires: Georgina Kirrin from The Famous Five series and Scout Finch from To Kill a Mockingbird). "One of us would be working on the business plan and the other one would go to a lesson, and then we would swap," recalls Kelly, 33.
Two years later, the Brooklyn-based retailer is selling button-down shirts and bow ties to a growing base of customers. The toughest aspect of starting a company together? Drawing a line between the personal and the professional. A tiny mention of work can quickly derail an otherwise peaceful binge-watching marathon, so Kelly and Laura devote one day a week to being a couple. Athletic activities, like hiking and running around with their new dog, provide the best distractions from talking shop.
[pullquote align='C']"If I'm just a business partner, then I'm going to act very rationally. If I'm the spouse, I'm going to act very emotionally." —Laura Moffat[/pullquote]
Still, Kelly says, it's tough to know if you're talking to your cofounder, or your wife. "If I'm just a business partner, then I'm going to act very rationally. If I'm the spouse, I'm going to act very emotionally," says Laura, 36. Pressing "pause" before reacting helps. "I take a step back and say to myself, 'I know this is a question that might be more controversial. Is this the time? Is this the place? Maybe I need to wait until tomorrow morning when we are at the office,'" says Kelly.
Cold, hard facts also help. When they first mapped out their vision for Kirrin Finch, Laura, a former brand strategist, wanted casual ready-to-wear items; Kelly, who spent eight years as a conservatively dressed teacher, gravitated toward formal workwear. They quickly learned that pseudo-business presentations helped curb emotions. Laura cited specific market research that supported her idea over Kelly's. "Take the emotion out of it and present the evidence," says Laura—a combination that lets them win at work, and at home.
This article appears in the March issue of Marie Claire, on newsstands now.
Celebrity news, beauty, fashion advice, and fascinating features, delivered straight to your inbox!