Rachel Roy's Sleek Fall Presentation
Safe and solid: that was the name of the game at Rachel Roy's sleek fall presentation.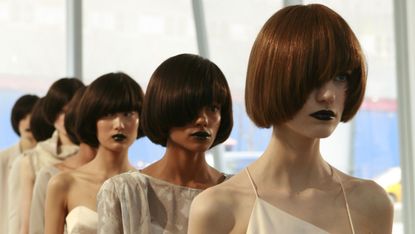 (Image credit: Archives)
Safe and solid: that was the name of the game at Rachel Roy's sleek fall presentation. With model-cum-deejay Alexandra Richards (that's Keith's daughter to me and you) at the turntables, Roy's fan base, including Helena Christensen, Veronica Webb, The City's Olivia Palermo, and celebrity stylist Phillip Bloch toured the sophisticated looks presented by Roy, who undoubtedly took her young collection up a notch (or two) that emphasized the shoulder. Asymmetry was a cut that ran deep through the collection, evident in silk gowns, cut-out dresses, and sweet cocktail numbers ("an inward tranquility," as Roy stated).
With husband Damon Dash never more than arm's length away, a refreshing palette of models representing diverse backgrounds (Caucasian, Asian, and African American) each sported black wigs that were eerily reminiscent of YSL's Spring 2009 show. But the hairpieces only served to solidify the eye's main focus to the garments, which were dignified chic, or as Roy put it, "respecting the environment and economy while allowing women to go onto doing different things [in the same outfit]." That translated to no fuss, no muss designing. Beautiful seaming with very little fabric manipulation, and clearly no embellishment or "bubbles," gave Roy's Park Avenue clientele that extra boost of refinement.
Adding an extra metallic element was jewelry Roy collaborated with Subversive's Justin Giunta on. Roy, herself, sported an eye-popping piece dubbed the "Reflector." "Is it a reflector to check your makeup or a reflector to your soul?" she philosophized. "Or is it a solar panel?
Follow Bobbi Brown backstage for runway makeup tips from this collection


The same, however, could not be said of the shoes. A handful of the models couldn't bear the hour-long presentation, slipping off the Manolo Blahniks designed especially for Roy's show 45 minutes into the show.


Jim Shi

was born in Brussels, Belgium and grew up in Paris before moving to New York City. For the past four and a half years, Shi was fashion news editor of IMG's fashion and media industry publication The Daily and editor of its sister web site, Fashion Week Daily. He has covered Fashion Weeks in New York, Milan, and Paris
PHOTOS BY PATRICK MCMULLAN
Celebrity news, beauty, fashion advice, and fascinating features, delivered straight to your inbox!