Francisco Costa Shares His Fashion World History and Insight
Francisco Costa, the Calvin Klein women's creative director, held a talk at the Fashion Institute of Technology. Marie Claire has the story.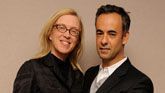 (Image credit: Archives)
Marie Claire Newsletter
Celebrity news, beauty, fashion advice, and fascinating features, delivered straight to your inbox!
Thank you for signing up to Marie Claire. You will receive a verification email shortly.
There was a problem. Please refresh the page and try again.
Ever the charmer, Francisco Costa didn't disappoint Monday night, when the Calvin Klein women's creative director engaged in a lively discussion with Valerie Steele, director of the Museum at the Fashion Institute of Technology. Held at the school's Katie Murphy Amphitheatre, Steele and Costa chatted about a broad range of topics ranging from the latter's fashion-centric upbringing in Guarani, Brazil, to his experiences working for Bill Blass, Oscar de la Renta, and Tom Ford at Gucci.
"My mother was very fashion-oriented for living in such an isolated space," said Costa of his hometown, located three hours outside of Rio. While Costa's known now for the sleek and refined construction of his garments, not to mention their utter sensuality, he's certainly had his own fashion hiccups, which he was all too happy to laugh about. "I designed this reddish burgundy safari suit when I went to go visit my uncle on his farm for a week," he recalled with a chuckle. "It was very elegant."
After arriving in New York in 1986, Costa started taking night classes at FIT to complement his English courses at Hunter College during the day. "It was the beginning; the opportunity," he said to the crowd of students, fans, and reporters packed into the audience. Seizing an opportunity to showcase his designs in Italy, Costa entered a student competition only to be told he wasn't eligible due to his academic status. "But the angels were looking down on me," he added, having been contacted and selected despite the hurdles. "My time at FIT was very unorthodox," he admitted. "I didn't even attend graduation."
Costa briefly touched upon his experiences working at several of Seventh Avenue's most well-known fashion houses, which stared with Herbert Rounick and his garment company He-Ro Group, which produced dresses for Bill Blass and Oscar de la Renta. "I remember all these hats and scarves in his office," he recalled of his time at Bill Blass. "It was all very glam." Moving over to Oscar de la Renta in 1993, where he worked directly with the elegant designer and on the brand's then Pink Label, Costa described his boss as a true gentleman. "There was a sense of security working there," he said fondly. "I was very much in love with his wife Annette."
In 1998, Costa was hired away by Tom Ford to help him with his mission of rejuvenating then near-defunct Gucci. "I never got to create a portfolio because I was jumping from job to job," he said. "Then I get a call from a headhunter — I didn't even know what one was — and I said, 'I'm happy with my job; who is it that wants to meet me?'" The then little-known Texan, who would eventually become one of the most prominent and influential designers of his time, persuaded Costa to move to Europe. "The first thing Tom told me was, 'Get a lawyer,'" Costa said. "It was all so fast." With ever-changing slideshows changing on a massive screen behind him — at this point a picture of him wearing decidedly Mr. Chow-like spectacles with Ford flicked on — Costa talked about his time working with Ford on their first collection, inspired by Cher. "Tom was very open," he said. "He understands the big picture."
In 2002, after some soul-searching with the help of his horse-trainer partner of two decades, John DeStefano, Costa returned to New York. "I had to find a new job or a new boyfriend," he laughed. Before eventually landing at Calvin Klein, de la Renta called, offering him a design position at Balmain, which was struggling at the time. Costa declined.
The designer Calvin Klein had called Costa a year prior to his joining, in fact, and after initially not panning out, DeStefano played a crucial role in relighting Costa's flame at the iconic American fashion house, thanks to his equestrian relationship with Barry Schwartz, then CEO of Calvin Klein. With some urging, Costa reported to work with Klein. "Going from Oscar to Gucci was so far-fetched," he said. "Then to go from Gucci to Calvin Klein ... that was unbelievable, this was real American Puritanism."
Costa recalled him and Klein at their first fabric selection meeting. "There were 25 suitcases packed together and every suitcase was filled with blankets of samples," he said. "The expense was incredible — no one does that anymore — and we went through every single blanket." Working for the master of minimalism also proved to teach some invaluable lessons. "There was always an excitement and genuine interest [with Calvin]," he said. "He was very sharp and funny. I was an instrument. I listened, listened, listened, and then I execute, execute, execute." Naturally, Costa credits Klein with teaching him the appreciation for textiles.
From there, Costa engaged the audience, who were more than happy to return the favor.
- On his relationship to the other Calvin Klein designers, including men's collection head Italo Zucchelli: "When you walk into the office, you feel like you've been Calvinized. It's a church; a temple. Italo and I meet regularly, discuss campaigns — it's not petty. The way we work is very mature."
- On looking back at designers's work: "I admire Vionnet, Balenciaga, Coco Chanel (for the ready-to-wear concept she created), and Charles James." Costa was also asked which of his contemporaries he admires; he admitted to having viewed some online slideshows of certain designers' works, but declined to name names.
- On balancing his professional and personal life: "You think 24/7 when you design. You find pleasures in a lot of things — like the flea market. I try not to separate them. Dealing with friends is the hardest because I travel so much. But I don't work that much! Look at Marc Jacobs — how many lives does he have? He must be crazy!"
- Comfort versus looking good: "We just want it to feel right. It also depends on where you're going and how you're living."
- Who do you want to dress, past or present? "It'd be fun to dress Michelle Obama," he said, skirting the issue. "I can't answer that."
- Recession affected? "You can't shy away or hold back. You have to create excitement but be realistic; create desire. I'm fortunate to be at a company that'll always be there. But what you buy now has to be genuinely exciting."
Touching upon the ever-changing landscape of the business of fashion, after one audience member shared how the recently released Valentino documentary changed her perceptions of the industry, Costa said, "The more aware of the present you are, the more prepared you will be for the future." Costa said the business of fashion will be very different three years from now. "Being creative in all the senses becomes key." The sample principles also applied to the brand's iconic advertising campaigns, which have consistently tapped unknown models that later become household names. "What we see now in campaigns is more product-driven versus lifestyle," Costa said. "But it needed to happen. We decided to romanticize the outfits."
As for what he would like to see women wearing, Costa made light of the recent implosion of dresses that have hit the market in favor of pantsuits. "Strength is always good; women have perhaps become a little more secure," he said. "[Now] they can go to work in a dress without feeling like they're going to be harassed. Calvin created this incredible blend — strong but romantic."
One student was frank in admitting his admiration for Costa's current spring collection. "How do you sew the seams on your first [runway] look?" he asked in amazement. "I went to the store and looked at the seams closely and I thought, 'What the hell?'" Costa, clearly relishing in the moment, shot back, "I thought, 'What the hell?' too!" Turns out the dress, with its blade-shaped design, took eight fittings. "It's kind of magical," he professed. "The dress mutated." When the student pressed on, asking, "Did you freak out in the studio when you got it right?" Costa replied emphatically, "Yeah!"
Costa, who admitted to wanting to be an architect, diplomat, and painter prior to embarking on a career in fashion, was demure when asked about staying authentic. "You go inside yourself; go in the reverse," he said quickly, before moving on. As for that ever-recurring notion to branch off and start his own line, Costa quickly nipped that idea in the bud like a comedic pro, much to his audience's delight. "When I think about doing my own line, I think [Karl] Lagerfeld," he said cautiously. "Not so successful with his own line, but supersuccessful with Chanel."
He did, however, recount the words of his friend and Lanvin designer Alber Elbaz. "Alber once said to me, 'Fashion is not an espresso coffee; I'd rather be small,'" said Costa. "There's a truth to that."
Celebrity news, beauty, fashion advice, and fascinating features, delivered straight to your inbox!