The World of Bottega Veneta
Julianne Moore cut an elegant swath through Bergdorf Goodman when she arrived to celebrate "The World of Bottega Veneta."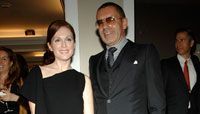 (Image credit: Archives)
Julianne Moore cut an elegant swath through Bergdorf Goodman Tuesday night when she arrived on the seventh floor to join Bottega Veneta creative director Tomas Maier in celebrating the retailer's homage to "The World of Bottega Veneta" — the momentous occasion marking the first time the luxe Italian brand's entire assortment of lifestyle goods, including women's and men's fashions, fine jewelry, handbags, and home products was available in one place other than the brand's own boutiques.
"I know, I'm late," Moore admitted sheepishly, though by no fault of her own (Fifth Avenue was closed during rush hour as Archbishop Timothy M. Dolan arrived at St. Patrick's Cathedral a few blocks south to be officiated as the new leader of the Roman Catholic Archdiocese of New York). Clad in a runway look from Bottega Veneta's fall collection — complete with matching booties and baubles — Moore quickly changed the subject, waxing poetic on Maier, whom she would later host an intimate dinner for at La Grenouille.
"Tomas has a gorgeous aesthetic; there's so much texture and definition," she cooed as photographers clamored to get their shots. "He's got a real acute sense of defined style." A self-professed interiors buff, the actress revealed that she already has her eye on a piece from the collection. "I'm crazy for the camp bed," she declared of the folding structure fashioned in the brand's signature "intrecciato" weave. "It's almost obscenely gorgeous!"
In today's current fashion climate, where wealthy shoppers shun logoed merchandise in favor of subtlety and eschew conspicuous shopping bags in favor of discreet hold-alls, Bottega Veneta has felt no lack in its luster. After all, this is a brand whose time-tested motto has always been "When Your Own Initials Are Enough."
Browsing amidst the designer's array of home furnishings, silverware, and desk accessories (the $25,600 large library table had more than one attendee doing a double-take), guests including Beth Rudin DeWoody, Mamie Gummer, architect Robin Osler, models Chanel Iman and Arlenis Sosa, and a healthy sprinkling of editors and socialites waited their turns in the airy alcove to pay their respects to the mild-mannered Maier, clad in his signature three-piece suit and aviators.
"We offered to let Tomas curate the space, but he wanted to see it reinterpreted through our eyes," said Linda Fargo, Bergdorf's senior vice president, women's fashion director, and store presentation. "I wanted to be spot-on, so I went so far as to ask Tomas's office to send me lists of what books and movies he liked."
Maier, who took a spin by the dedicated store windows before popping upstairs, was impressed with the results. "I knew Bergdorf's wouldn't disappoint," he said matter-of-factly. Relinquishing creative control? Just a tad more difficult. "It's not easy giving up the reins of your brand," he said, smiling.
Photos by Patrick McMullan