Bicycle-Riding at Betsey Johnson
From wild dresses to models performing even wilder stunts, Elle Fowler had the most fun at the designer's show.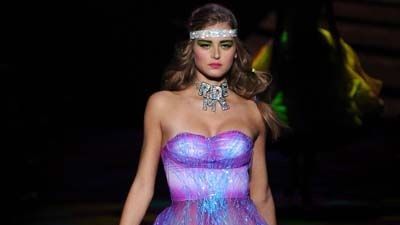 (Image credit: Frazer Harrison/Getty Images)
Marie Claire Newsletter
Celebrity news, beauty, fashion advice, and fascinating features, delivered straight to your inbox!
Thank you for signing up to Marie Claire. You will receive a verification email shortly.
There was a problem. Please refresh the page and try again.
Hey everyone! Today was an absolute whirlwind, but it was my favorite day so far. Blair and I went to four shows — Carlos Miele, Tracy Reese, Chris Benz, and Betsey Johnson. We have been anxiously waiting for the Betsey Johnson show for the past few days, so we were completely ready to be wowed when we took our seats. The show was packed — I didn't see a single empty seat. The music was pounding, and it seemed much more like a party than any other show I've been to. Before it started, there was a lot of buzz about bikes and skateboards coming down the runway, and sure enough a model came down carrying a skateboard. She got on it for a few feet towards the end of the runway but ended up falling off — and that was the end of that until Betsey Johnson herself came out on a bike. She ditched it halfway down for her signature cartwheel — which she does really well! Let's just say I couldn't get up there and do a what she does!
So, onto the fashion! This show was rocking — literally! Her clothing was somehow pretty and shocking all at the same time. She had some pieces I would love to wear, including a gorgeous purple dress that I would have adored for prom (and I don't even love purple on me!). Her show was broken down into several mini collections, including my favorite one, the sailor look. According to Betsey, military is out and the navy is in!
Betsey definitely had some pieces that will not be purchased by the everyday girl, including outfits with chains and locks draped over their shoulders and "Ride Me" necklaces, but for those who can pull it off … it would look killer. My favorite part was how much fun the models were having. They literally rocked that runway. They did twirls, poses, dances, and there were even a few skirt-lifting moments.
It was the most exciting show I have ever been to, and now I want to crash a prom so I can wear that purple dress!
Celebrity news, beauty, fashion advice, and fascinating features, delivered straight to your inbox!