Wrap-up: America's Next Top Model Party
America's Next Top Model final party, in honor of its winner, Jaslene Gonzalez.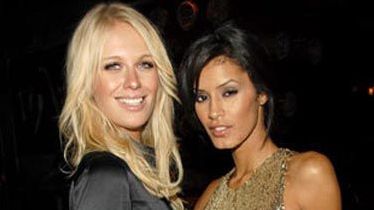 (Image credit: Kevin Mazur)
On Wednesday night the rain was so heavy that my umbrella collapsed with one simple gust of wind! My glamorous arrival was thwarted and quite rightly too; for tonight I was attending the America's Next Top Model final party in honor of its winner, Jaslene Gonzalez. The party was hosted by judge and fashion photographer Nigel Barker and held at a small Irish bar in New York.
The place was filled with glamorous industry insiders — makeup artists, photographers, and media movers and shakers were all present to celebrate the young woman's realization of a dream. Meanwhile, various contestants from previous cycles (such as April Wilkner) floated around the room with their heads held high, their pouts perfected. However, many girls from this season's cycle were conspicuous by their absence. Only Whitney Cunningham, Diane Zalewski, and Natasha Galkina were there to show their support. It was the natural ease and energetic enthusiasm of this year's winner that added sparkle and a sense of excitement to the evening. Jaslene's white lace dress looked elegant and fresh as she stood surrounded by the flashing lights and invasive lenses of the photographers around her. Although shorter than your average model, her confident nature and Bambi legs gave her the illusion of height. Ecstatic at the news, Jaslene's only complaint was that she had had to conceal her victory from her parents and friends for nearly four months!
This year's finalist, Natasha, and last year's winner, CariDee, were also at the party. They held court for a horde of fans as Nigel Barker (who is obviously both proud and protective of these girls) looked on with admiration. Despite the demands and the notoriety of the show only time and an agent's belief will tell if these girls really have what it takes to be "America's Next Top Model." That said, these young women are certainly mini-media moguls in the making; not fazed by interviews, cameras, and unending attention — they would never have been thwarted by the rain!