Stella McCartney Talks Her Ocean's Kingdom Costume Designs
We chatted with the famed fashion designer on her collaboration with her father on his new ballet.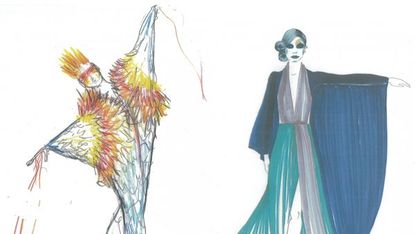 (Image credit: Archives)
If you had to guess what famed fashion designer Stella McCartney has been up to over the past few weeks, you'd probably assume that she's been holed up in her studio slaving away on her Spring 2012 collection, right? Well, think again.
Over the weekend in New York, Sir Paul McCartney's brand new (and first!) ballet Ocean's Kingdom debuted at Lincoln Center, and who better to design the production's elaborate costumes than his daughter, Stella? The underwater-themed production features vibrant, technicolor ensembles that recall both Disney's Finding Nemo and Proenza Schouler's scuba-themed, tie dye-infused Spring 2010 collection. Although the designer was given plenty of creative freedom when it came to the costumes, she made it her mission to reflect the vision her father had for the production and its characters.
"There are scenes underwater and some above the water and I really needed to reflect that in the costumes," Stella explained. "So there were the fish-prints and then there were the "terra-punks" who were much more about body art and tattoo work — sort of more tribal so it was very much a collaboration. Dad had a very strong visual of how he saw the characters within the music he was writing. I worked within that framework." To help complete the vision, McCartney recruited two of the industry's top beauty experts, Pat McGrath and Sunday Riley, to provide the theatrical makeup and skincare for the dancers.
The number one thing, of course, was that the pieces could technically work. Stella told us, "It was a completely different process. On the runway and in our lives we don't lift our legs up over our heads, so it's very technical. For me, it's focused on performance. My runway shows are quite effortless and realistic and designed to be worn, so I was dealing with a very different arena working with something like this."
Despite the differences in the design process, McCartney said she could see herself incorporating these technical aspects into her eponymous collection one day. "After seeing it come together, there were little moments there I was going, 'That jacket is great! I could do that jacket.' And I didn't think I'd be able to say that about this project. I thought that it'd very much be a one-off thing that wouldn't influence anything that I ever did on a runway, but actually you never know. Never say never."
Stella's spring runway show is exactly one week away in Paris, so of course we had to ask her if she'd reveal any hints about her upcoming collection. Her response? "No! But I love you for trying. I haven't seen the final products yet — fingers crossed I'll have something to show you."