Wrapping Up Full Figured Fashion Week
The host of MC and Hello Style's Big Girl in a Skinny World checks in from the finale of Full Figured Fashion Week.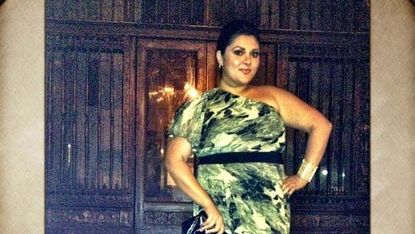 (Image credit: Archives)
The last day of Full Figured Fashion Week was satisfying, fabulous and a blur as my trip to NYC came to an end.
As I prepared for the night, I decided on glam makeup and a sleek bun. I love to look subtlety and effortlessly sexy, which often isn't as easy as I would like, so lots of hairspray and bobby pins deserve my gratitude. For my finale look, I wore a gorgeous Igigi maxi dress and flat sandals with my Ashley Stewart bracelet.
The Broad Street Ballroom was buzzing with excitement for the finale show. There were lots of ladies dressed to the nines, and ready for another evening of fashion. I enjoyed seeing what Evans, Lane Bryant, and Sonsi have coming in the fall. Let's just say that we can expect lots of color and plenty of great choices to snazz up our wardrobes. Though the retailers showcase didn't pack the wow-factor that the indie designers did the night before, I enjoyed getting a peek at the on-trend, plus-size offerings that will soon arrive in stores.
I am particularly excited about Evie Foster because the designer gets that full-figured women want to be sexy, chic and just as fashion-forward as any model on the runway. Her use of sequins, metallics and gorgeous draping will add excitement to your holiday wardrobe, so look out for that!
The family-owned Mynt 1792 is an interesting attempt at bringing more denim options to the plus-size-party. A trio of charming brothers presented several pieces of outerwear and jeans options that have the potential to spice up your closet. I am looking forward to sampling their denim in the real world — walking, talking and bending in it. (I'll keep you posted).
As a bride-to-be, I also ogled the Alfred and Angelo gowns presented by The Pretty Pear Magazine, and love the publication's mission to inspire plus-size brides.
After the runway show, I had the chance to catch up with my dear friend, and FFFWeek Model of the Year, Ashley Graham. She graciously accepted her award, and claimed she was so proud to represent the women in the room. We hit the town and had a blast munching on pizza and tiramisu with the wonderful Karen Ward of The Curvy Canadian and the two women's honeys (and Ashley's insane McQueen clutch).
The week was a wonderful blend of fashion and friendship, supporting an industry that isn't going anywhere. Where curvy girls unite, I will be. Make sure to follow me on Twitter, Instagram and Facebook for all of my stylish updates.
P.S. Many thanks to Danielle Melnyczenko of danimezza.com for the use of her photos. Check out her site for all things plus-size fashion down under!
Celebrity news, beauty, fashion advice, and fascinating features, delivered straight to your inbox!