Q&A with Luxury Brand Chance Founder Julia Leach
Meet Chance, a fashion-lifestyle brand founded by Julia Leach, who served as Kate Spade's creative director for 11 years. Leach recently debuted her latest Greece-inspired collection which is soon to be sold in Barneys, as well as its website starting May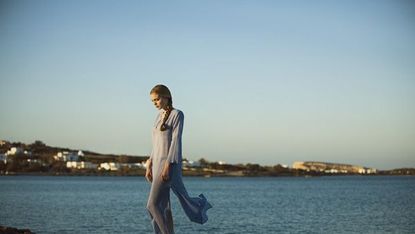 (Image credit: Archives)
Marie Claire Newsletter
Celebrity news, beauty, fashion advice, and fascinating features, delivered straight to your inbox!
Thank you for signing up to Marie Claire. You will receive a verification email shortly.
There was a problem. Please refresh the page and try again.
It's difficult to dispute that there are few things better than your favorite worn-in t-shirt, not to mention how much of a necessity said knits are for a summer vacation. Enter Chance, a fashion-lifestyle brand founded by Julia Leach. Leach, who served as Kate Spade's creative director for 11 years, recently debuted her latest Greece-inspired collection which is soon to be sold in Barneys, as well as at chanceco.com starting May 17. We spoke to Leach a few days before the collection launch, but just a word of warning: You're not going to be able to read this without contracting a serious case of wanderlust.
Your new collection is inspired by Greece. How did you go about communicating this through the designs?
Julia Leach: After I decide on the destination for a Chance collection, the first creative step is to define the color palette. Greece telegraphs such a clear color story through its architecture and nature that these references came easily. I pulled together a set of colors that I hoped would immediately transport people to the Cyclades. I also included simple, breezy caftans and tunics in the collection that are done in luxurious yet understated fabrics in shades of blue, turquoise, white, and black. Through both vivid and subtle colors and styles that are perfect for lounging on a terrace overlooking the sea (in Greece or elsewhere), I hope the spirit and natural beauty of this unique country shines through in the collection.
Tell me about the Chance signature knits. What goes into making these styles so perfect?
JL: When I designed the signature Chance Boatneck, I had in mind a simple yet elegant style that would be a more modern, softer, and slightly more feminine version of the timeless marinière. I wanted it to be the shirt you come back to again and again, year after year, for its fit and quality and classic (but not traditional) sensibility. From what I understand from people who have fallen in love with the Chance product, the perfection is thanks to its easy sophistication, quality (Peruvian cotton makes all the difference in the world), detailed styling, and distinctive use of color.
Are you a big traveler yourself? Why Greece, and how did that sense of place affect your creative process?
JL: Yes, I'm always planning my next adventure. Boundless curiosity and a desire to experience different cultures has inspired trips to many destinations (yet my travel wish list seems to be getting longer instead of shorter!). Chance collections will always be inspired by either a place I love and visit often or one that has long intrigued me. I've wanted to visit Greece for years, so after doing collections referencing France and California, Greece felt intuitively right for the brand's third season.
Check out these campaign images from the Chance Greece collection, exclusive to MC:
Celebrity news, beauty, fashion advice, and fascinating features, delivered straight to your inbox!