Model Citizen: Nicole Trunfio
Nicole Trunfio Jewels - Model Nicole Trunfio Interview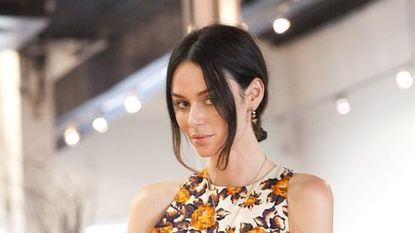 (Image credit: marie claire )
There are Renaissance women, and then there is Nicole Trunfio. Hailing from a small town in Australia, the supermodel has spent the last decade making a name for herself all over the world through her high-fashion runway and editorial work, but that was merely a stepping stone. Trunfio is now an entrepreneur, and is building her own brand, Nicole Trunfio Jewels — which officially launched this spring — from the ground up. With the theme of female empowerment in mind, she's looking to create new ways for women to wear jewelry, and her ultra-modern pieces in unique shapes are unlike anything else we've seen on the market. "I'm going to keep exploring ways to stimulate a woman's imagination," she told us of her luxury line, which ranges in price from $600 to over $10,000.
Trunfio also keeps charity work at the top of her list of priorities: Her global launch in Times Square benefitted "Fatigues to Fabulous," a program that helps female veterans adjust back to civilian life, and this August, she's the co-chair of the LOVE HEALS in the Hamptons which raises funds to increase HIV/AIDS awareness. We sat down with the model-slash-designer to hear more about her line, her philosophies, and the challenges she's faced while building her brand.
What inspired you to start creating your own line?
I have been working with jewelry for quite a long time — I've been hanging out with jewelers, model makers, and just people in the industry, watching and learning for years. I did it at school and I love working with my hands. My family are all tradesmen, so it makes sense to me. I also love mechanics. My dad is a mechanic — he built drag cars — and we're just kind of geeks when it comes to this stuff. I went to school in the middle of Australia &38212; the Outback — and I studied jewelry and metalworking. I was the only chick in there. Even though it's jewelry, you work in a workshop, so all the girls kind of stayed away from there, but I love it. I just wanted to be like my dad! I actually started with a costume jewelry line, and I really was interested in jewelry that empowered women. It was like more statement pieces, something that earth ancient queen or ruler or Egyptian princess would wear.
What was your first piece?
The Universe bracelet is what this company is designed around. I love the Cartier LOVE bracelet, but it gives the man the power — the man screws it on to you, and then you can't take it off, and then he takes away the key. The Universe bracelet puts the woman in power. You can take it off yourself, it's almost ritualistic, and we feel very much that way. When you screw it on and off, it's like a ritual. It's like you're locking in your power for the day. I encourage people to put their mantra, a quote, or something that they live by inside the bracelet, so really it can be a sentiment to a woman. The power of a woman. That's where the collection started, and everything is building from there.
As a woman starting a brand on your own, has that been difficult for you?
Very difficult. It's been super challenging. As much as it's a woman's world, it's still a man's world, and I think that having the support of other women is massive. And really just focusing on that because I'm a feminist, I love women, and I think that together we can really come up in the world.
Was there a time where starting your own business that you hit a low point and you thought maybe you couldn't come back from it? Or times where you thought you might not be able to continue on?
No, I've invested so much of heart and soul into this, that I'll go down with it. I can't give up. I've put so much into it, and I really do believe in it. There are times that I doubt myself, and I question myself, but it's just nervous energy and it doesn't mean anything. In the big scheme of things, you can only do what you can do, and I also find the challenges are what you learn the most from. When something challenges me, or makes me feel like I can't do this anymore, that's when you learn the most about your company, and the people in it, and making sure that the right people are involved, and that you're taking the right steps, and you have the right strategies. If you didn't have any of those road bumps, then none of those things would be difficult to find, it would just be bland and mediocre.
I really want this brand to be my baby — something that I hand on to my children, and I can tell this story of when I almost ran out of money and when I was almost going to give up and was pulling my hair out. See these gray hairs? See that bracelet? It created these gray hairs. Something really nice about that beginning process that is super tedious, super nerve-wracking.
And do you have any advice for women who might want to be entrepreneurial, just things you've learned along the way, or words of wisdom?
I just think, make sure you love it, and always remember why you've started it. Because you can get sidetracked, and the business end of it is so distracting, and it's so heavy, like it weighs on you. So you always have to remember, like everyday, why you're doing this, and it's for the love. Don't do it if you don't love it. You have to really love it because nothing is smooth.
Photos by Kathryn Wirsing
Celebrity news, beauty, fashion advice, and fascinating features, delivered straight to your inbox!