A Side of Scarves, Please: MC Visits the Hermes Silk Bar Pop-Up
Check out MC's trip to the Hermes Silk Bar Pop-Up in NYC.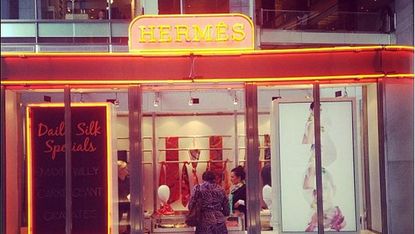 (Image credit: Courtesy of Liana Satenstein)
When we heard about Hermès opening a "diner" (you heard right) at the Time Warner Center, we snuck out to take a very glamorous lunch break. Situated in the entrance of the building, the diner, or the "Silk Bar pop-up" is classic Hermès with some fluorescent flair.
What is on the Silk Bar's neon menu? The French label's iconic scarves, including the new Maxi Twilly line which launched last week.
On the second floor, there are Hermès-themed fun and games, including croquet and a photo area where you can get your portrait taken on an Hermès-print background.
The Silk Bar will be open until October 31 — so make sure to get your serving of Hermès before then.