Does the Fashion in 'Sex and the City' Still Hold Up?
Abso-f*cking-lutely. Sort of.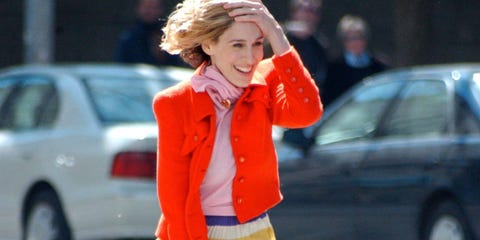 Among the notes I wrote down while I was watching Sex and the City for the first time, um, last week (more to come!), are comments such as "They think Russell Crowe's hot?!" and "HOW DARE CARRIE BE DISAPPOINTED BY FRAN LEBOWITZ." But never did I mention outfits. Was it because they were good? Was it because they weren't that shocking? Just so I could make myself stop doing the Carrie Bradshaw rhetorical question thing, I examined them through a 2015 lens.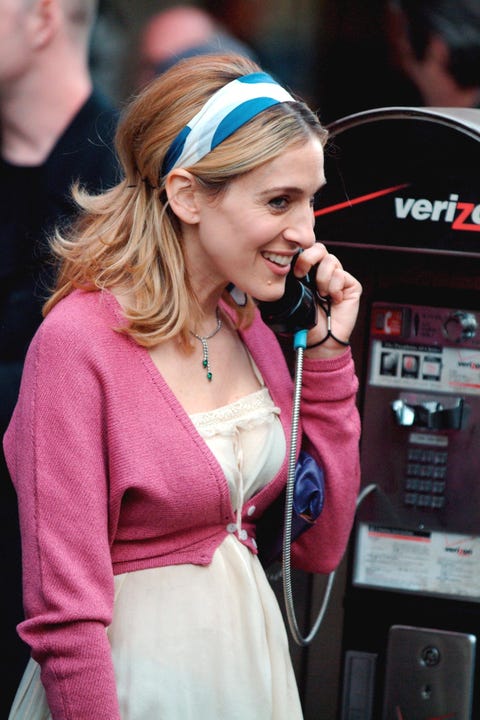 Modernity Score: 4/10
Sometimes I wish I had kept my cropped cardigans from Limited Too because I wear a lot of pants with Urkel-height waistlines and it is not terribly flattering to have a life preserver of fabric crowding around your middle. Other than that, no.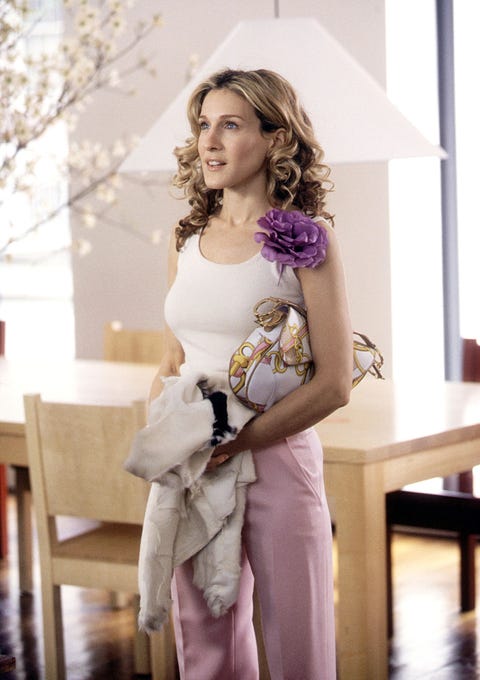 Modernity Score: 6/10
Swap out the white tank for a printed collared shirt, swing the flower pin around to the front, and this is current-season Dries van Noten. Even the color scheme is spot-on. Spooky.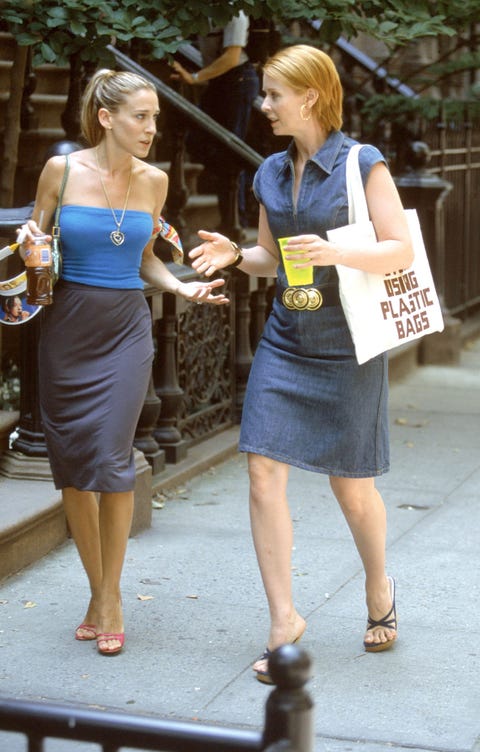 Collective Modernity Score: 3/10
Left: That is quite a bit of jersey. Right: That is quite a lot of cork. (Also, it's weird to think about exactly why Carrie's mules don't work, because theoretically, they should. The kitten heel, maybe?)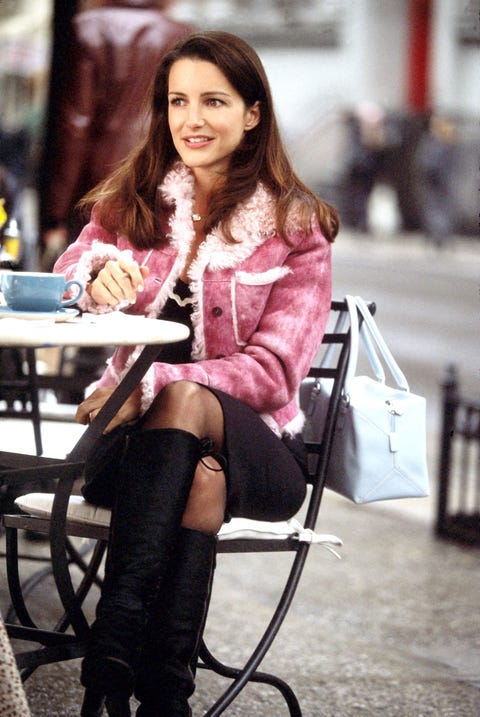 Modernity Score: 8/10
Charlotte might have been weirdly traditional and antiquated in a lot of areas, but here, she's got on what is essentially this Stuart Vevers for
Coach jacket
. Plus, without even thinking too hard about it, I can come up with, like, four pop stars who would wear this whole look without a hint of irony.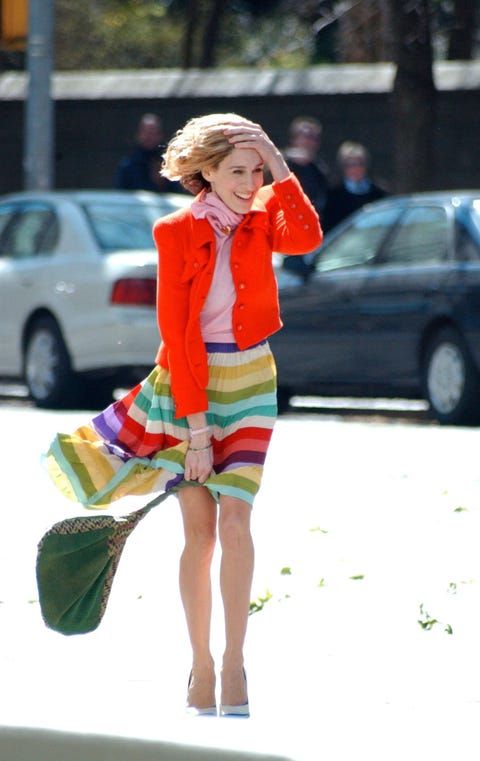 Modernity Score: 10/10
Hello? Kate Spade? Whatever you're planning for your Fall 2015 campaign, scrap it.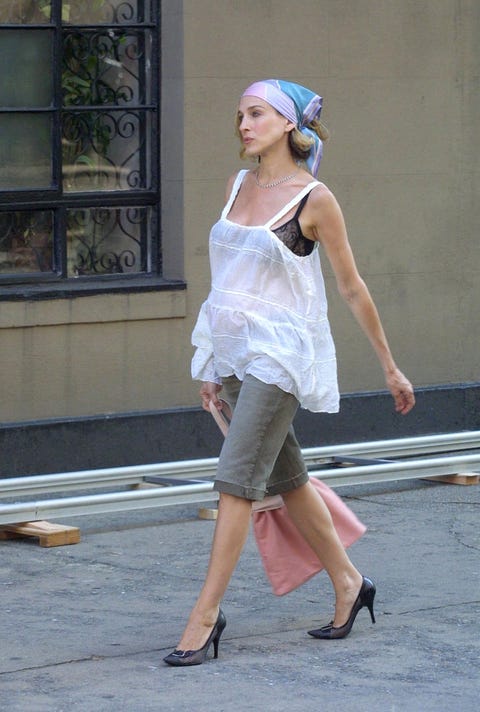 Modernity Score: 4.2/10
This couldn't have been considered cool even back then, right? Two things save this from being a total bust: the sheerness, which is still very in, and the Bermudas, which have appeared on an alarming number of runways recently.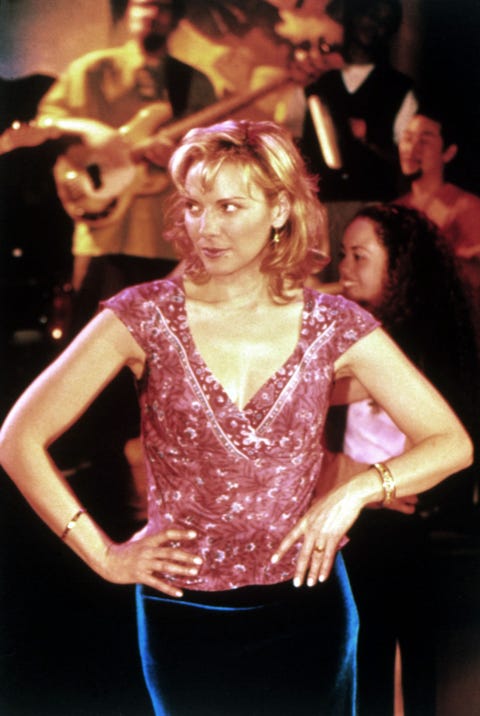 Modernity Score: 3.5/10
The velvet skirt's okay, but the more updated—and arguably more Samantha—way of doing the fabric would be a perfectly cut suit. Let's not even discuss the top.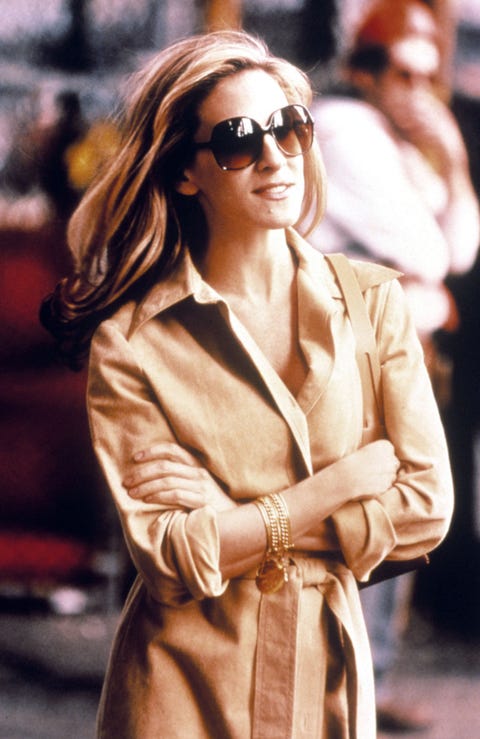 Modernity Score: 12/10
Carrie made it sound like there was vintage Halston just lying around right in the open, and apparently, there was. #timeless
This content is created and maintained by a third party, and imported onto this page to help users provide their email addresses. You may be able to find more information about this and similar content at piano.io