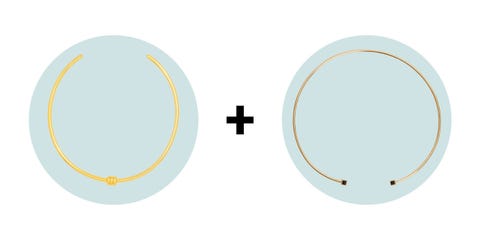 Until Coco Chanel and I meet in Fashion-Person Heaven (provided I get in, of course), I have to assume that her "take one thing off before you leave the house" maxim comes from a place of impeccable taste...but also a lot of second guessing. Why edit if an outfit is already perfect? Here, we present four no-fail equations so that even when you're pressed for time, you won't have to stop on your way out of the house.
When it comes to rings and bracelets, forget everything you thought you knew about mixing metals. Buy geometric bands in various sizes to wear regularly and on the knuckle. One on every finger is cool too.
Sarah & Sebastian ring, $195, nordstrom.com; Mociun diamond triangle ring, $590, nordstrom.com.
One costs half your rent; the other goes for less than the price of lunch. But via destiny and your great eye, they can still be brought together seamlessly. Push one up higher on the forearm, and let the other rest on the wrist.
Jennifer Fisher bow cuff, $755, net-a-porter.com; Forever 21 angular cutout cuff, $4.90, forever21.com.
Aside from the this-is-how-I-die feeling you get when you wrench it on, a choker is an awesome trend because it highlights the most underrated part of the female anatomy: the collarbone. By turning one around so the neck opening faces front, you double your options *and* create a frame for the other piece.
Baublebar collar necklace, $42, baublebar.com; AUrate black stone necklace, $250, auratenewyork.com.
The overlapping circles are eye-catching in a very Céline/Stella McCartney-esque fashion. If you're worried about tangles, however, try wearing charms on a long chain layered over the everyday necklace (like a nameplate or diamond bar) you never take off.
H&M long necklace, $5.99, hm.com; H&M short necklace, $3.99, hm.com.