The 30 Best Golden Globes Red Carpet Looks of All Time
A brief history of standout fashion.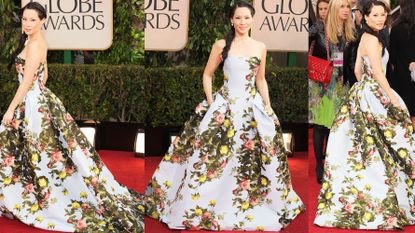 (Image credit: Getty Images)
Since it combines the star power of both movies and TV, the Golden Globes features one of the best red-carpet opps of the year (partially because the stars let loose a little before the main stage at the Oscars, both with their drinking and with their style). 2018 is poised to be The Year of the Serious Fashion Statement, so before things kick off, let's get a quick refresher on the Globes' biggest red-carpet highlights to date.
1/31
Who: Kate Moss
What: A high-neck sequin dress
When: 1995
Why: It's not every day you get an original Super on your red carpet, much less one accompanied by an unusually clean-cut Johnny Depp. (Yup, that's right—not the other way around.)
2/31
Who: Kate Hudson
What: Vera Wang
When: 2001
Why: Consider that Kate Hudson was only 21 years old when she nabbed the Best Actress Award for her role as the iconic Penny Lane in Almost Famous. And showing up in this slinky Vera Wang boudoir slip dress, to boot? It's checking off all our comfort and style goals in one look.
3/31
Who: Salma Hayek
What: Narciso Rodriguez
When: 2003
Why: A) Girl, look at that body. B) This is why more people should wear Narciso—he won't turn you into Salma Hayek, but he's going to make you *look* like the Salma Hayek-iest you possible.
4/31
Who: Jennifer Aniston
What: Valentino
When: 2004
Why: The plunging-V done right makes this a black-but-not-boring "all eyes on me" look. It's just one of many Valentino knockouts at the Golden Globes red carpet.
5/31
Who: Cate Blanchett
What: Donna Karan
When: 2004
Why: If Cate Blanchett were a fruit, she would be a raspberry right before the Jolly Green Giant people come to pick it at the peak of freshness. That is to say everything about this look is luscious.
6/31
Who: Jennifer Garner
What: Valentino
When: 2005
Why: Jennifer Garner knows she looks good, which makes her feel good, which subsequently makes her look even better.
7/31
Who: Cate Blanchett
What: Jean Paul Gaultier
When: 2005
Why: Cate Blanchett is powdery but steely like the movie stars of days past. And she does modern Old Hollywood better than anyone.
8/31
Who: Keira Knightley
What: Valentino
When: 2006
Why: Clean, tassel-y, Valentino—what's not to love?
9/31
Who: Scarlett Johansson
What: Valentino
When: 2006
Why: This is THE archetypical Scarlett Johansson va-va-voom look.
10/31
Who: Reese Witherspoon
What: Nina Ricci
When: 2007
Why: Before the revenge body, there was the revenge red-carpet appearance™. What better way to get back at an ex than having Olivier Theyskens make you a dress the world ooooh-ed over? Nothing, really.
11/31
Who: Sienna Miller
What: Marchesa
When: 2007
Why: Witness the simultaneous births of Marchesa as a red-carpet staple and the milkmaid braid.
12/31
Who: Cameron Diaz
What: Chanel
When: 2009
Why: Has there ever been anything like this candy pink satin gown whose draping is utter perfection?
13/31
Who: Anne Hathaway
What: Armani Privé
When: 2011
Why: Les Mis was yet to come, but her styling here was already befitting that of an Oscar winner. It's also sparkly and backless.
14/31
Who: Angelina Jolie
What: Atelier Versace
When: 2011
Why: It's the, like, one time she's worn color.
15/31
Who: January Jones
What: Versace
When: 2011
Why: Smoking, rifle-toting Betty or this? Pretty iconic (demi-iconic?) either way.
16/31
Who: Tilda Swinton
What: Jil Sander
When: 2011
Why: You don't necessarily go to Tilda for everyday, throwaway fashion. You go to Tilda for her unique POV and her ability to wear flowy, shiny clothes.
17/31
Who: Charlize Theron
What: Dior Couture
When: 2012
Why: Queen. (She's got the diamond and platinum Cartier headband to prove it.)
18/31
Who: Natalie Portman
What: Lanvin
When: 2012
Why: Natalie + Alber forever. Natalie + pink forever.
19/31
Who: Thandie Newton
What: Giles
When: 2013
Why: Long equals fancy, short equals casual, right? WRONG. Also, short, when it's sheer and sequined and styled well, is miles ahead of any satin mermaid gown.
20/31
Who: Lucy Liu
What: Carolina Herrera
When: 2013
Why: This might have been better with a shorter hem, but she's got more than enough presence to pull off a full-body tapestry.
21/31
Who: Emma Watson
What: Dior
When: 2014
Why: At first, you're all like "What are you hiding under there, Hermione?"
22/31
23/31
Who: Lupita Nyong'o
What: Ralph Lauren
When: 2014
Why: Do you remember where you were when Lupita wore this cape gown? I do.
24/31
Who: Emma Stone
What: Lanvin
When: 2015
Why: Any woman who defies the convention of skirts on the red carpet should be commended, especially when her pants also feature a swishy tail.
25/31
Who: Julianne Moore
What: Givenchy
When: 2015
Why: She somehow manages to make tinsel-y disco ball ombre look utterly chic.
26/31
Who: JLo
What: Giambattista Valli
When: 2016
Why: In which JLo wasn't even up for any noms and slayed in a high-slit canary yellow cape dress.
27/31
Who: Zendaya
What: Marchesa
When: 2016
Why: Tiered dresses can be hit-or-miss but Zendaya takes the cake (literally) with a subtle deep red take on the look.
28/31
Who: Rooney Mara
What: Alexander McQueen
When: 2016
Why: Even when she's completely toned down in a flesh-colored Alexander McQueen, Rooney Mara kills it with the details, from the tiny top knot to the deep red lip.
29/31
Who: Natalie Portman
What: Prada
When: 2017
Why: This lemon meringue color has been *big* at the Golden Globes (calling JLo and Reese), but in 2017 Portman went all-classic in a year where side-boob and low backs were the move. The long-sleeved floor-length gown was very much the picture of Jackie O.'s sophisticated style, whose role she's nominated for this year.
30/31
Who: Ruth Negga
What: Custom Louis Vuitton
When: 2017
Why: Loving's Ruth Negga looks like she's wearing liquid metallics, a brave move that pays off.
31/31
Who: Lily Collins
What: Zuhair Murad
When: 2017
Why: No one did the princess dress better than Lily Collins last year, in a dreamy pink confection of filmy lace.