Editors handpick every product that we feature. We may earn money from the links on this page.
Swap Your ____ for ____: 3 Ways to Update Your Hat Game This Summer
Less dad, more Jane Birkin.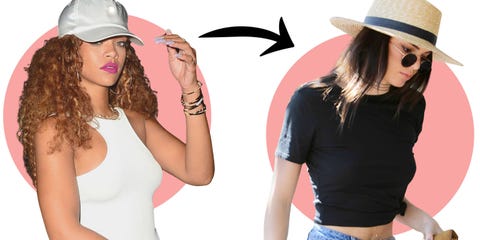 Getty, Splash, design by American Artist
I don't know about you, but I've been feeling hats lately. Maybe it's because of Larry David. Maybe it's because of model Jeanne Damas' friend, who—blasphemy!—might be even chicer than Jeanne herself. Either way, hats are a must.
But if you're planning on simply dusting off last year's duds, you've got a few 2016 updates to contend with. Here, three stealth headwear swaps that'll blow your lid. Sorry, that was bad—told you the dad trend was getting to me.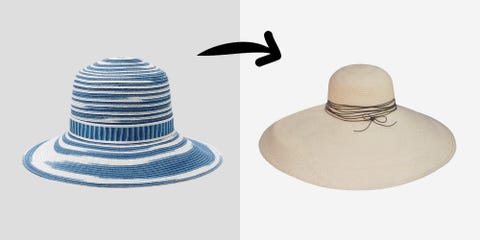 Courtesy, design by Kevin Peralta
A wider brim = more sun protection but also more mystery and glamour and allure. Or, at the very least, it makes it easier to pretend you're not sleeping.
Missoni striped sun hat, $395, modaoperandi.com; Artesano Panama hat, $260, artesano.net.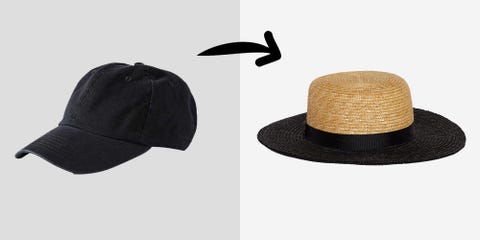 Courtesy, design by Kevin Peralta
This one's more of an occasional change-up, because, in the end, there really is nothing better than some random branded ball cap for covering up your morning-after roots. But still—you've probably been wearing one all winter thanks to uber-cool design collective Vetements, so maybe try something a bit fresher for the season. Enter the boater, which might be a little costume-y but also a lot cute.
BDG baseball cap, $20, urbanoutfitters.com; Who What Wear for Target straw boater, $15, target.com.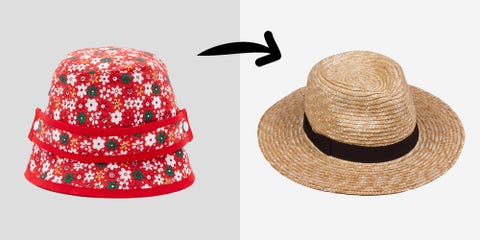 Courtesy, design by Kevin Peralta
Why not switch out one cliché for another? (Pretty much no one except Rihanna could do the bucket anyway, if we're being honest with ourselves.) This time, though, the fedora is straying far from its sad Rat Pack wannabe rep and straight into weirdly, actually cool territory, thanks to Karl Lagerfeld and one momentous night in Cuba.
Bernstock Spiers bucket hat, $160, openingceremony.com; Lack of Color straw fedora, $59, lackofcolor.com.au.
This content is created and maintained by a third party, and imported onto this page to help users provide their email addresses. You may be able to find more information about this and similar content at piano.io