30 Celebrity Brides Who Said "Nah" to Long White Dresses
Going to the chapel (in a pantsuit).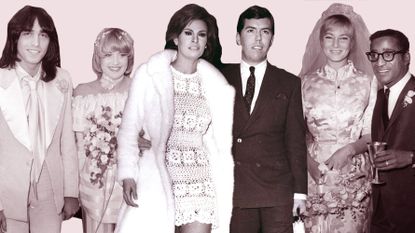 (Image credit: Getty, Alamy, design by Betsy Farrell)
As subway ads have pointed out before, love makes us do crazy things like agonize over a dress we'll wear only once—well, not everybody, as these 30 celebrities prove. Keep clicking for minis, jumpsuits, trousers, and, yes, even black.
1/30
Elizabeth Taylor
Marrying Eddie Fisher in 1959. Love the hood.
2/30
3/30
Kristen Bell
Marrying Dax Shepard in 2013. Terrific statement necklace.
4/30
5/30
6/30
Juliette Gréco
Marrying Philippe Lemaire in 1953. Into the wide lapel, even more into everybody's eyes in this.
7/30
Elizabeth Taylor
Marrying Richard Burton in 1964. Copying that epic hair for my first marriage.
8/30
Marilyn Monroe
Marrying Joe DiMaggio in 1954. Little Fur Collar Appreciation Club.
9/30
Nancy Shevell
Marrying Paul McCartney in 2011. Would sell a lot of picture frames.
10/30
Liza Minelli
Marrying Jack Haley Jr. in 1986. Fashioning a flower choker as we speak.
11/30
12/30
Catherine Deneuve
Marrying David Bailey in 1965. Would 10/10 get married in either outfit.
13/30
Sharon Tate
Marrying Roman Polanski in 1968. A tragic story, but a beautiful moment here.
14/30
Farrah Fawcett
Marrying Lee Majors in 1973. Such great hair on this family.
15/30
Elizabeth Taylor
Marrying Michael Wilding in 1952. Honeymoon-ready.
16/30
Julianne Moore
Marrying Bart Freundlich in 2003. Purple Prada, no bra = divine.
17/30
Bianca Jagger
Marrying Mick Jagger in 2014. Never not epic.
18/30
Ellen Barkin
Marrying Ron Perelman in 2000. Definitely doing a suit now.
19/30
Mia Farrow
Marrying Frank Sinatra in 1966. Hall of Fame level.
20/30
Linda Eastman
Marrying Paul McCartney in 1969. This is so British, down to the umbrella.
21/30
Judy Garland
Marrying Vincente Minneli in 1945. The high collar says "I'm modest!" but the Instagram you'll post of this will say "I want somebody to give me forehead kisses."
22/30
Ava Gardner
Marrying Frank Sinatra in 1951. Awwww!
23/30
May Britt
Marrying Sammy Davis Jr. in 1960. You know someone would give their left elbow for this at a vintage store.
24/30
Lorna Luft
Marrying Jake Hooker in 1977. Rosie Assoulin before there was Rosie Assoulin.
25/30
Twiggy
Marrying Michael Witney in 1977. Into the garden-party vibe.
26/30
27/30
Sofia Coppola
Marrying Thomas Mars in 2011. When Alaïa says you're "too old" to wear long, you go "LOL, okay, but I would deck anyone else who said that to me."
28/30
aquel Welch
Marrying Patrick Curtis in 1967. Flying in your wedding dress: the ultimate.
29/30
Ann Margaret
Marrying Roger Smith in 1967. Mad respect for the no-pants look.
30/30
Celebrity news, beauty, fashion advice, and fascinating features, delivered straight to your inbox!
I'm the Digital Visuals Editor for Marie Claire and I help pick the most interesting, relevant and prettiest photos for our site.