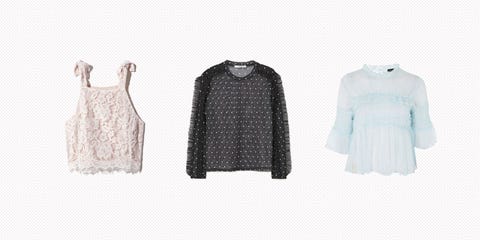 Not-boring summer date ideas? Check. An open mind? ¡Si! An actual person to bring to said romantic-partner tryouts? No comment. But dress for it, and you can achieve it, so start with one of the following affordable/flirty/fun tops, add some jeans, and see where it goes from there.
"Ooh, it's cold," you say pointedly, hugging your one bare shoulder, while plotting to keep their sweatshirt forever.
Farrow, $64; needsupply.com.
Like they googled "What do millennials like?" and mashed the top results (pink, lace, shoulder ties) together.
Aritzia, $60; aritzia.com.
Polka-dot hankie, with ruffles for good measure.
H&M, $40; hm.com.
A peasant-y shape + tassels + gingham = high summer.
J.Crew, $78; jcrew.com.
Free-boobing it would be kind of obvious (😎), but you know what's best for your chest.
Mango, $36, shop.mango.com.
A good litmus test, because you wouldn't want to see anyone who opposes puffy shoulders, would you?
Pixie Market, $102; pixiemarket.com.
With some flares and a straw basket, they'll think they've scored a date with Jane Birkin.
& Other Stories, $39; stories.com.
C'mon—it's sheer and looks like a 1950s nightie.
Topshop, $68; topshop.com.
More lingerie masquerading as clothes.
Zara, $36; zara.com.
While this is sparkly and stretchy and your childhood in a tank top.
Calle Del Mar, $160; calledelmar.us.