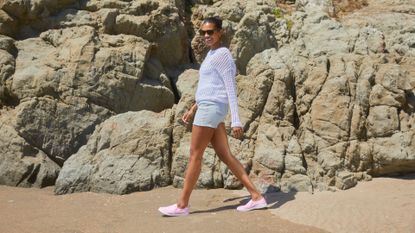 (Image credit: Courtesy)
If you ask Marie Claire editors (and readers for that matter) what they want in a new pair of shoes, the answer will fall within the Venn diagram of chic, comfortable, and environmentally sustainable. And while plenty of fashion choices are stylishly on-trend, very few manage to also feel great and do right by the planet. But Vionic, the footwear brand already beloved for its super cute, wildly comfortable shoes, is also focused on helping the environment. As part of that mission, Vionic has announced a supporting partnership with PROTEUS™, the world's most advanced underwater research facility and habitat, to develop a line of sustainable sneakers that will make your feet, and the planet, feel better.
The line of sneakers in the Vionic + PROTEUS™ Partnership collection features hand-drawn coral prints celebrating the waters off Curaçao, where the PROTEUS™ team, led by renowned ocean conservationist Fabien Cousteau conducts research. But the partnership extends much further than that: Each pair of shoes is crafted with a Repreve® Our Ocean™ textile, made with plastic bottles recycled from the ocean. So far, Repreve has recycled over 33 billion (with a "B") ocean-bound plastic bottles, all collected within 30 miles of coasts and waterways in developing nations. Vionic leans on the expertise of the PROTEUS™ team to create eco-conscious products that go beyond just lip service, while also amplifying the important oceanic research Proteus conducts.
So what does the Vionic and PROTEUS™ partnership look like when it comes to your new favorite pair of shoes? Check out the Pismo sneaker, which diverts 3.6 plastic bottles from coastal waterways and upcycles them into these cute kicks:
Or the beachy Malibu slip-on style which, in addition to providing the same full-foot support and comfort of all Vionic shoes, also uses a full 4.9 plastic bottles:
And perhaps our favorite, the summery Laguna espadrille, which contains a full 5.2 plastic bottles:
So far, these three styles have already diverted more than 70,000 plastic bottles from coastal waterways and landfills, turning them into shoes that are beautiful, comfortable, and that serve as an important reminder of how your choices can positively affect the planet. And as part of Vionic's Ocean Wellness Initiative, the brand has committed $500,000 to PROTEUS™ over the next three years, to help pioneer research and advancements in environmental conservation, human health, and technological innovation. Vionic contributed $100,000 to this important cause in 2021 alone, while directing long-time fans of their styles to learn about and contribute to research that will further the PROTEUS™ mission. It's all part of how Vionic is turning a passion for the ocean into sustainable action.
In addition to footwear, the Vionic and Proteus partnership is focused on outreach, like hands-on beach clean-ups and consumer awareness campaigns about ocean conservation. In turn, Vionic is reducing the carbon footprint of the fashion industry, and setting an example for how other companies can follow in their steps (pun intended).
Vionic recognizes that even seemingly small choices—like your next pair of must-wear sneakers—can have an impact on the environment. To make it a positive one, and support pioneering ocean research in the process, check out the Vionic and PROTEUS™ partnership and turn your choices into sustainable action.
To check out the collection of eco-conscious sneakers and to learn more about the Vionic and PROTEUS™ partnership, visit VionicShoes.com and follow the brand on Facebook and Instagram at @vionicshoes.
Celebrity news, beauty, fashion advice, and fascinating features, delivered straight to your inbox!