How to Dress for the Job You Want
From Wall Street to the catwalk, get ahead at work by looking the part. Four industry professionals tell you how.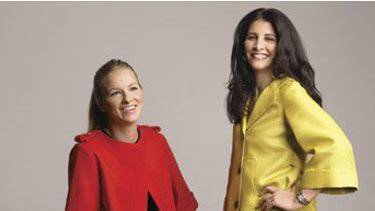 (Image credit: Taghi Naderzad)
THE JOB: Real-Estate Agent
"Think neutral suit with a single pop of color. Dress too sexy or distracting and you become easy to dismiss. "

Sale vs. Fail

DOS:
Constant maintenance of shoes, manicure, roots (if you color your hair).
Fitted, not tight, silhouettes; conservative length and shapes for skirts and pants (you can sell palazzos, but not wear them!)
Jackets in striking colors.
DON'TS:
Low-cut or see-through blouses, booty- licious pants or minis
Visible bra straps or thong (obviously!)
Open-toed, strappy sandals or stilettos—they look silly with a hard hat
BROKER IN TRAINING: Natalie Birinyi, 20, student at Columbia University
EXPERT: Ariana Meyerson, managing director, Cantor-Pecorella (markets $1 million–$10 million apartments in Manhattan)
FORMALITY FACTOR: (8.5/10) "There are no casual Fridays, even on a construction site."
THE GOAL: "If you're showing people beautiful properties all day, aesthetics are obviously important. Your clothes signal to clients that they can trust your taste. That said, real-estate development is so male-dominated that women have to work harder to be taken seriously. Dress in a way that's distracting and you become easy to dismiss."
THE MUST-HAVES: "A charcoal, black, or navy suit with a single pop of color—it's classic, with a twist. I'm an urban nomad, chasing taxis and navigating construction sites, so my shoes have to hold up. I live in these black Louboutins because they're not too high. And as I work 12-plus-hour days, I always slip on the Oscar de la Renta flats between appointments."
THE FASHION DISASTER: "I was seeing a new property with a group of colleagues, and some of the young agents were wearing seriously short skirts. Afterward, the male brokers couldn't remember the address, the flooring, the finishes—only the minis."
DRESS FOR SUCCESS: "When you're starting out and don't have a lot to spend, invest in a few fantastic designer pieces you can mix and match. With a starter suit from maybe Theory in charcoal gray or black—and matching skirt and pants for more mileage—you can still afford to go a little crazy with camisoles and colorful accessories from H&M."
FINISH THE LOOK: "Keep makeup and jewelry simple. I tend to buff, not polish, my nails, but you can use a neutral pink like Essie's Ballet Slippers. I also wear my hair down to balance the masculinity of the suit."
On Natalie Birinyi, left: Jacket, $690, Camilla and Marc; top, $275, White + Warren; pants, $245, Vera Wang Lavender Label; shoes, $310, Tory Burch; belt, $44, White House Black Market.

On Ariana Meyerson, right: Pants, $700, The Row; shoes, $695, Christian Louboutin; Meyerson's own jewelry and Gucci coat.

THE JOB: Model

"Avoid tent dresses—clients need to see your body. And always wear a nude Calvin Klein G-string, the industry standard."

The shoot vs. The boot

DOS:
Short shorts are hot, micro miniskirts are hoochie
Dress super-simply but spend on fabulous designer heels (clients will assume you're getting a lot of bookings!)
Invest in a classic fitted leather jacket—with AC, you can wear it even in summer
DON'TS:
Baggy tops and tent dresses—clients need to be able to see your body
Worrying about having the right bag—no one pays attention
Expensive, flashy jewelry—simple stuff keeps the focus on you!
NOVICE MODEL: Nataniele Ribeiro, 17, student and model in Brazil
EXPERT: May Andersen, former Victoria's Secret and Sports Illustrated swimsuit model, now designs denim line Chick With Guns
FORMALITY FACTOR: (1/10) "For go-sees with potential clients, less is more: Wear a fitted T-shirt or tank with skinny jeans or shorts."
THE GOAL: "You have to look confident at all costs. The nature of modeling is to be judged on your looks; you can't take it personally."
THE MUST-HAVES: "Fabulous jeans that you can dress up or down. A skinny pair will make your legs look longer—especially with classic, sexy Manolos. Flats are fine, but heels give you better posture and show your client that you know how to walk in them. Avoid wearing white; it can make anyone look bigger. I favor all-black outfits, since they're slimming and work well for day or night. In this business, bras are optional."
THE FASHION DISASTER: "I've seen young models show up for go-sees looking like something out of America's Next Top Model—totally over the top in some crazy punk outfit. Clients only want to see you as a blank canvas so they can picture you in their clothes."
DRESS FOR SUCCESS: "Since you have to be prepared to try on all types of clothes—even bathing suits—always wear a Calvin Klein nude G-string, the industry staple given to the models at most major fashion shows."
FINISH THE LOOK: "Pull your hair back so they can see your face. Generally no makeup for high-fashion jobs, like runway and couture, though you might wear concealer and mascara for commercial clients like a cosmetics company. And thanks to Photoshop, you don't have to worry about your tattoos!"
On May Andersen, left: Plaid shirt, $14.99, Charlotte Russe; shorts, $200, May Andersen for Chick With Guns; shoes, $550, Sergio Rossi; tights, $42, Wolford; Andersen's own bracelet, rings, Calvin Klein tank, and WFR necklace. On Nataniele Ribeiro, right: Top, $48, Michael Stars; jeans, $200, May Andersen for Chick With Guns; shoes, $660, Christian Louboutin; necklace (worn as bracelet), $575, Iosselliani; ring, $760, Chanel; Ribeiro's own Elise Overland jacket.

THE JOB: GALLERISTA

"A button-down shirt would be too boring. Butdon't show up in an avant-garde tutu—it's still a job, not a fashion show. "

Art vs. Tart

DOS:
Search flea markets, vintage and thrift shops, and Mom's—and Grandma's!—attic and jewelry box
Have a go-to LBD you can dress up or down—mine's an '80s Alaïa
As Coco Chanel decreed, when you're all finished getting dressed, take one thing off
Wear metallic shoes—they function like neutrals but are more interesting than black
DON'TS: Being scared of prints, or mixing prints; in the art world, eclectic is good
Avoiding the '70s. I love that era's flair—it's such a distinct style reference
Copying a look exactly—you have to make it your own, organically
GALLERISTA IN PROGRESS: Saskia Miller, 26, student at the Free University of Berlin
EXPERT: Giada Torri, director of events and exhibits at New York City's Milk Gallery
FORMALITY FACTOR: (5/10) "This is a creative environment; you can do skinny jeans and vests. A button-down shirt or a suit would be too boring."
THE GOAL: "When we're trying to recruit important or upcoming artists, it's crucial to represent the gallery. Of course, no one shows up in an avant-garde tutu—it's still a job, not a fashion show."
THE MUST-HAVES: "Bold prints, oversize belts, statement accessories. Something that expresses your imagination."
THE FASHION DISASTER: "I bought a beautiful but deteriorating 1920s dress to wear to an important dinner at the Waverly Inn [in Manhattan]. When I stood up, the back completely fell apart; a busboy helped staple the dress together so I wasn't mooning everyone. Like you would an original painting, inspect vintage carefully before purchasing."
DRESS FOR SUCCESS: "I have hundreds of dresses and tons of shoes, and every day I look forward to putting together my outfit. I play around with different colors and textures just like a painter does. If you have fun getting dressed, it will show in your outfit."
FINISH THE LOOK: "I wear a lot of jewelry—like, four to six rings at a time. And I love a retro feel, so I work that in with bags and shoes."
On Saskia Miller, left: Dress, $436, Mint Jodi Arnold; shoes, $430, DKNY; rings, $785 each, Stephen Dweck. On Giada Torri, right: Cardigan, $79, Club Monaco; tank, $145, skirt, $825, D&G; shoes, $745, Marni; necklace, $1600, Subversive Jewelry by Justin Giunta; Torri's own rings.

THE JOB: FINANCIER

"Wall Street may be 95 percent men, but don't dress like one. But don't dress like a girly-girl either."

Promotion vs. Demotion

DOS:
Tailored shirts with stretch—fitted looks more feminine
Express your personality through shoes—an element of style you can have fun with
Have your tailor put a hook-and-eye inside the bust of your button-down to keep your bra hidden
DON'TS:
Linen—no matter how gorgeous or expensive, by the end of the day, it's a wrinkled mess
Camisoles, spandex, and cropped tops. These are for weekends only
Wearing bright colors—you'll stand out at the Stock Exchange, and not in a good way
FUTURE MOGUL: Lucia Knight, 27, bond sales assistant on the trading floor
EXPERT: Becky Quick, co-anchor of CNBC's Squawk Box and former financial reporter for The Wall Street Journal
FORMALITY FACTOR: (10/10) "Nothing less than impeccable is what flies on Wall Street. If your lipstick's a mess or your skirt is too trendy, it instantly devalues you. Wall Street may be 95 percent men, but don't dress like one—but don't dress like a girly-girl either."
THE GOAL: "Like their male colleagues, women need great-looking go-to suits and several pairs of killer classic shoes."
THE MUST-HAVES: "Three good suits—black, gray, and brown—off the rack that a tailor can make into great suits. Pay special attention to fit, fabric, and sleeve-cuff length: When your arm is straight down, the cuff should stop between your wrist bone and the top of your hand. And a quality watch—nothing too flashy."
THE FASHION DISASTER: "Overnight, I went from being a financial reporter for The Wall Street Journal who wore jeans to being on-camera. I only owned one suit, and I had to safety-pin the pants. Then I bought 10 cheap, garishly colored suits that hung all wrong. I looked at least 20 pounds heavier on the air."
DRESS FOR SUCCESS: "Get measured by a tailor, and then seek out designers who cut for your body—Tahari works well for petite frames like mine. Since your work wardrobe doesn't have to be this season, scour the outlets."
FINISH THE LOOK: "Keep makeup simple and natural. I usually just wear a watch, an elegant necklace, and pearl studs—no big statement pieces. You want people to notice you, not your jewelry."
On Becky Quick, left: Jacket, $2670, skirt, $940, Dior; shoes, $995, Burberry. On Lucia Knight, right: Jacket, $536, BCBG MaxAzria; top, $510, Bottega Veneta; skirt, $350, shoes, $310, Tory Burch.