Cheese Plate 101: Building the Perfect Platter (PHOTOS)
A well-composed cheese plate is guaranteed to be a show-stopping hit at any party you're hosting this holiday season. With its practical setup—the appetizer requires no oven time and little more than a large board and a few basic knives—the only challenge is choosing your cheeses. For some stinky, delicious guidance, we turned to Jason Sobocinski, owner and founder of New Haven's award-winning Caseus Fromagerie Bistro.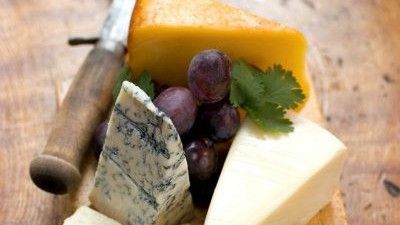 (Image credit: Marie Claire)
Shop: Buy 1 to 2 ounces per person per cheese, and limit yourself to 3 to 5 cheeses total—just enough to keep things interesting, but not so many that the options become overwhelming.
Curate: Try to include one of all three milk types (cow, sheep, goat), and look for an exciting mix of geographic regions, flavors, textures, and colors.
Plan: Cheese tastes best at room temperature, so take it out of the fridge at least an hour before serving.
Prepare: Make sure your serving board is large enough to comfortably hold everything. Arrange the cheeses—and encourage guests to sample them—in order of mildest to strongest, moving from left to right or clockwise in a circle (with the mildest placed at the "12 o'clock" mark).
Pair: Fill in the gaps with simple starches that won't compete with the flavor of the cheeses—think plain crackers, crostini, or slices of crusty baguette.
Garnish: Enhance your spread with something sweet (like fresh or dried fruit, honey, or jam) and something savory (like chutney, olives, cured meats, or Marcona almonds). You can place these directly on the board, in small bowls, or both.
Serve: Set out a separate knife for each cheese. Paring knives work well for anything on the firm side, and though it may not look fancy, this knife cuts clean, beautiful lines from even the softest and gooiest of cheeses.
Store: Loosely wrap any leftover cheese in its own piece of wax, parchment, or cheese paper (avoid saran wrap, which prevents cheese from breathing and can give it a plastic-y taste). Store in the vegetable drawer of your fridge where the cheese will benefit from the humidity.
Jason's Holiday Cheese Picks
Cow's milk cheese:
Cabot Clothbound Cheddar — a sharp and nutty American cheese from Cabot's artisanal line.
Scharfe Maxx — smooth and firm Swiss that's pleasantly funky, boasting notes of nuts and bacon.
Comté — similar to Gruyère, this frim French cheese is rich, buttery, creamy, and nutty.
Sheep's milk cheese:
Pecorino Tartufo Riserva — if you like truffles, you'll love this truffle-enriched aged Italian cheese with a dense yet creamy texture.
Pecorino Foglie de Noce — another Italian pecorino, these wheels are wrapped in walnut leaves as they age for a buttery, earthy, and faintly woodsy finish.
Ossau Iraty Vieille — from France, with a slightly granular texture and a nutty, grassy-sweet flavor.
Goat's milk cheese:
Coupole — the velvety rind on this delicious dome is not only edible, but visually stunning—a guaranteed hit from the Vermont Butter and Cheese Creamery.
Chabichou du Poitou — a little cylinder of French loveliness, fudgy and bright with a hint of lemon.
Tomme de Chevre — a good "gateway goat," this widely available French cheese is relatively mild with a soft, almost spreadable texture.
Kathryn O'Malley is the creator of Dramatic Pancake, a food blog devoted to the people and stories behind great recipes.
Celebrity news, beauty, fashion advice, and fascinating features, delivered straight to your inbox!