Wet Your Whistle: The History of Alcohol
The past century has seen a rise in women mixing, drinking, and all-around indulging — and not just on ladies' night.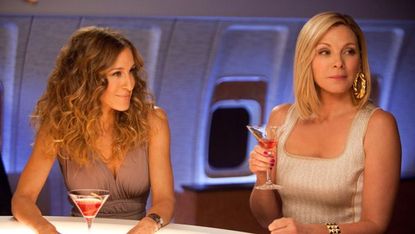 (Image credit: Kobal)
1. Whiskey Shots, 1913:

The Anti-Saloon League of America and Women's Christian Temperance Union declared their intention to pursue national prohibition. Women saw drinking and saloons as signs of male power in society, says Carol Faulkner, a history professor with a specialty in women's history at Syracuse University. Voting often took place in pubs and bars and alcohol seemed a cause of domestic violence.
2. Bathtub Gin, 1920:

Bars appeared more welcoming to both sexes after women's suffrage, but newly enacted prohibition lasted until 1933. Bootleggers made gin, which required less aging for quick production, while honey and fruit juices masked the taste of poorer-quality liquors — and so we had the cocktail. Flappers and Gatsby-like gentlemen drank quickly to beat the frequent speakeasy raids, normalizing getting drunk rapidly.
3. Martinis, 1960:

The 60s weren't quite like Mad Men — the AMC series' depiction of professionals downing cocktails more than often than coffee in the workplace exaggerates this bit of history, says Evan Smith, a former screenwriter for Paramount, MTM, Fox, and USA comedies and dramas. Offices did, however, deem an alcohol presence acceptable amidst the paperwork and at the conference table.
4. Beer Kegs, 1970:

Colleges traditionally enforced curfews on female students, and most had single-sex dorms, says Faulkner. These rules started to disappear in the 70s, however, and women could participate in more activities that their male peers engaged in — such as frat parties.
5. Bahama Mama, 1973:

Moderate drinking while pregnant remained common and unquestioned until a Univeristy of Washington Study thankfully identified a group of physical and mental birth defects caused by drinking alcohol, now known as Fetal Alcohol Syndrome.
6. Sex on the Beach, 1994:

Harvard students became the first American college students to publish a report on binge drinking, a phenomenon that still fascinates researchers. The study defined the habit as the consumption of five or more drinks in a row for men, and four or more for women.
7. Cosmopolitan, 1998:

Sex and the City taught us that a girl needs plenty of shoes, a few close friends, and a drink in her hand – and the Cosmopolitan understandably reigned supreme as Carrie Bradshaw's drink of choice throughout the series.
8. Happy Hour, 2011:

A study found increasing gender equality correlated with higher drinking rates, suggesting more women have the opportunity, and the pressure, to socialize in order to advance in the business world. The research found women in managerial and executive positions drink more than other women.
9. Bottoms Up, 2014:

Female alcoholism is no longer a taboo discussion, with increasing studies focusing on women's drinking. One in eight women binge drink about three times a month, and American women currently drink more heavily than ever before.
Photo Credits: Getty Images and Kobal
Celebrity news, beauty, fashion advice, and fascinating features, delivered straight to your inbox!