The Best New Year's Eve Cocktails to Ring In 2020 With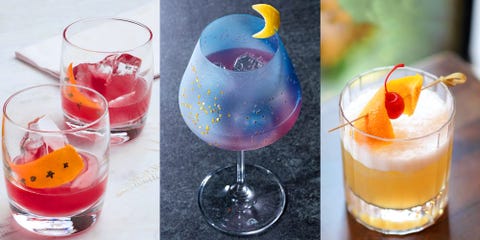 Until the clock strikes midnight on December 31, there's always more fun to be had. And the right kind of New Year's Eve cocktail can do the trick, whether via a shake or a stir (well, you get the gist). Whether you're living it up at a party with friends or taking it easy on the couch at home, these 15 tasty cocktail recipes will help you enter 2020 in style. Whether you're looking for a gin cocktail, a champagne spritz, or an edible glitter cocktail (yes, really)—we've done the hard work for you.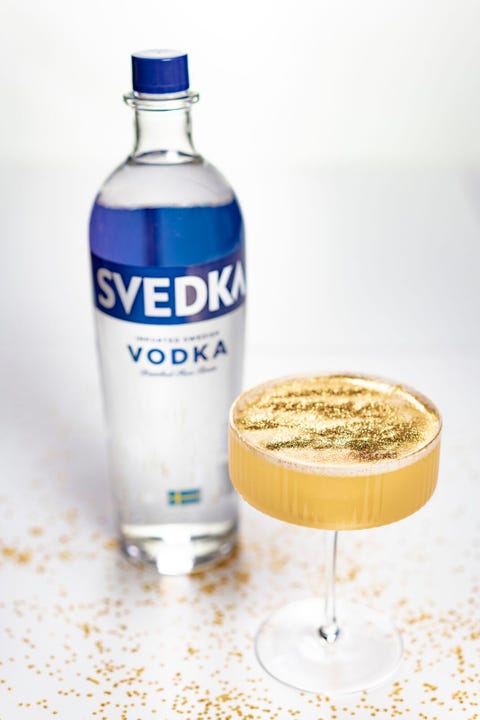 Toast of the Town
Ingredients:
1 oz. Svedka Vodka
3 oz. Passionfruit Juice
Prosecco to fill
Directions:
Add all ingredients into a champagne coupe. Garnish with gold edible glitter.
Courtesy of mixologist Cody Goldstein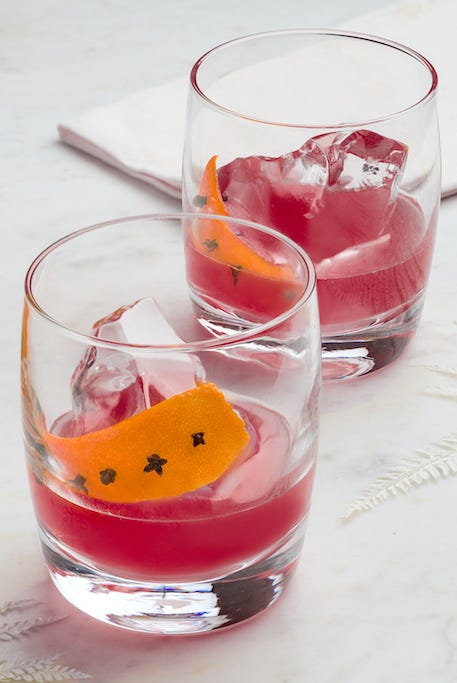 The Winter Rebel
Ingredients:
2 Chivas 13 year
.75 oz. Carpano Antica Sweet Vermouth
.50 Blood Orange juice
2 Dashes Fee Brothers Aztec Chocolate Bitters
Directions:
Build in glass over large rock. Ice. Stir. Garnish with large orange peel, studded with 6 to 8 cloves.
Courtesy of Chivas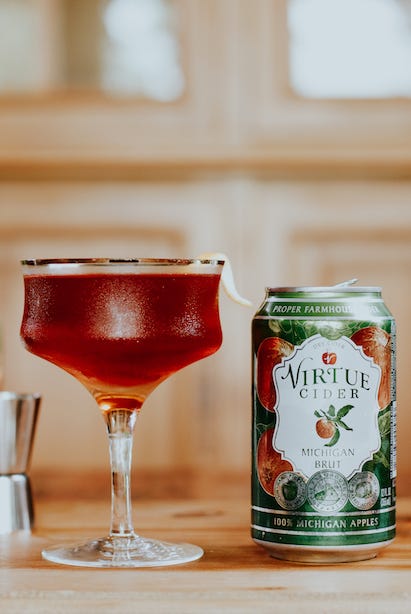 Fruit Belt Boulevardier
Ingredients:
8 oz. Virtue Cider
4 oz. Rye Whiskey
2 oz. Campari
2 oz. Sweet vermouth
Directions:
Add ice to mixing glass. Add Virtue Cider, rye, Campari, and vermouth. Stir. Strain into a coupe. Garnish with an orange twist and serve immediately.
Courtesy of Virtue Cider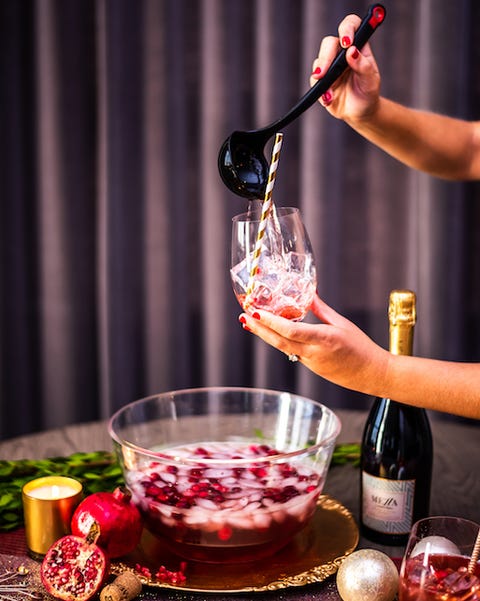 Pom Cran Fizz Punch
Ingredients:
1 ¼ Cups chilled pomegranate juice
1 ½ oz. Cointreau Liqueur
1 Bottle Mezza di Mezzacorona
1 Fresh pomegranate, seeded
1 Bag cranberries

Directions:
Combine 1 ¼ cups of chilled pomegranate juice, 1 ½ oz of Cointreau Liqueur, 1 bottle of Mezza di Mezzacorona, ice, fresh pomegranate seeds and cranberries in a punch bowl. Serve in wine glasses.
Courtesy of Mezzacorona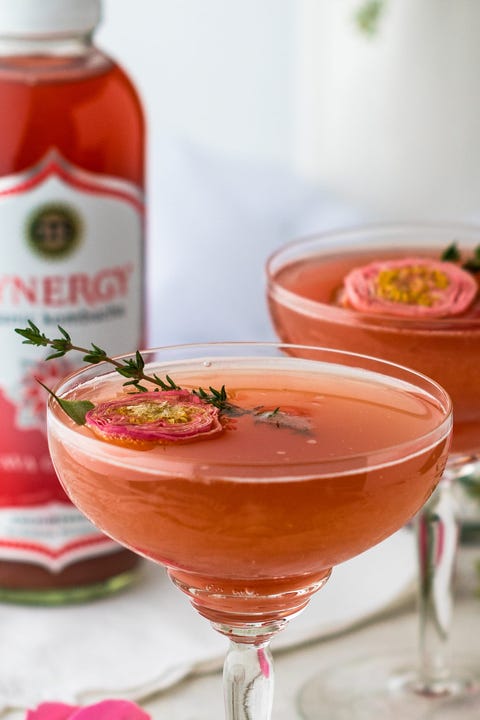 Laraine's Cocktail
Ingredients:
3 oz. GT's Kombucha Guava Goddess
3 oz. Champagne or Prosecco
Directions:
Pour champagne or prosecco into a champagne flute. Top with Guava Goddess Kombucha. Garnish with either thyme, ginger, or an edible flower.
Courtesy of GT'S Kombucha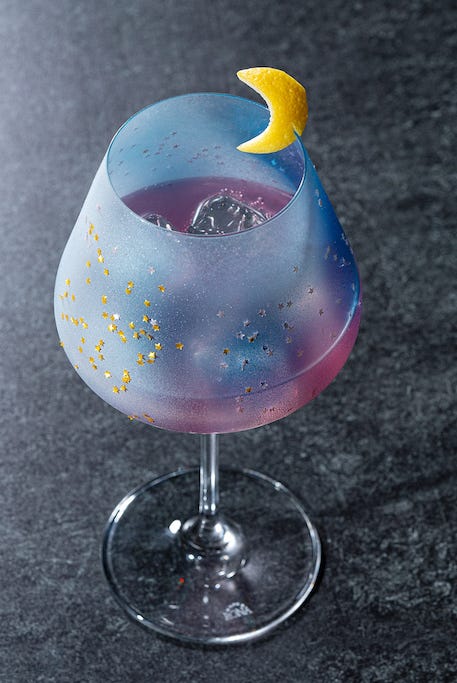 Starry Night
Ingredients:
1 1/2 Beefeater Gin
1 Dropper Butterfly Pea Tincture
3/4 Lemon juice
3/4 Jasmine syrup
2 oz Sparkling wine
Directions:
Build in shaking tin. Strain. Top with sparkling wine.
Courtesy of Pernod Ricard mixologist Jane Danger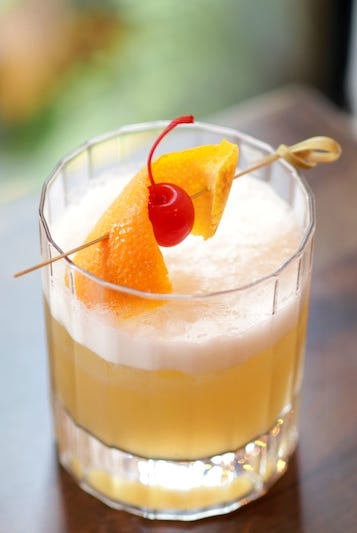 Bourbon Fizz
Ingredients:
2 oz. Bourbon
1 oz. Apple Cider
1/2 oz. Cinnamon Syrup
1/2 oz. Lemon Juice
1/2 oz. Egg Whites
Directions:
Shake vigorously with ice, garnish with Orange Peel and a Maraschino Cherry

Courtesy of Savida in New York City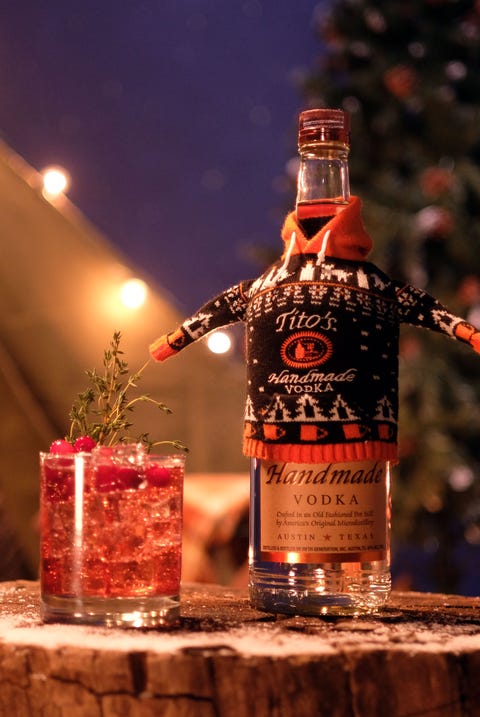 Tito's Holiday Thyme
Ingredients:
1 1/2 oz. Tito's Handmade Vodka
1 1/2 oz. Cranberry juice
2 tsp Lime juice
2 Thyme sprigs
3 oz. Sparkling Mineral Water
Directions:
Shake Tito's, juices and thyme in shaker with ice. Pour into a rocks glass. Top with soda water and garnish with a thyme sprig.
Courtesy of Tito's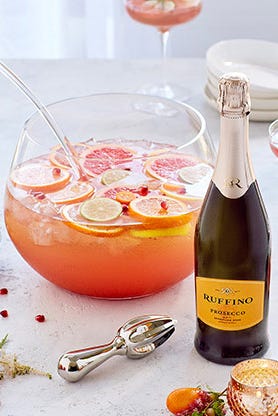 Citrus Pomegranate Prosecco Punch
Ingredients:
1/2 Part orange juice
1/2 Part pink grapefruit juice
1/4 Part pomegranate juice
1 Part Ruffino Prosecco, well chilled
Slices of assorted citrus and pomegranate seeds, to garnish
Directions:
In a large pitcher or punch bowl with plenty of ice combine the fruit juices. Pour the Ruffino Prosecco over top. Garnish generously with sliced citrus and pomegranate seeds.

Courtesy of Ruffino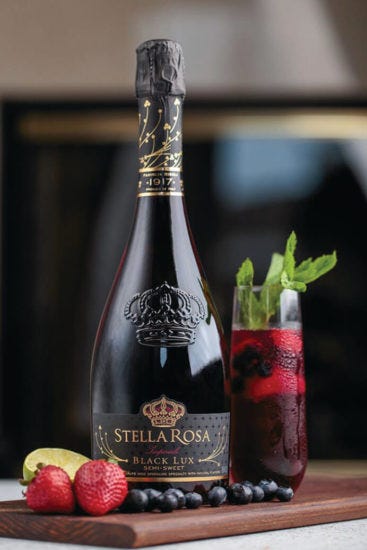 Midnight Magic
Ingredients:
Strawberries, sliced
Blueberries
Stella Rosa Imperiale Black Lux
Lime juice
Honey
Mint for garnish

Directions:
Fill glass with strawberries and blueberries. Pour in Stella Rosa Imperiale Black Lux. Add a squeeze of lime juice and a drizzle of honey. Garnish with a sprig of mint.
Courtesy of Stella Rosa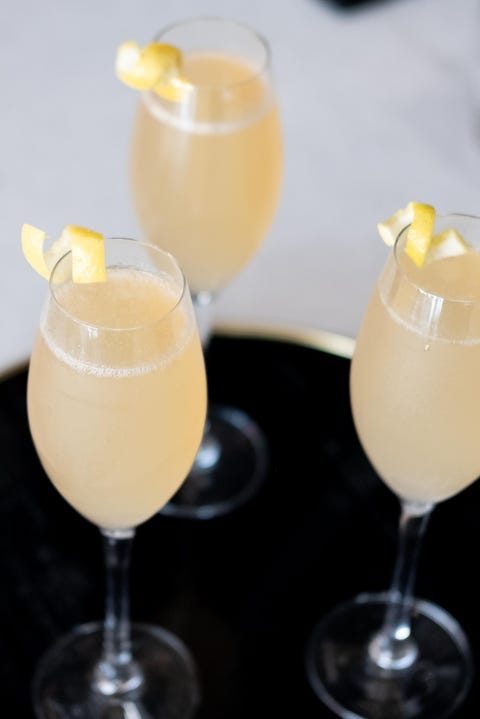 Poire 75
Ingredients:
1 oz. Gin
3/4 oz. Lemon
1 oz. Pink peppercorn-pear syrup*
Champagne or sparkling wine
*Pink Peppercorn Pear Syrup Directions:Combine 1 cup of syrup, 1 1/2 c. of water, 1 c. of diced pears and 3 T. of pink peppercorns and heat. When pears soften, mash some into syrup and continue to heat. When desired flavor is achieved, turn heat off and cool.
Directions:
Place all ingredients in a shaker, shake and strain into a Champagne flute. Top with Champagne or sparkling wine and add a lemon twist garnish.

Courtesy of Wolfgang Puck Catering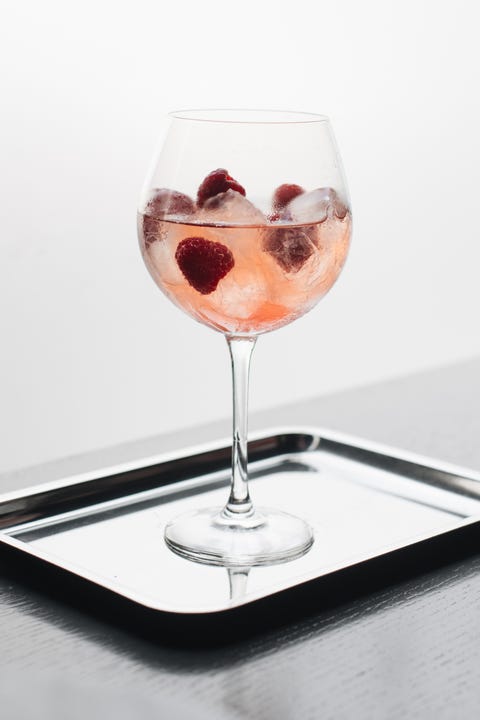 R Spritz
Ingredients:
¼ oz. Lemon juice
¼ oz. Simple syrup
¼ oz. Byrrh Quiquina
2 oz. Cocchi Rosa
2 oz. Giuliana Prosecco
Fresh Berries

Directions:

Combine all the ingredients in a burgundy wine glass with ice and garnish with fresh berries.
Courtesy of RPM Italian in Chicago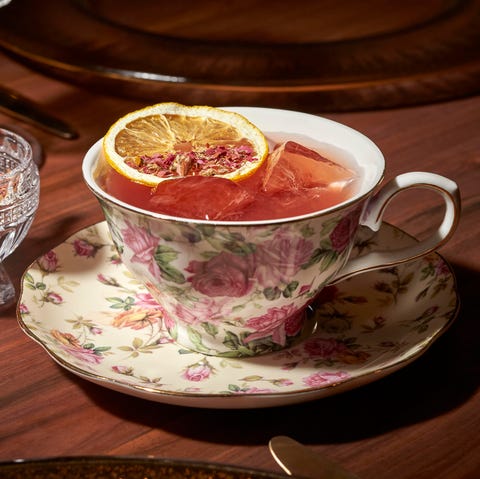 The Land of Five Waters
Ingredients:
1 oz. Calvados
¾ oz. Garam syrup
½ oz. Hibiscus/rhubarb syrup
¾ oz. Lemon
¼ oz. Orange juice
1 oz. Prosecco
2 Dashes Chaomile Tincture
Directions:
Combine all ingredients in rocks glass with ice cube. Garnish with dried flowers.
Courtesy of Punjab Grill, Washington D.C.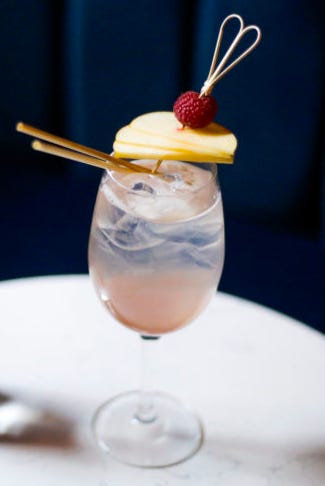 Zero-Proof Washington Apple
Ingredients:
1/2 oz. Raspberry gum syrup
1/2 oz. Lemon juice
6 oz. Fuji Apple Dry Sparkling
Fuji Apple Slices
1 Raspberry

Directions:

Combine ingredients with ice in a glass. Garnish with fuji apple slices and a raspberry.

Courtesy of Erik Hakkinen of Roquette in Seattle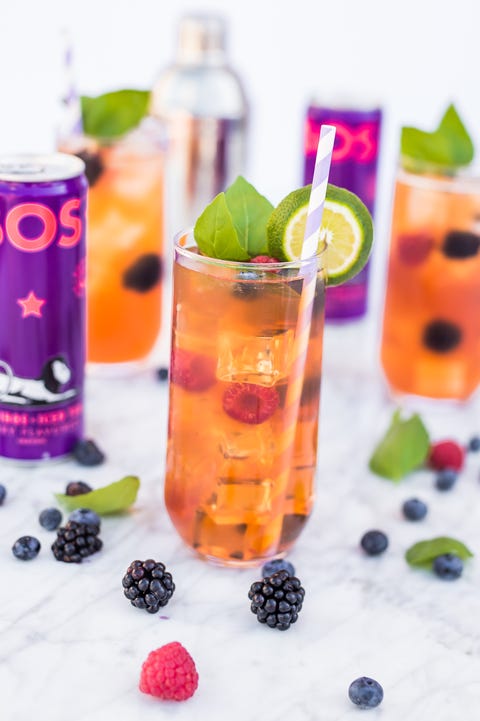 BOS Berry Cocktail
Ingredients:
Vodka
2 Fresh limes
Red berries
Fresh basil
BOS Berry
Directions:
Pour a double shot of vodka over ice. Squeeze in two wedges of fresh limes. Crush in some fresh red betties. Toss in some fresh basil leaves. Serve up with BOS Berry.
Courtesy of BOS
For more stories like this, including celebrity news, beauty and fashion advice, savvy political commentary, and fascinating features, sign up for the Marie Claire newsletter.
This content is created and maintained by a third party, and imported onto this page to help users provide their email addresses. You may be able to find more information about this and similar content at piano.io