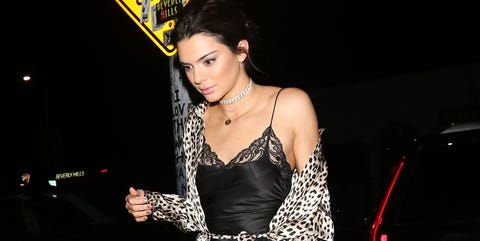 I know. It's crazy. It's almost time to kiss this year and everything bad about it goodbye...sort of. (President Trump will still be, unfortunately, president.) That small fact aside, there should be lots to celebrate this December 31, regardless of where or how you spend your NYE.
If you're definitely staying in—good—stand your ground! For the rest of us poor souls committed to a party, I've saved you the agony of also selecting an outfit. Approximately how much fur, sparkles, and sequins can I pile on my body this New Year's Eve? you wonder. Well, the stars ahead already did the crucial math for you, and the answer is—spoiler alert—so much. Here, the most sparkly, celebratory, extra outfits famous people have ever worn to ring in the new year, with real-world styling tips brought to you by me. The only thing missing is a glass of champagne.

Decided to ring in New Year's Eve at the club or on a rooftop venue overlooking the city? A sequin little black dress is exactly what you need. Follow Khloe Kardashian's lead and pick a shimmery minidress that accentuates your favorite body parts, whether that be your legs, collarbone, back, or chest. Khloe went with a plunging neckline and cutout hem, but if that's too much exposure for you, simply layer a black lace camisole underneath your dress. To let the sequins shine, go for low-key accessories in neutral tones.
Shop similar pieces: 1. Attico sequin dress, $1,645; 2. Alice & Olivia large clutch, $495; 3. Luv Aj chain hoop earrings, $60; 4. Schutz pumps, $155
When the clock strikes 12 and you're wondering why you're not in bed (the ball drop wasn't even that exciting), this comfy outfit will be your silver lining. The foundation of the bedroom-turned-party look is a silky lace slip dress, a.k.a. your sexiest pajamas. Because it'll be cold and you need some sort of covering, top with a leopard duster trench belted casually around the waist, as Kendall Jenner did while celebrating the new year in 2017. (Okay, you might need a puffer coat too if you have a far walk from the Uber to the bar.)
Shop similar pieces: 1. Boohoo leopard print duster, $35; 2. Nina metallic handbag, $58; 3. Steve Madden Stecy heels, $50; 4. Cami NYC lace slip dress, $264; 5. Luv Aj charm necklace, $80
Demi Lovato rang in 2018 while wearing a sequined purple jumpsuit and the standout ensemble is actually easy to re-create. To start, pick a one-piece in your favorite color (like this affordable blue jumpsuit from Wayf) and make sure it's covered in a healthy dose of sequins. Next, accessorize. Add with a mesh sparkle pouch (there's no such thing as too much sequins on NYE!), and s pair of black patent pumps to balance out all the dazzle. Glitzy silver chandelier earrings tie the look together.
Shop similar pieces: 1. Wayf sequin jumpsuit, $129; 2. Cristabelle crystal drop earrings, $35; 3. Nordstrom disco mesh pouch, $79; 4. Vince Camuto pump, $78
For formal New Year's Eve events at banquet halls or scene-y restaurants, eschew minidresses in favor of a long gown. Take a page out of Sofia Vergara's book and ring in 2019r in red—the color is bold, vivacious, and definitely sexy—with color-coordinated crisscross strap heels. Add in a faux marble clutch to break up the monotone without competing against it. Trust me: As soon as you enter the room, you'll have the entire place captivated.
Shop similar pieces: 1. Dress the Population red gown, $288; 2. Like Dreams glitter clutch, $49; 3. Tonsa studs, $295; 4. Imagine by Vince Camuto heels, $78

5
Sporty-Yet-Cool Separates
You had every intention of staying in, but caved last-minute to peer pressure. Even without a new dress, you can look like an A-lister by channeling Taylor Swift and her sporty-yet-feminine vibe. Pick out your fanciest pair of sweats—like these Opening Ceremony velour track pants—and wear with a sequined crop top. Anything shiny works as party attire, IMO. Unless the festivities are at a club, sneakers are the obvious choice to complete your athelsiure outfit. Cover up in a puffer jacket, then stroll into the party wearing the most effortless NYE ensemble ever.
Shop similar pieces: 1. Babaton puffer jacket, $198; 2. Alice & Olivia sequin top, $169; 3. Givenchy faux leather clutch, $495; 4. Greats black sneaker, $179; 5. Opening Ceremony velour track pants, $175