5 Cocktails Made with Limoncello: The Ultimate Summer Liqueur
*does the Italian chef finger kiss*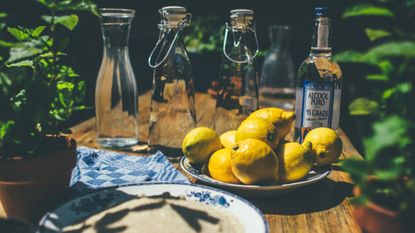 (Image credit: Getty Images)
Limoncello, the traditional Italian vodka, is a staple in the Mediterranean region for good great reason. It's sourced from the zest of lemons but combined with simple syrup for a sugary sweet kick that's perfect for dessert. It's essentially all you need to sip on days and nights where you're gagging at the thought of a heavy beer. Here, our favorite ways to prepare the citrusy drink, from the original Italian recipe to a syrup-heavy happy hour marg.
1. Traditional Homemade Limoncello
AKA the OG need-to-know recipe.
Ingredients:
10 Lemons
1 (750-ml) Bottle 80-Proof or 100-Proof Vodka
3 1/2 cups Water
2 1/2 cups Sugar
Directions:
Using a vegetable peeler, remove the peel from the lemons in long strips (reserve the lemons for another use). Using a small sharp knife, trim away the white pith from the lemon peels; discard the pith. Place the lemon peels in a 2-quart pitcher. Pour the vodka over the peels and cover with plastic wrap. Steep the lemon peels in the vodka for 4 days at room temperature.
Stir the water and sugar in a large saucepan over medium heat until the sugar dissolves, about 5 minutes. Cool completely. Pour the sugar syrup over the vodka mixture. Cover and let stand at room temperature overnight. Strain the limoncello through a mesh strainer. Discard the peels. Transfer the limoncello to bottles. Seal the bottles and refrigerate until cold, at least 4 hours and up to 1 month.
2. Limoncello Margaritas
Like a sweet and salty, yet super boozy lemonade.
Ingredients:
2 oz. Frozen Limeade Concentrate or Lemonade Concentrate
2 oz. Water
2 oz. Triple Sec
2 oz. Silver Tequila
2 oz. Limoncello
½ oz. Agave Nectar
1 Lemon- zest, Yellow Coarse Sugar, and Margarita Salt for the rim
2-3 cups Crushed Ice
Lemon Slices
Directions:
Combine coarse sugar, margarita salt, and lemon zest in a shallow bowl. Rub the rim of a cocktail glass with a half slice of lemon. Turn the lemon-rubbed glass upside down and dip the rim into the salt mixture. Set the glass upright to let dry a couple of minutes. Pour crushed ice into a cocktail shaker. Pour all drink ingredients over the ice, tightly cover, and shake for 30 seconds. Pour into prepared glasses.
3. Lemon Drop Martini
Add a splash of Triple Sec or orange liqueur if you want to amp up the flavor.
Ingredients:
2 oz. Vodka
1 oz. Limoncello
1/2 oz. Lime Juice
Lemon Twist, for garnish
Ice Cubes
Directions:
Fill cocktail shaker halfway through with fresh ice. Add vodka, limoncello, and lime juice to the shaker and shake vigorously. Strain cocktail into martini glass. Garnish with a lemon twist and serve.
4. Paloma Cocktail
A refreshing summer pick-me-up.
Ingredients:
2 oz. Corazón Tequila
½ oz. Caravella Limoncello
6 oz. Grapefruit Soda
Directions:
Fill a glass with ice, Corazón Tequila, and Caravella Limoncello. Top with grapefruit soda. Rim with salt if desired, and garnish with a grapefruit slice and sprig of thyme.
5. Sparkling Limoncello Sangria
A *sparkling* sangria that's sure to be a crowd-pleaser at parties.
Ingredients:
1cup Raspberries
1 Lemon, zest of
3 fluid oz. Pink Lemonade
2 fluid oz. Lemon-Flavored Liqueur
1(750 ml) Bottle Sparkling Wine
3 cups Ice Cubes
Directions:
In a large glass pitcher, mix together the raspberries, lemon zest, lemonade, and Limoncello. Refrigerate for about two hours. When ready to serve, slowly add the sparkling wine, stir gently. Fill glasses with ice cubes and slowly pour sangria over the ice, allowing raspberries to fall into the glasses.
Celebrity news, beauty, fashion advice, and fascinating features, delivered straight to your inbox!