What You Need to Buy for the Bar Cart of Your Dreams
Whether you like things shaken or stirred.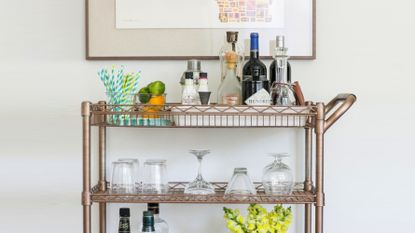 (Image credit: Eden Passante)
Blame it on our Mad Men-induced nostalgia, but second only to meeting Don Draper for a dirty martini at a New York City members-only bar, crafting our own bar cart seems like the coolest way to be a part of the show's bygone eras—and save on those sneaky, eye-watering bar tabs.
But considering that beyond the Pinterest boards we follow, what used to be an American living room staple is a bit of a lost art, we weren't exactly sure where to start. To help us with the basics, we looked to national brand ambassador for elit by Stolichnaya Brent Lamberti to break down what we need for a bar cart that doesn't mess around. First step? The bar cart itself, which is all about personal taste.
"When choosing a bar cart, I think about how I entertain guests," explains Lamberti. "That said, I always like to have a bar cart that will spark conversation. I've shopped for bar carts at thrift stores and specialty shops, and lean more toward cars that guests can admire."
After you've chosen your cart, look to accessories that complement it, but make it your own. "I like to stick with a theme for my bar carts," he says. "If I have a vintage bar cart, I like to use vintage glassware and vintage-style tools and accessories as well."
But as easy on the eyes as your cart might be, it's nothing if you don't have 1) The essential tools and booze 2) The chops to mix a variety of mean cocktails. Here's everything you need:
The Top Shelf
"A good, versatile bar cart will have one of each liquor: vodka, gin, rum, tequila, whiskey, and vermouth for martinis," says Lamberti. "That way you can cater to multiple tastes and offer an array of cocktails to guest."
Vodka: Typically distilled from potatoes and grains, you can use it in cocktails like vodka martinis, cosmopolitans, and Bloody Mary's.
Gin: A dry spirit distilled from grains that you might use for gin martinis, gimlets, or negronis.
Rum: Distilled and made from sugarcane byproducts, it can be served neat or used for cocktails like daiquiris or mojitos.
Tequila: Distilled from the blue agave plant, serve it neat with lime and salt or used it in drinks like margaritas, a tequila sunrise, or a palomas.
Whiskey: Distilled from a grain sand aged, you can opt for a scotch or a bourbon depending on preference, and serve it straight on the rocks or in mixers like a tried-and-true Jack and Coke or whiskey sour.
Vermouth: An aromatized wine, typically sweet or dry, that's always there for martini enthusiasts.
The Bar Tools
Cocktail Shaker: A metal device used to mix all kinds of drinks, but shake it with ice so that it's cool when you serve it. Martha Stewart Collection Barware, Cocktail Shaker, $29; macys.com.
2. Mixing Glass: A glass that's similar to a shaker but for stirring, it also quickly cools a drink during preperation. Sur La Table Classic Mixing Glass, $39.95; surlatable.com.
3. Jiggers: Small glasses for measuring different amounts of liquors to pour into a cocktail shaker. KegWorks Double Cocktail Jigger, $7.95 for Set; kegworks.com.
4. Bar Spoon: A long, thin handled spoon (sized to reach the bottom of a shaker) used for mixing and layering drinks to perfection. Crate & Barrel Orb Long Spoon; $7.95; crateandbarrel.com.
5. Strainer: Used to remove ice from a drink as it's poured over a serving glass. 4 Prong Strainless Steel Cocktail/Bar Strainer, $1.29; webstaurantstore.com.
6. Cutting Board: A must for cutting and preparing garnishes—we want all the olives and lemon twists. H&M Wooden Cutting Board, $12.95; hm.com.
7. Glassware: You should have a variety of glasses to use for all kinds of drinks, whether it's a martini and drink on the rocks. The Cellar Glassware 16-Piece Set, $43; macys.com.
8. Cocktail Sticks: Short sticks used for holding garnishes or possibly just for decoration. Williams Sonoma Presidio Silver Plated Cocktail Picks, $39.95; williams-sonoma.com.
9. Ice Bucket: Nobody likes a warm drink...need we say more? Home Wet Bar Chiseled Glass Ice Bucket, $52; homewetbar.com.
You should also check out:
7 Classic Cocktails Every Sophisticated Girl Should Know
Marie Claire's 'Game of Thrones' Fire and Ice Cocktail
What to Drink Before You See 'Fifty Shades of Grey'
17 Bar Cart Options and Chic Styles
Celebrity news, beauty, fashion advice, and fascinating features, delivered straight to your inbox!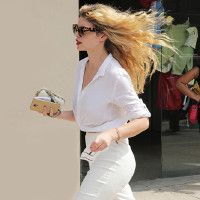 Lauren is the former beauty editor at Marie Claire. She love to while away the hours at coffee shops, hunt for vintage clothes, and bask in the rough-and-tumble beauty of NYC. She firmly believes that solitude can be a luxury if you've got the right soundtrack—that being the Rolling Stones, of course.