I Brought a "Wine Purse" to Paris and the French Were Not Amused
But I was.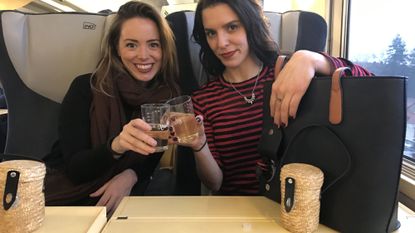 (Image credit: Jennifer Goldstein)
Marie Claire Newsletter
Celebrity news, beauty, fashion advice, and fascinating features, delivered straight to your inbox!
Thank you for signing up to Marie Claire. You will receive a verification email shortly.
There was a problem. Please refresh the page and try again.
I recently got my hands on the PortoVino Purse, which lets you port your own vino, wherever you go. From the outside, it's a basic black shoulder purse accented with a dangly golden bow charm; inside, the polka-dotted lining conceals an insulated zipper pocket holding a 1.5-liter wine pouch with a valve you access via a flap on the bag's exterior. Clutch, right? That's what I thought as I packed it with carry-on essentials for a trip to France.
The PortoVino's first outing abroad was Le N3, a fancy restaurant in Vichy where it got to sit on a pretty stool next to my chair. The pouch was still empty, but that didn't stop me from showing it to my dining companions, two très chic beauty executives. I lifted the flap and fussed for a few seconds before the pert little valve finally popped out. When I looked up, one of the women was murmuring "Oh, no, no, no, no, no," and staring at me as if I were Justin Timberlake at the 2004 Super Bowl halftime show, the flap was Janet Jackson's bra, and the valve was—well, you get the idea. The other just shook her head and made that French tongue-clucking sound that basically translates to, "Girl, bye."
The next day, it was time for a fill-up. I plopped PortoVino on the counter at La Cave d'Agnès wine shop, pulled out the pouch, and mimed filling it until a local took pity on me and started translating. I expected the sales clerk to escort me to the door, but she freaking loved it. "C'est drôle!" she laughed as she got out her phone to take pictures. When she was done, I requested a white to accompany a canister of Pringles on a three-hour train ride to Paris, and she offered up a light, fresh sauvignon blanc from the Loire Valley. I bought two.
Back at my hotel, I headed to the bar for a wine key. My plan was to take it to my room, open the bottles, and fill the PortoVino in private, but my car to the train station was already waiting and I didn't have time. So I did the whole operation right there at the bar. The bartender's reaction? Let's just say this: If you don't bring sand to the beach in America, then you don't bring wine to the bar in France—and you definitely don't bring two bottles of it to decant into the lining of a faux-leather tote bag with a spigot and a diamante bow.
Once my friend Käthe and I were settled on the 5 o'clock train to Paris, we pulled out two souvenir glasses we had picked up while in town. With their straw carrying cases and adorable wrist straps, they were designed for sampling the spring waters that flow from public taps around Vichy, but we figured they would be the perfect vessels for drinking sauvignon from le sac. They were not. Maybe it was their flat-bottomed shape or the glacially slow flow rate of the PortoVino valve, but when the wine hit the glasses, it sounded like a very drunk man was taking a very long pee into a toilet that was very far away. The French lady across the aisle did not appreciate the lusty splash or our accompanying giggles.
After three glasses, and three hundred dirty glances from our fellow passengers, I decided it would be better to drink directly from the valve instead of subjecting everyone to another drawn-out pour. Käthe thought it might be better to tilt the bag prior to dispensing in order to increase the flow rate and dampen the noise. Käthe was right. We kept drinking. Two hours later, when we arrived in Paris, the clutch was kicked.
Here are a few things you learn when you drink an entire tote bag of wine on a French train: Every station in the country plays the same two-note chime to signal a train's arrival. The chime sounds exactly like the opening notes of Soulja Boy's 2007 hit "Crank That." Googling the lyrics to "Crank That" while speeding through the French countryside requires international roaming data and dexterity you will not have after 750 milliliters of sauvignon blanc. French businesspeople do not want to hear you sing "Crank That" on their Tuesday trip from Vichy to Paris. And, finally, no matter how free it is, how pedigreed its provenance, or how many times you offer, no one in France wants to drink wine from your purse. So please stop asking.
Follow Marie Claire on Facebook for the latest celeb news, beauty tips, fascinating reads, livestream video, and more.
Celebrity news, beauty, fashion advice, and fascinating features, delivered straight to your inbox!
Jennifer Goldstein is the former beauty & health director of Marie Claire and co-host of the award-winning beauty podcast Fat Mascara. In her quest to uncover the world's beauty secrets, she's gotten tattooed in New Zealand, dug up turmeric in India, harvested shea nuts in Ghana, and squeezed enzyme-rich eggs from salmon in Norway. She can pluck eyebrows like a pro and has read the FDA monograph on sunscreen labeling and effectiveness—but she still can't get liquid eyeliner to look the same on both eyes.