How to Grow Your Own Cocktail Garden
Muddled drinks at home? Say no more.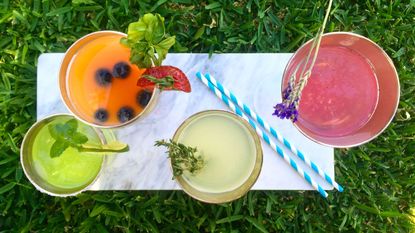 (Image credit: Gabriella Verdugo)
Marie Claire Newsletter
Celebrity news, beauty, fashion advice, and fascinating features, delivered straight to your inbox!
Thank you for signing up to Marie Claire. You will receive a verification email shortly.
There was a problem. Please refresh the page and try again.
Muddled herbs really up your alcohol game. Muddled fresh herbs? From your own garden? You'll be the hostess (and Instagram queen) of the summer.
RELATED STORIES
Master gardener Tara Heibel of Sprout Garden is here to tell you exactly what to grow—and how not to kill it. Here, her basic starter-kit tips:
1. Place your herbs in direct sunlight. Just because they're somewhere bright doesn't mean they're being touched by actual sun, and that's what they need.
2. Re-plant herbs in a larger container than the one you bought them in. This will help promote growth with less watering.
3. Get containers that have holes at the bottom so extra water drains out. And make sure not to water *too* much. Touch the soil to see if it's moist—if it is, skip watering until it feels dry.
4. Buy a good potting mix. (Don't be tempted by the soil outside, that doesn't count!)
5. Don't pick off the leaves—prune them instead. Snip off the main branch above the leaf stock to stimulate bushy versus stringy growth.
6. Same with blossoms: Clip them off immediately. Even though they're pretty, you want to have a leafier plant AKA more leaves with which to make more drinks!
7. For an added aesthetic appeal, plant short and tall herbs together while still providing ample amount of airflow through them.
8. Mint has a tendency to take over, well, everything—so plant in its own container.
Now that you've got your garden growing comes the most important part: the drinks, obviously.
It doesn't take a degree in mixology to make a good muddled cocktail. But there's good and then there's *really* good, which is what Mimi Burnham of Porchlight makes. Here, how to steal her secrets.
To make with basil: "The Francesca"
4 oz Rose, Pinot Grigio, Sauvignon Blanc, or Chardonnay
.50 oz Grand Marnier
.25 oz fresh lemon juice
4 fresh basil leaves
1/2 of a fresh strawberry
In a pint mixing glass or shaker tin, lightly muddle the 1/2 strawberry. Take the four fresh basil leaves and roll them up, not too tightly, in your hand as to bruise the leaves and release the oils and add to the glass. Add all remaining ingredients and stir. Add ice to chill, stir. Double strain* into a wine glass with ice. Top with seltzer.
Garnish with sliced strawberries and blueberries. For a punchbowl drink, just multiply the ingredients by four.
To make with thyme: "The Cooler"
In a pint mixing glass or shaker tin, lightly muddle the thyme leaves. Add spirit, lemon juice and simple syrup and ice. Shake, or stir, to chill all ingredients. Add 2 oz of seltzer and double strain into a highball with fresh ice. Garnish with two sprigs of fresh thyme inserted into the highball glass. Want to make a pitcher? Multiply the ingredients by four.
Garnish: 2 sprigs of fresh thyme inserted into the highball glass
To make with mint: "Juanita"
1.5 oz Tequila Blanco (I use Lunazul brand)
.50 oz Cointreau or Triple Sec
1.25 oz lime juice
.75 oz simple syrup
1 slice of fresh jalapeño- seeds removed
8 - 10 fresh mint leaves
Prepare glassware by moistening the rim with a lime wheel and dipping into a plate with finely ground pink Himalayan salt. Add ice. Place jalapeño slice in a shaker tin, muddle, and crush. Add mint leaves and lightly muddle as to bruise and release oils. Add all remaining ingredients and add ice. Shake well. Double strain into prepared glass. Garnish with a mint crown and a lime wheel. For a pitcher, just multiply the ingredients by four.
To make with lavender: "Provence in the City"
2 oz Vodka or Gin
.50 oz St Germain Elderflower liqueur
.75 oz lemon juice
.50 oz Simple Syrup
3 branches of fresh lavender, keeping one for garnish
1 wide lemon twist, using a vegetable peeler
Remove flowers from two branches of fresh lavender and place in a shaker tin. Gently muddle to release oils. Add all remaining ingredients (except for the lemon twist), then add ice and shake well. Double strain into a chilled martini glass. Express/squeeze oils from the lemon twist over the cocktail and discard. Garnish with lavender.
Pro Tip: Place 3 tablespoons of freshly-picked lavender flowers into a 1-liter glass pitcher/bottle. Add 750 ML of Vodka or Gin and keep the empty bottle. Allow to sit overnight on the kitchen counter. Double strain and use a funnel, pouring all spirit into the empty 750 ML bottle. No refrigeration necessary for this infused spirit. Omit muddling fresh lavender in the recipe if using infused spirit.
* Double strain: Use a fine meshed strainer to catch all debris when pouring your prepared cocktail into your glass. Omit if you prefer the debris.
** Simple Syrup: Heat 1 cup of water to near boil, remove from heat and immediately add 1 cup of sugar. Stir until the liquid is clear. Allow to cool. Place in a clean glass jar and refrigerate for up to 3 weeks.
As in all fresh herb use, do not us the stems, as they can bring bitter notes. Over-muddling will also make the herbs bitter—gentle is best!
Follow Marie Claire on Facebook for the latest celeb news, beauty tips, fascinating reads, livestream video, and more.
Celebrity news, beauty, fashion advice, and fascinating features, delivered straight to your inbox!