The Best Products to Treat and Prevent Inner-Thigh Chafing
Because thigh chafing shouldn't get in the way of summer fun.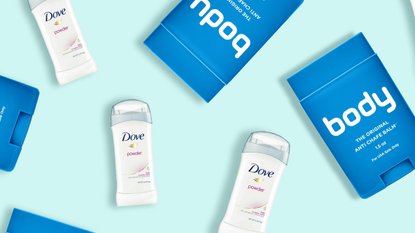 (Image credit: Amazon)
Inner-thigh chafing (or "chub rub") is an uncomfortable reality for so many of us — but that doesn't mean you have to live with it forever. There are foolproof ways to prevent it or, if you're already experiencing chafing, help ease the pain: no thigh-gap or weight loss required (embrace those curves!).
Here, the best expert-approved tips to help you conquer the most common chafing problems with confidence and ease the pain of chub rub once and for all.
Reduce Friction With Anti-Chafing Products
Too much rubbing for whatever reason — walking, working out, or wearing your favorite tight skinny jeans — could make your inner-thigh skin weak and wear away, which leads to painful thigh chafing.
How to prevent it: Body Glide is a great solution, says Dr. Allison Hanlon, a dermatologist in Nashville, Tennessee. It's an invisible protective balm that works really well — lots of runners and bikers use it. Our editors also love Gold Bond Friction Defense to protect chafing-prone skin.
"Anti-chafing products [form a protective] film on skin that can reduce the friction between touching skin parts," explains Birnur Aral, Ph.D., a senior chemist at the Good Housekeeping Institute. Aral suggests looking for ingredients like waxes and polyethlyene to create a film, paired with silica and zinc oxide, which are powders that impart a silky and non-sticky feeling. One of our editors swears by using antiperspirant on her thighs: it saved her from inner-thigh irritation while running a marathon (in the rain!).
SHOP ANTI-CHAFING PRODUCTS
Nix the Irritating Workout Gear
If you're not wearing the right type of exercise clothing, your thighs will really pay (and we don't mean with new muscles) for all those rep moves. And who wants to spend an hour kick-boxing if you're going to leave with red, raw skin?
How to prevent it: Ditch any loose fitting cotton pants — they'll just "trap moisture and irritate the skin further," says Hanlon. Instead, she recommends choosing moisture-wicking materials that cling to your body. You could also consider alternating the days you do upper and lower body training to give your thighs a break.
Limit Excessive Sweating to Protect Inner Thighs
Moisture can break down the top layer of skin leaving it chafed, irritated, and painful.

How to prevent it: Talcum powder does a good job at protecting your skin from perspiration and helps skin stay dry. Dust on a fine layer before starting your day.
For more intense sweating, you might need to give your derm a call. "If you experience a lot of sweating, ask your dermatologist for a new prescription product called QBrexa wipes," suggests Kavita Mariwalla, MD, Founder of Mariwalla Dermatology. "They are meant for people with excessive sweating," she explains. "You just swipe them on once at night and sweating is decreased in a matter of days."
How to Treat Thigh Chafing
If you're already in pain (ugh), there are a few things you can do to ease the pain and expedite your healing process.
1. Use a mild cleanser and don't scrub! Using harsh soaps can aggravate your chafed skin and make the situation a lot worse. Wash gently with warm water and a pH-neutral moisturizing bar like Dove.
2. Switch up your wardrobe. Wear soft, breathable cotton clothing during the day, and breathable cotton pajamas instead of a nightgown at night, says Dr. Kavita Mariwalla, a dermatologic surgeon at Stony Brook Hospital in New York. This protects your thighs from further irritation.
3. Moisturize. Use plain ol' Vaseline to soothe, protect, and heal the raw skin. Stick with the standby petroleum jelly and avoid creams with fragrance or fancy ingredients; they will likely irritate you more. Another option is the derm-favorite Skin Fix Nourishing Cream, recommended by Dr. Gohara. "Apply it after taking a shower to prevent inflammation, moisturize, and protect."

4. Invest in anti-chafing bands. Sometimes, no matter how many anti-chafe products you stock up on, thigh chafing is inevitable when wearing a dress on a hot and sweaty summer day. Get ahead of the rub by wearing anti-chafe bands. The best part? They don't rub off like anti-rub creams and balms.
5. Call your doctor. If the chafing isn't getting better, you may have an infection. When the skin is broken, yeast and bacteria can settle in and you may have to use a medicated cream.
Marie Claire email subscribers get intel on fashion and beauty trends, hot-off-the-press celebrity news, and more. Sign up here.