Scale and the City
If Lena Dunham is "thin for Detroit" and Jennifer Lawrence is "obese in Hollywood," then women's feelings about weight must have more to do with the numbers in their ZIP codes than the ones on the scale.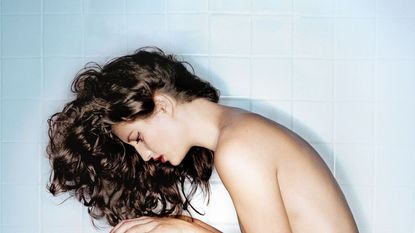 (Image credit: Marie Claire)
Marie Claire Newsletter
Celebrity news, beauty, fashion advice, and fascinating features, delivered straight to your inbox!
Thank you for signing up to Marie Claire. You will receive a verification email shortly.
There was a problem. Please refresh the page and try again.
It's Friday night and I'm on my fourth outfit change, surrounded by discarded rejects. The black maxi dress accentuated my big feet. My harem pants billowed too much around the backside—not flattering. Even my tried-and-true combo of vintage peasant blouse with flared white jeans has betrayed me. In five minutes, I need to be inching my way along Sunset Boulevard to a cocktail party at a chic hotel. I sigh and opt for a slouchy jumpsuit. This has nothing to do with my clothes. Or even my body.
Here's the deal: I live in Los Angeles, a city that makes me look fat. I'm not alone, either. Jennifer Lawrence recently said in an interview, "In Hollywood, I'm obese." That's a wry exaggeration, of course. And thankfully, my job as a journalist doesn't call for me to reveal my measurements or vie against size-0 starlets for work. But Lawrence and I coexist in a city where jutting hip bones and a defined clavicle are considered enviable accessories. Granted, not every woman in this vast, 500-square-mile metropolis looks more like a whippet than a Labradoodle. But the ideal body type here—thanks to the influence of the entertainment industry and the glut of Pilates studios—is toned and very, very thin.
"When I came to Los Angeles, I wanted to be really fit. I also wanted huge boobs and perfectly beach-tousled blonde hair," says Kjerstin Gruys, a doctoral student in sociology at UCLA who spent a year avoiding her reflection to write the book Mirror, Mirror Off the Wall: How I Learned to Love My Body by Not Looking at It for a Year. "The environment prompted me to have this more intense experience of self-judgment."
Basing one's self-image on comparisons with others is familiar ground for most women. After all, who hasn't sized herself up against a prettier friend or a more statuesque colleague? But imagine that multiplied a hundred times—it takes a toll on your self-esteem. In a study in the late '90s, psychologists showed women photos of thinner women, then gauged how they viewed themselves. Subjects reported feelings of body dissatisfaction and anxiety. In science terms, it's called "physique contrast effect." Since that study, all sorts of research on contrast effect and its kin, social comparison theory, have revealed that contextual self-evaluations can often lead to dissatisfaction with one's self.
You've probably heard these theories referenced, often inadvertently, more than you think. For instance, when fashion illustrator and blogger Garance Doré arrived in New York City from Europe a couple of years ago, she wrote a funny, insightful post about NY Skinny vs. Paris Skinny and noted, "New York skinny means thin to the brink, yet muscular from Pilates because it gives you those superlong, lean muscles. I feel like there wasn't that much pressure in Paris." Earlier this year, Girls creator and actress Lena Dunham applied the theory when she defended her size to Howard Stern after the radio host called her a "little fat girl who kind of looks like Jonah Hill." She shot back: "I'm not superthin, but I'm thin for, like, Detroit." (Needless to say, people from the Motor City weren't happy to be name-checked in that context.)
Obviously, I didn't realize right away that contrast effect was why I felt pangs of insecurity about my size-6-sometimes-8 body after arriving in Los Angeles. It's not that I wasn't used to seeing super-skinny women, mind you. I had moved from Manhattan, where models slouched by me all the time. But they were about as human as springboks—and most were still teenagers—so I didn't even bother to compare myself with them. In Los Angeles, it wasn't just the young actresses who looked amazingly taut. Fit salesgirls, baristas, and 40-something moms capered around me in yoga pants and tiny tank tops. Even West Coast weathercasters on TV wore tight, low-cut dresses that showed cleavage and slim legs.
For the first month or two in the city, I scoffed to my then boyfriend about the collective vanity and lack of modesty. I tried not to flinch when a swizzle stick of a salesgirl at the boutique Fred Segal informed me that a size 8 was considered a large. But eventually, all that supple, glowing skin got to me. I began to scowl at my upper arms and berate my midsection. I felt, well, larger.
"Your ideal is based in part on your visual 'diet' or the bodies that you see," says Martin Tovée, Ph.D., a psychologist at Newcastle University in England who has studied how different environments affect our body image and preferences. "If you're in a culture or society that places importance on a thin body and it's considered attractive and high-status, you suddenly think, I want that!" A couple of years ago, Tovée and his colleagues traced what happened when women from an area of rural South Africa—where curves were highly valued—moved to the U.K., where the ideal body mass index (BMI) was much, much lower. Within 18 months, the South African women had modified their body preferences to thinner physiques, a pretty seismic cultural recalibration. Tovée adds: "Your ideal shifts as your environment changes."
My preference skewed skinnier once I was settled in L.A. I couldn't deny it. I took up Spinning, worked out almost every day, and smoked too many cigarettes, hoping they would quell my appetite. Eventually, I went down a couple of dress sizes and acquaintances would squeal, "Oh, my God. You look ah-ma-zing!"
On visits back East to see my family, I felt like Kate Moss. Incidentally, the sitcom Hot in Cleveland is really about contrast effect: A trio of attractive middle-aged women decamp cutthroat L.A. for the Buckeye State to be thinner, prettier fish in a kinder, gentler pond. And you might even recall the episode of 30 Rock in which Liz Lemon visits Ohio and a passerby stops her on the street to say, "Are you a model? You are so skinny!" When she returns to New York City, her coworker Jenna Maroney tells her, "Yeah, we're all models west of the Allegheny." Lacey Stone, a bicoastal personal trainer who has worked with actresses like Jessica Alba and Amanda Seyfried, sums it up this way: "Thin is relative. I have clients who are trying to slim down, but when they go home during the holidays, everyone says, 'You have such a great body!'"
In the end, fitting in, sizewise, in L.A. became too rigorous and, ultimately, a Pyrrhic victory. I was skinny, but my energy flagged and I had the pallor of a sardine. Plus, it struck me that I was measuring myself against women I didn't even like. So I quit the cigarettes, gave up my fancy gym membership, and moved the size-4 clothes to the corner of my closet. I'm now back to the weight I was when I first moved to Los Angeles, and that's just fine. I have worked to accept the fact that I am a normal woman who just happens to live in a skinny cultural bubble. I may feel bigger surrounded by the swizzle-stick set at parties, but I don't have to compare myself with those women—or even stand next to them. And when all the size 4s sell out at the next Fred Segal sale, I will sashay over to the "large" section and gloat.
Size MATTERS
Some days you may feel thinner—or fatter—than the women around you, but are you actually? Compare your BMI with the average for women in your area
* To find your BMI, multiply your weight in pounds by 703, then divide that number by your height in inches squared. (FYI: 18.5 to 24.9 is considered normal; 25 to 29.9 overweight; and 30+ obese) . Each city listed represents a United States Office of Management and Budget metropolitan and micropolitan statistical area that includes surrounding suburbs and nearby cities. BMIs are estimates using mean BMIs for the total population in each area based on 2011 research provided by the Centers for Disease Control and Prevention.
Celebrity news, beauty, fashion advice, and fascinating features, delivered straight to your inbox!